You've just been told those dreaded words that no one wants to hear: 'You have cancer'.
It's a disease that can destroy lives and rip families apart.
Often they have to deal with the death of the loved one while being there to support them and act as a linchpin which can hold the family together.
Geoff Fisher, from Bolton, is one such person. He lost his wife to ovarian cancer in 2010 after a six year battle from being diagnosed in 2004.
Although by her side the entire time offering much needed support, his analogy perfectly sums up the helplessness of the situation.
"Just like boys playing pranks and breaking a window, a carer for a cancer patient is there, but there´s only one person getting in trouble for breaking the window," explained Geoff.
"It doesn't matter how close you are to the person. At the back of your head you know it's not you who is going to die."
Like thousands of others, Geoff lost his wife to a form of cancer very few people are aware even exists and prior to being diagnosed, both Gill and Geoff had never even heard about it, let alone its symptoms.
This is a significant problem as both women and doctors frequently miss the signs of ovarian cancer and it's not unusual for women to be misdiagnosed with irritable bowel syndrome (IBS).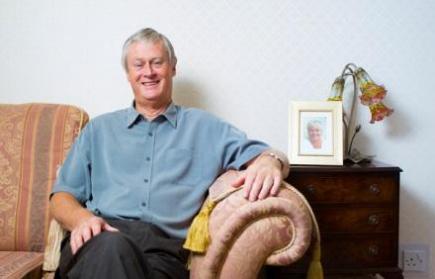 LEGACY: Geoff hopes to be able to raise awarness about the disease
In Gill's case, both the emergency doctor and her own GP said that she had gastric problems and gave instructions for her to drink water and take paracetamol for it to clear up.
Only a month later Geoff felt Gill's stomach, which was 'rock hard', and told her to go and see her doctor again.
After being seen by a specialist this time she was diagnosed with ovarian cancer, and for Geoff the first reaction was shock that it could have happened to someone he loved so much.
"It is something that happens to others, but it won't happen to you," said Geoff.
Only six months earlier the consultant hadn't seen a trace, but now Gill had a cyst the size of a football and was fighting for her life.
Within days Gill underwent a full hysterectomy and for the rest of the year she attended chemotherapy, which wasn't 100% successful.
After hot spots showed up in a scan, she started radiology instead and at the end of 2004 the treatment stopped as the cancer was in remission.
For the next couple of years Geoff and Gill could almost go back to living their normal lives as six week reviews turned into 12 weeks, three months into six but the threat of the cancer returning still lingered.
Geoff admits that he still has no idea how Gill coped with knowing the cancer might come back one day.
"I knew it wasn't me who was going to be told the cancer was coming back," he said.
"If I was her or another woman in the same condition I would wake up frightened at night, I don't know how they cope."
Although ovarian cancer is a female cancer, it's not only women who are affected but also their loved ones as well.
Like any loving husband, Geoff supported Gill through it all, attending her treatments and appointments at the Manchester Cancer Treatment Hospital, The Christie.
Sacrifices had to be made and Geoff gave up is full-time job and accepted an offer of voluntary redundancy.
After a summer off work, Geoff applied for new jobs and started working for a motoring consultancy giving him the flexibility to take days off to go to the hospital with Gill.
Even now when Geoff explains all that happened he always uses 'we' almost to symbolise that they went through it together.
He also admits that as much as he was there for support, it was also important for him to have his own space and time apart.
The travelling Geoff did with work, as well as attending Freemason meetings and being a Bolton Wanderer's supporter were his 'therapy' during Gill's illness.
"The fact that my job took me away, gave space for both of us," he confessed.
Geoff remained very open with their friends about what was going on but being asked the same questions over the phone became tiresome.
Instead, Geoff sent regular updates by e-mail to keep friends and family informed which gave Gill, and himself, some space.
"The e-mails weren't only for our friends, they helped me too," said Geoff.
Despite the lingering prospect that the worst might happen, Geoff and Gill never discussed the future and what would happen to Geoff when Gill was gone.
"It was only in-between treatments that I could find myself thinking about the future," he said.
He often found himself too consumed with her illness to think about anything else other than her recovery.
"Perhaps we were too frightened to talk about the future and the outcome of the cancer, not even in the hospice at the very end did we talk about it," said Geoff, who still regrets this today.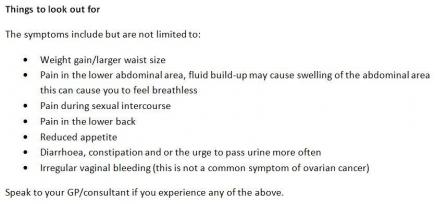 WATCH OUT: The symptoms of ovarian cancer
After coming back from a holiday in 2009, Gill's scan was fine, but her blood test showed that her CA125 levels were on the rise suggesting that the cancer was back.
Gill reluctantly checked in to Bolton Hospice, which she felt signalled the beginning of the end.
After the treatments stopped, it was thought Gill would have three more months to live but it was to be only three and a half weeks before she succumbed to the cancer.
Prior to her passing, friends visited at the hospice and it was always Geoff comforting those in tears.
Friends had more chance to converse with Gill than her immediate family 'because by the time they had gone she was too tired'.
Geoff's experience of both Christie and Bolton Hospice while going through the worst experience of his life was made better by the 'lovely' staff.
During Gill's first series of treatment at The Christie, the couple would sit waiting for hours before she would have a blood test at 9am and then wait to be called-in to see the consultant around noon.
Then she would wait yet again before the chemotherapy took place at 2pm and after the last series of treatment in 2009, Geoff explained he saw an improvement in the organisation that he would have liked to have seen from the beginning.
Even after Gill's death, Geoff continues to work tirelessly in support of his wife, partially by helping to raise money for charities but ultimately by prioritising the spreading of awareness for the disease.
"I am more committed to spreading awareness of ovarian cancer than raising money for charities," he explained.
Today, Geoff is still e-mailing his friends and family – no longer to keep them up to date with Gill´s condition, but to ask them and the wider population to spread the word.
"IT'S OVARIAN CANCER AWARENESS MONTH AGAIN!!!! And I'm asking for your help again – not your money – to increase awareness of this dreadful disease."
Every year without fail since his wife's passing Geoff sends out this message and in March alone he has sent out hundreds of copies.
Geoff knows the e-mails make a difference by the responses he receives and one women having received the email immediately prompted her friend to visit the doctor, potentially saving her life.
With his wife no longer with him, Geoff is determined to make a difference and ensure others aren't left in the same situation he finds himself as he tries to continue his wife's legacy.
For more information on The Christie, visit here.