They say that no good ideas come when you're drunk, but one man is attempting to quash that notion with a booze-fuelled networking event in Manchester's Northern Quarter tomorrow.  
Beers and Ideas, described as a 'networking event with a difference', aims to give creative people a chance to voice their ideas in a room of like-minded people.
The event is free to attend, and a free beer is given to the first 50 people – always a good incentive.
The brains behind Beers and Ideas, Andy Cooke, 27, grew up and studied in Staffordshire, and now works between Staffordshire, Manchester and London.  
After studying both Product Design and Graphics Design at university, Andy now works as independent graphics designer, as well as part time lecturing at Staffordshire University.
Not one to rest on his laurels, Andy also juggles several other side projects, including Beers and Ideas.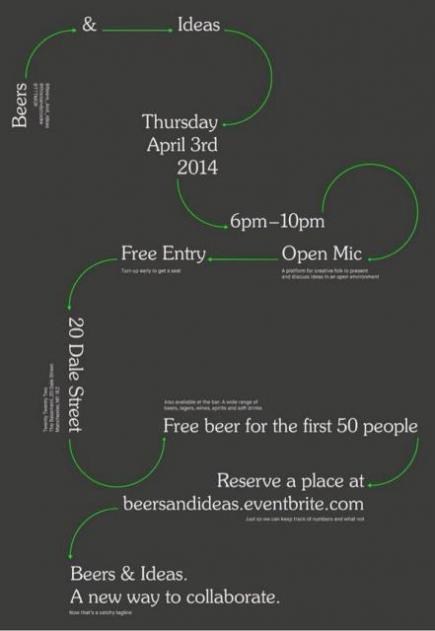 BRIGHT IDEA: This infographic describes the simplicity of the event 
Speaking about the event, Andy told MM: "It's basically an open mic/soapbox platform, encouraging collaboration through the open sharing of ideas.
"Anybody is welcome to get up, speak openly about a concept that is in any stage of its process, and then take part in a love debate with those in the crowd.
"We pass the microphones around so everybody is heard and everybody can input.
"Hopefully from there, a member of the crowd will get involved with the conception of the idea to make it a reality."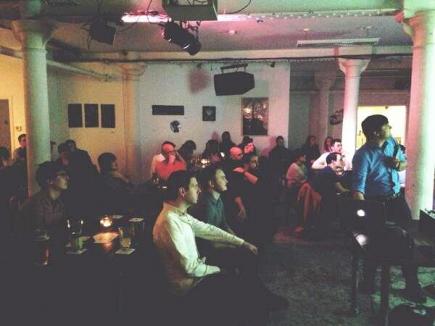 COLLECTIVE IDEAS:  It's not just the alcohol that's flowing
 
Unfortunately, there have been no big ideas put into action as of yet, though Andy claims one of the ideas presented was snapped up by another company.
He added: "Which shows the sooner you act and talk about your ideas the sooner they could happen" 
According to Andy, the idea for Beers and Ideas, coincidentally or incidentally, whichever way you look at it, came during a boozy encounter with one of his acquaintances.
"I received an email from a client that suggested we get together for a beer and work through some ideas. It just came naturally from there – so I can't take credit for the name." He told MM.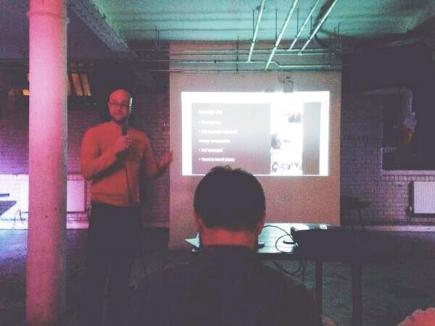 PASS THE MIC: Everyone gets a chance to share their thoughts 
Andy says he has no big plans for the future as of yet. He said: "I just want to see it develop on a small scale – involving local creative communities on joint projects to bring ideas to life.
"If it grows naturally into something bigger I'll cross that bridge when I get to it." 
Beers and Ideas will be held tomorrow at The Basement, Little Lever St, Manchester, from 6-10pm.
For more information about Andy and his projects click here.
Image courtesy of Jim Crossley, with thanks.