Fourteen years ago Ricky Hatton shook up the world.
The Mancunian beat Australian Kostya Tszyu to win the IBF light-welterweight and Ring Magazine titles at Manchester's MEN Arena.
The 41-year-old was in his home city again on Thursday night, where he attended the City of Champions gala dinner at Deansgate's The Hilton Hotel.
There, he received the prestigious honour of being inducted into the Manchester City of Champions Hall of Fame alongside Manchester City and England women's captain Steph Houghton, and founder and CEO of social chain Steve Bartlett.
And Hatton, a proud Mancunian, has attributed his popularity in the city to his humble mentality.
Hatton told MM: "It [my upbringing] give me the drive because people from Manchester are working-class, I'm working class.
"I come from a council estate and it's them early days that made me the person I am.
"People followed Ricky Hatton not just for his boxing but because I was down to earth, never got too big for my boots as they say and I think that's helped give me the following that I ended up having."
Hatton became a two-weight world champion, and in the first decade of the 21st century he was one of boxing's biggest stars.
Since 'The Hitman' retired from boxing for a second time in 2012, he has helped people both inside and outside of boxing.
He became the patron of Manchester-based homeless charity Barnabus in 2013, and has helped train successful boxers including current WBO super-middleweight champion Billy-Joe Saunders.
Was inducted into the Manchester hall of fame last night @HiltonMCR & also rewarded with for services to Manchester sport by the @dianemodahl foundation. Proud manc. X pic.twitter.com/vsq7wkoiDP

— Ricky Hatton MBE (@HitmanHatton) November 1, 2019
After competing in one of the world's most physically intense sports for so many years, he's using the same attributes that got him to the top to help give back and help the next generation.
"You can be a world champion, but if everyone thinks you're a dickhead so to speak you're not going to get the recognition you get," Hatton explained.
"And I certainly wouldn't have got the award I got tonight if I hadn't have remained true to myself, true to my city, true to my fans and true to my people.
"That's what the key is for these youngsters – you've got keep your feet on the ground, remain rooted, work hard and that's what Manchester people do."
THE YOUTH OF TODAY
Hatton is following the lead of former 800-metre athlete Diane Modahl, who in 2010 set up the Diane Modahl Sports Foundation Charity (DMSF), which focuses on enabling disadvantaged young people across the North West to fulfil their potential through sport.
The DMSF has a three-tier pathway to ensure that young people of all sporting ability can flourish on the programme.
Modahl represented Great Britain at four in four Olympic Games (Seoul 1988, Barcelona 1992, Atlanta 1996, Sydney 2000) and has a gold medal to her name from the Commonwealth Games in Auckland in 1990.
When Hatton competed in the ring and since he retired, he has embodied the core values of the DMSF, and he praised the foundation for the positive impact it has on young people.
He said: "She's doing a great job Diane. She's trying to get people into sport in the city, which is always a good thing for our youth today with so many bad avenues they can go down.
"And from a business point of view, trying to raise funds and stuff like that. But that's what I've done in Manchester; I've done well for the sport."
As an ambassador for his sport and for his city, Hatton has been instrumental in influencing younger people to become involved in boxing and raising funds.
The DMSF has recognised this, and for Hatton this means so much as he's become known in his city for being more than just a boxing legend.
"I like to think a lot of people will look up to me and try and go down the same road as I've done – youngsters," Hatton said.
"It's very rewarding when you get that but also my money – I've tried to invest it and do a little bit for the homeless, doing a bit of charity work and trying to bring the next champions through.
"So, it's very nice to be recognised for the things I've done across the board for Manchester because Manchester means so much to me."
In bringing through the next generation though, youngsters will be able to look to other Manchester-based boxers for inspiration.
'SNOWBALL EFFECT'
Manchester and Britain as a whole has been lucky enough to be represented by boxers such as Ricky Hatton, along with Anthony Crolla and of course Tyson Fury, who have gave the city a proud name.
When one becomes an elite sportsperson though, they then have obligation to carry on the trend and Hatton believes he, along with Crolla and Fury, have created a "snowball effect" which has encouraged youngsters to like and participate in boxing.
"I'm sure we've got some kids coming through that are just starting off a little bit but I think Manchester boxing is as popular as it's ever been," Hatton said.
"There was the likes of myself that was there at one point and then you've got Anthony Crolla coming through and Tyson Fury is obviously where he is now – and the gyms are becoming busier and busier because of the job Anthony Crolla and Tyson Fury and myself have done. You always have that snowball effect.
"Kids look up to champions in Manchester and kids go to the gym wanting to be champions. So it's a good effect and I've got no doubt that Manchester's got a few coming up in the pipe line."
Hatton competed at light-welterweight level before moving up to welterweight, and he's been keeping a close eye on another star of British boxing who could well do the same in the up and coming years.
The way 2019 has panned out for Josh Taylor has been freakishly similar to the way 2005 panned out for Hatton, with both boxers claiming the WBA, IBF and Ring Magazine titles in the same year at light-welterweight.
After unifying the division, Hatton moved up to welterweight where he eventually fought against pound-for-pound kings Floyd Mayweather Jr and Manny Pacquiao.
Now that Taylor has also unified the light-welterweight division following his win over Regis Prograis last week, could we see the Scot fight the likes of Errol Spence Jr and Terence Crawford in the future? Hatton certainly thinks so.
"Well, he's [Taylor] not done bad to be honest, has he? He's a world champion, unified champion, Ring Magazine champion," Hatton said when analysing the talented Taylor.
looking forward to apperaring at @OfficialECFC November 27th
See poster for ticket info #Boxing #Sportsmandinners pic.twitter.com/x6yAlGTDBg

— Ricky Hatton MBE (@HitmanHatton) October 27, 2019
"He can be a world champion of the weight division and that's probably going to give him to the best out of all the champions in that weight division.
"Probably what he needs now is to move up to welterweight, have a big defining fight with the other guys that are in the welterweight division so he can get not only the big paydays he obviously deserves – but the recognition he deserves. But it seems like the bigger names are a weight above at the minute.
"So now he's unified the belts at his own weight, move up and challenge the best in the weight above."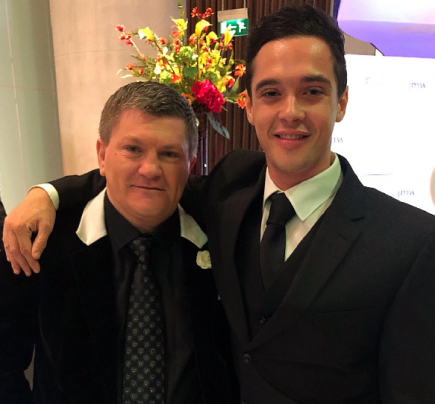 A-BOUT LAST NIGHT: Ricky poses with MM's Dane at the City of Champions
Image courtesy of Ricky Hatton via Twitter, with thanks.