With the Christmas markets open for business and the city centre illuminated, Manchester's holiday season is in full swing.
After a browse through the stalls and a warming sip of mulled wine, we couldn't help but get in the festive spirit at MM and here are some of our favourite Christmas destinations.
No fairy tale in New York, winter sun in the Caribbean, or even a visit to Lapland though – these five all have something a little bit different.
If you have some money left over from your Christmas shopping, then there might just be time to pay one of them a visit before Santa arrives.
5. Santa Claus, Indiana
Speaking of Santa… yes, there is a town called Santa Claus in the US state of Indiana.
It might lack some of the grandeur of the others on this list but this cosy little place will suit anyone who wants it to be Christmas all year round.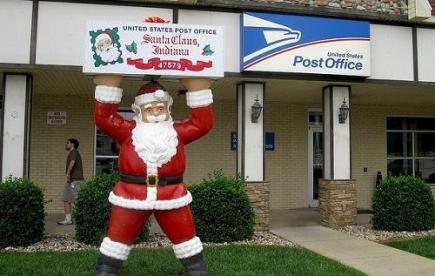 SANTA CLAUS IS COMING TO TOWN: Make your list and check it twice!
Not only do residents live within the gated community Christmas Lake Village: Lake Holly, Lake Noel and Christmas Lake.
But Santa Claus is also the home to numerous themed attractions including: Santa's Candy Castle, Santa Claus Museum, Frosty's Fun Center and Santa's Stables.
The most charming feature is, without doubt, the fact that a team of 'Santa's Elves' at the post office make it their mission to answer every child's letter to Father Christmas that accidentally finds its way to 'America's Christmas Hometown'.
4. Medellin, Colombia
Colombia's City of Lights provides one of the world's most spectacular Christmas displays.
Almost 500,000 miles worth of light strips and more than 30 million bulbs are hung across the city, including on the Medellin River that runs through its heart.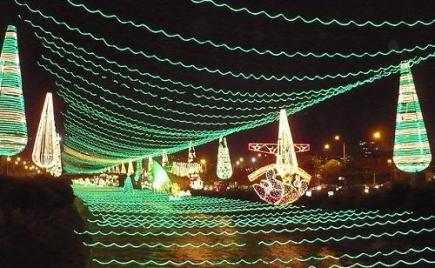 LIGHT UP YOUR LIFE: Head over to South America
Thousands of people come to revel in the fantastic array of colours with vendors lining the streets and performers entertaining the crowds.
The hills surrounding Medellin also provide the perfect opportunity for a stunning overview of the country's second-largest city.
3. Niagara Falls, Canada
Perhaps a fairly obvious holiday destination, but the US-Canada border town is not necessarily somewhere you'd associate with a Christmas break.
Alongside the traditional tourist attractions, most notably the famous Maid of the Mist boat cruise, the Christmas fireworks and light shows that illuminate the Falls make it worth braving the winter freeze.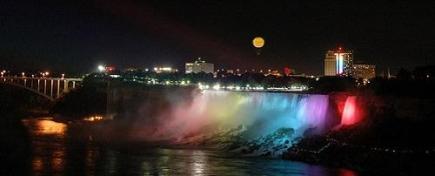 HO HO HO: Ho'w about a trip to Canada?
What's more if you have time then a stay in Montreal, where arts and entertainment take the Yuletide centre stage, is the perfect excuse to visit French Canada.
2. Singapore
Bright city lights, sweltering tropical heat and foam machines acting as a snow replacement service – what's not to like?
The huge shopping districts in Marina Bay and Orchard Road were lit up by none other than David Beckham and provide a bit more glamour the Manchester Boxing Day sale madness.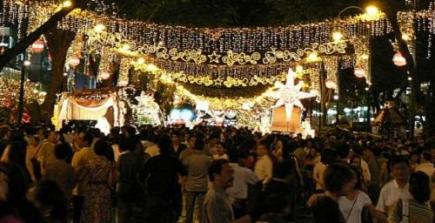 GOLDEN BAUBLES: Beckham turned on the Christmas lights
On Christmas Day there is even a concert and an exercise workout to burn off the calories – besides, wading through waist-high foam is an awful lot easier than snow.
1. Vienna, Austria
The Austrian capital is not only home to some of the best Christmas markets in the world but Vienna's snowy weather, classical architecture and vibrant culture make it a superb holiday destination. 
It's also a perfect getaway for anyone desperate to escape the annual sounds of Noddy Holder or Mariah Carey.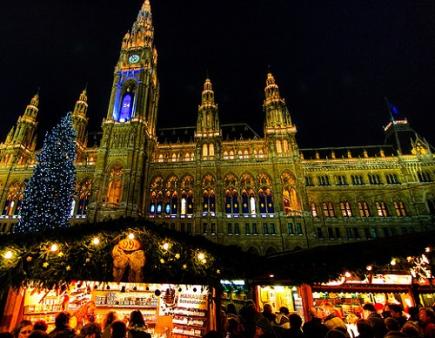 GOODNIGHT VIENNA: Waltz your way over
Instead, you can waltz to Mozart at one of the city's famous grand balls or take a trip up to the Alps and pretend you're in The Sound of Music.
Main image courtesy of Lain with thanks. Inset images courtesy of millr, Edgar Jimenez, Thaddeus Quintin, Salihan and brian colson, with thanks.