Heaton Park has staged some memorable events over the years but none quite as extravagant as this.
Five thousand thrill-seekers battled the rain, sleet and cold on Saturday to take part in Britain's biggest obstacle course as Gung-Ho!'s 5km fun run came to Manchester.
The April showers did little to dampen the runners' spirits however, as people of all ages overcame ten inflatable obstacles along the route including the world's largest bouncy inflatable and finishing by sliding down the 200ft 'Thriller'.
It was the first time Manchester has hosted the event and the first occasion that Gung-Ho! sold-out their allocation of entrants.
Watch: MM reporter Adam Leah take on the Gung-Ho! challenge
The event was created by CBeebies presenter Alex Winters who had the idea while watching television with his three children to create an event similar to Total Wipeout or It's a Knockout which the public could compete in.
Having moved to Manchester in 2011, Alex admitted he was excited for Saturday's event and is pleased that the dismal weather didn't stop people from enjoying the day.
"We've literally had every form of weather – hail, snow, rain, wind and sunshine yet people are all laughing and smiling," said Alex, who spent the day on stage near the starting line motivating the runners and setting off each wave.
"That's the ethos of Gung-Ho! – it's just about enjoying yourself and having fun in whatever way that is.
"I don't think the weather would ever ruin an event like this, it's the human spirit.
 "I'm really grateful that people have embraced it and we would love to come back next year."
The event also enabled thousands of pounds to be raised for various charities with The Christie NHS Foundation Trust in Withington being the nominated local charity for the event.
With a focus on fun the event was a great way to engage with people of all ages which Alex said was one of the most pleasing outcomes from the day.
"One of the things I've loved most is seeing the youngest and the oldest getting involved," he said.
"Today we've had someone in her late 60s running and then we've also had seven-year-olds. We've had old, young and that's what's impressed me more is to see people of all ages taking part and it's been a real sort of family occasion.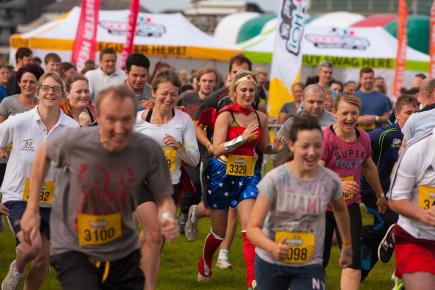 INSPIRING: The Manchester fun run was the first Gung-Ho! to completely sell out
"It's been inspiring as well. We've had a lad who three years ago was paralysed from the waist down and now he runs and does something physical like this every year because he's now able to walk and run again despite being told he never would.
"We've also had little ones running for their Grandparents who have passed away with cancer. It's a poignant afterthought where you think 'you know what, this is something where people have fun but where you have the opportunity for various people to take part'.
"It's totally uplifting and I think that's what Gung-Ho! is all about."
Saturday's event was the first of 12 spread across the country this year with many of the entrants hoping that it will return to the city in 2017.
Runner Samantha Fleming from Bury said: "I'd definitely do it again next year.
"It was really great fun all the way round and we had such a laugh. The inflatables were great fun – I'd love to go down the big slide at the finish again!"
Fellow participant Jon Kirby added: "That was great and really good fun.
"The inflatables make it a bit more challenging especially in this weather but it's just good fun for everybody. I'd definitely do it again and recommend it to others."