From the nostalgia of China Plates and Pearl Earrings by 25-year-old Jade Jones to the riotous Trollope, Manchester's Fringe has been "a little bit of everything" according to GMF director Lisa Connor.
The Greater Manchester Fringe has been home to many aspiring artists and actors since 2012.
Slowly expanding, it has come a long way since its humble beginnings as a six venue festival: seven years later and the Fringe hosts an impressive 30 shows spread out across Manchester.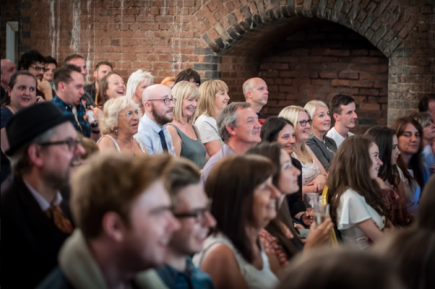 As well as being a powerhouse of talent, the Fringe allows artists to try out ideas, make mistakes and as Debbie Manley, the publicist for GMF says, "to use the event as a springboard to bounce forward to bigger and better things."
Garry Starr, who was awarded best comedy at the Fringe afterparty, has certainly excelled in his career and couldn't accept his award because he was at the Edinburgh Fringe gearing up for his next show.
During the last month, show-goers have found that performances influenced by society are more prevalent than ever, with modern forms of zeitgeist taking centre stage.
Along with LGBTQI and non-binary acts, there were four suffragette acts and a nod to the #MeToo campaign.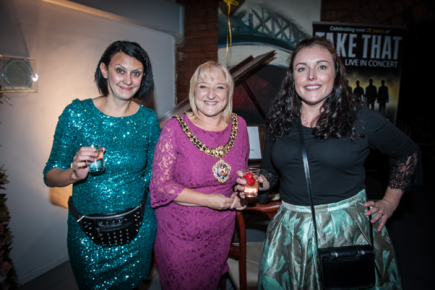 ALL SMILES: Manchester Lord Mayor June Hitchen (middle) at the awards night 
Following the sex scandals of the past year and the increasing transparency in the creative industry regarding sexual abuse, the campaign's presence on the stage is no surprise.
Edinburgh Fringe will feature 29 #MeToo themed shows such as Never Vera Blue and Home, I'm Darling starring the brilliant Katherine Parkinson.
At Manchester's boozy afterparty, young playwright Libby Hall stole the show when she won both the Best Newcomer and Best Ensemble awards, as well as being offered a mentoring opportunity in the Write for the Stage course. She's only 16!
Her politically conscious play Things We Tell The Hours After Midnight was performed by the Salford Arts Theatre Company, with the cast ranging from 11- 16 (pictured below).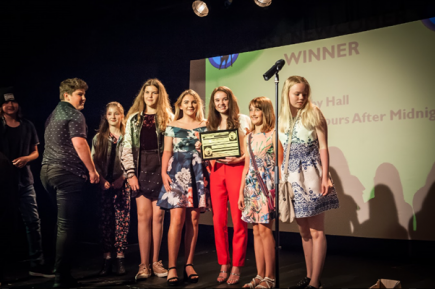 Their performance was heart-wrenching as a group of friends came together to examine the prejudices they seemed to have inherited from their parents and try to investigate who was responsible for disfiguring a Muslim child. 
Though she may only be 14, Ruby McCann was delighted to be in a play voicing "real issues" and shows how hate crime can be a result of what the media and older generations project onto impressionable young people.
"Today's world is all about hate. The news is not positive and hate crimes happen because of how people have been brought up," she told MM.
After a fabulous month of red-faced laughing and crying enough tears to flood the whole of Manchester, we are eagerly looking forward to next year.
But if you can't wait that long, the Edinburgh Fringe has just begun and will continue to amaze until August 27.
MM's top shows to see in Edinburgh
Site-specific drama – User Not Found written by Chris Goode
Comedy – Underground Railroad Game performed by the US creators Jennifer Kidwell and Scott R Sheppard
Musical – My Left/ Right Foot the Musical – part of the Made in Scotland Showcase
Adaptations – Maladie de la Mort directed by Katie Mitchell
Satirical play – Angry Allan written by Penelope Skinner
70th birthday of the NHS – After the Cuts by Gary McNair
All images courtesy of Craige Barker, with thanks.