Cornwall has its pasties and Cumberland has its sausages. Has Manchester found its own niche in craft beer?
It certainly seems so. With 75 CAMRA-approved breweries in the city and its surroundings according to its latest Good Beer Guide, you're never far from a great pint.
But there's one that stands out from its boozy peers thanks to a unique selling point: it's run by seven brothers.
Just a short walk from the hubbub of MediaCity, the aptly-named Seven Bro7hers Brewery sits on an unassuming Salford industrial estate. Like Willy Wonka's chocolate factory, you wouldn't expect the wizardry that goes on inside.
The McAvoy brothers – Keith, Kit, Nathan, Greg, Guy, Dan and Luke – began their brewing journey back in 2014, when they opened their first site.
Before that, they were employed in a diverse range of jobs, from a science teacher (Kit) to a professional Rugby League player (Nathan).
They were inspired by the brewpubs of Oslo and wanted to replicate the experience in their hometown, where they saw a gap in the market.
"My first experiences of beer were my Dad's homebrew casks that he had down in the cellar," explains production manager Nathan.
"They were constantly frothing over because he couldn't get the temperatures right."
Fortunately, the brothers have perfected their brewing skills, reaping awards for their beers and getting stocked by the Co-op and Booths.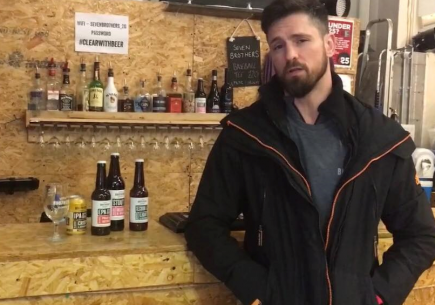 THE SUBLIME SEVEN: Former rugby league pro Nathan says the family ethos – and the fact they've learned from their Dad's homebrew errors when they were young – has stood them in good stead
Demand meant their first premises, where they began with a ten-barrel system, soon became too small. A recent round of crowdfunding raised £200,000, enabling them to move to a larger site with double the amount of barrels.
This investment has allowed the team to brew higher-quality beers and develop new ranges as well as one-off creations.
The McAvoys were always a close family, according to Nathan, and even now all the brothers live within a couple of miles of each other.
"If there's any disagreements, because there's seven of us, we're always able to sort them out. If two of us have a disagreement, there's always five to knock our heads together," said the 41-year-old.
Now the McAvoy sisters have got in on the act by opening a gin distillery under the same roof.
"It was always a running joke: seven brothers went into business with other, what are the sisters going to do?" Nathan jokes.
You can enjoy both Seven Brothers and Four Sisters drinks at their stylish Ancoats bar.