Rise like Lions after slumber. In unvanquishable number. Shake your chains to earth like dew. Which in sleep had fallen on you. Ye are many, they are few.
To many people, these words might not mean much.
But when they were written in 1819 off the back of one of Britain's biggest political outrages, they meant a great deal.
Percy Bysshe Shelley wrote this passage as part of the Masque of Anarchy poem which was written after the Peterloo massacre of 1819, where 15 people were killed and hundreds more injured during a political demonstration.
Described as the 'greatest political poem' it has influenced world figures such as Ghandi and still strikes a chord with people today.
A brilliant performance of the poem was recently witnessed by a hundred or so people as part of Manchester Histories Festival.
Held in the Friend's Meeting House, Mount Street, the performance was given by the Masque of Anarchy Readers Group made up from a number of local writers groups from Rochdale.
After some historical background by Michael Higgins of the Royton Local History Society, performance director Paul Jelen introduced the poem.
The performance travelled from performer to performer, each separate voice filling the words with emotion, meaning and significance.
Sometimes sounding angry, sometimes sad and sometimes in voices loaded with despair and hopelessness, the performance more than lived up to the poem and its reputation.
Full of energy and commitment, it led us through Shelley's vision of the unjust authority of his time and the subsequent stirrings of a radical new form of social activism.
Then, one voice rang out to perform some of the most famous and memorable stanzas of the poem:
Men of England, heirs of Glory. Heroes of unwritten story. Nurslings of one mighty Mother. Hopes of her and one another.
Rise like Lions after slumber. In unvanquishable number. Shake your chains to earth like dew. Which in sleep had fallen on you. Ye are many – they are few.
Shelley's poem continued onwards from this point, expanding on the theme of passive resistance in the face of tyranny.
At the end, all nine performers ended the reading in unison with a passionate rendition of the final stanza.
The performance was then followed with a poignant reading of the names of those who lost their lives at Peterloo.
This was a very fine performance of The Masque of Anarchy which did full justice to Shelley's poem.
The only disappointment of the evening was that such an important and relevant poem should have only been heard by so few people.
Linda Goodacre, 63, a retired teacher from Manchester and a member of the audience, said she had not heard the poem in full for many years and thought it contained many powerful messages.
"The demolition of the welfare state means this poem is as relevant today as it was when it was written," she said.
"Shelley is right, we can't despair. We need to be roused from our slumbers."
Lilian Pons, 60, also from Manchester said she thought the performance was 'fantastic'.
"We are sleepwalking into losing all our fathers and forefathers fought for and this poem is a timely reminder of that fact," she told MM.
Held on St Peter's field August 16, 1819, the Peterloo massacre had intended to be a peaceful political protest against the social and economic conditions prevailing at the time.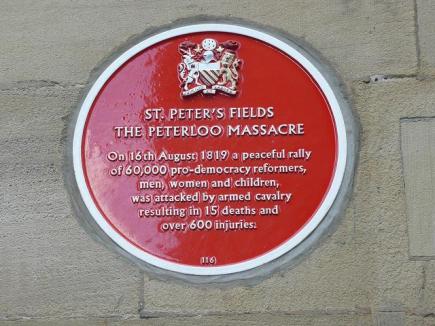 REMEMBER: A plaque commemorating those who lost their lives at the Peterloo massacre (Photo courtesy of Terry Whalebone, via Flickr, with thanks)
Protestors, carrying banners with slogans such as 'No Corn Laws' and 'Universal Suffrage' had gathered for what was intended to be a peaceful political rally.
Local magistrates, panicked by the 60,000-strong crowd read the Riot Act to the demonstrators.
But when the protestors did not disperse, soldiers were ordered to break up the meeting before the situation escalated and in the ensuing chaos, many people were hurt.
The journalists present were arrested and those that reported the event were later imprisoned – the organisers of the demonstration were originally put on trial for high treason, although these charges were later dropped.
The Peterloo Massacre was a seminal event in British history and the outrage it caused among the radicals of the time led to long lasting social and political changes, culminating in the formation of Trades Unions and eventual universal suffrage.
John Edward Taylor, an eyewitness of the massacre and a founding member of the Manchester Guardian, described it as 'a defining moment in the fight for British democracy'.
For Shelley, who was living in Italy at the time, the massacre was an outrage for which he blamed the British Government and its repressive laws.
Regarding himself as a prophet poet, he wrote the Masque of Anarchy to express his anger at what he saw was the repression of Englishmen's ancient rights and freedoms.
He deliberately named reactionary government ministers and uses the imagery of Peterloo to warn Englishmen to restrain from violence and to link arms against tyranny under the shield of reason and right.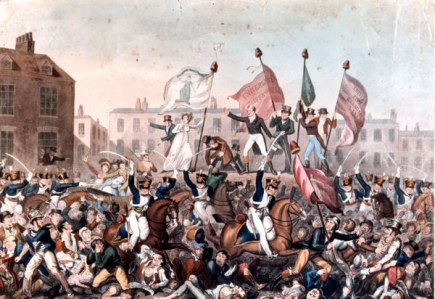 RIOT: Peterloo massacre of 1819 (Image courtesy of Manchester Library Services, with thanks)
Mr Higgins told us that Shelley gave 'wonderful, yet terrifying images of England in his time.
"They are hieroglyphical, stereotypical and almost mythological images of the struggle to achieve liberty in a land ravaged by oppressive laws enforced by seemingly thoughtless officials," he said.
Mr Higgins' contextualisation of the Masque of Anarchy was succinct and informative which allowed the audience to fully appreciate the power and significance of the performance.
As he reminded the audience prior to the performance, Ghandi had regarded it as a great inspiration for modern and determined pacifist protest.
Freelance artist and writer, Paul Jelen, who arranged and directed the performance told MM how the performance came about.
"It was initially conceived by Eileen Earnshaw, the secretary of Rochdale Co-operative Members' Group and also one of the performers," he said.
"She wanted to promote ideas of cooperative working and we felt this was what Shelley's poem was about, people being together, working together and standing up together."
The cast, who are all voluntary, are drawn from various writers groups in Rochdale including Weaving Words Writers Group, Touchstones Unity Group and the Cooperative Members Group.
The performance was the culmination of three months hard work rehearsing the reading of what is a very difficult poem to read.
"Essentially, Shelley wrote free verse," explained Mr Jelen explained.
"This makes the metre very difficult to master.
"What Shelley was trying to do was to write in the tradition of a political pamphlet but in the style of a poem. To force the prose into a poetic form.
"But this is what is fantastic about it – it is because it is a poem, we've still got it today and it is still really important.
"It was because it was in poetic form that it survived and as a result of that Ghandi read it and was inspired by it.
"For a poem to have changed the world in that way is phenomenal, we don't see art as being so proactive in the world."
This was a fine performance of a very significant and important piece of art – in the words of Paul Jelen 'a poem that changed the world'.
Read the full poem here
Image unless stated courtesy of Wikimedia Commons, with thanks