Trafford was painted red last night – for something unrelated to its world-famous football club – as Labour wrestled back control of the council from the Tories for the first time in 14 years.
With turnout at 42.9% – up from 41% in 2016 – Labour ended with 13 of the 21 wards up for grabs, with the Tories claiming seven, and a surprise win for the Greens in Altrincham.
Labour now have 30 councillors to Conservatives 29, while the Lib Dems and the Greens each now have two apiece – making Labour the largest party in the borough, albeit without an outright majority.
A flagship northern Tory council, Trafford went into the evening billed as the most keenly-watched local election result outside of London, and it did not disappoint.
The three hotly-contested wards targeted by Labour were Davyhulme East, Davyhulme West and Flixton, all of which switched allegiance from blue to red, with Labour either holding or gaining from the Tories throughout the borough.
Turnout in those three battleground wards ranged from 49-55%, well above the national average.
Local issues were repeatedly cited as being at the forefront of voter's minds, particularly proposed green belt developments in places like Flixton, and the privatisation of environmental services, labelled "a total disaster" by the Trafford Labour leadership.
The evening started with a mantra of "wait-and-see" coming from the Labour camp, but as things progressed and early result predictions began to float across social media, things became noticeably more relaxed from those clad in red with jubilation to follow.
Trafford Labour leader Andrew Western told MM before the results that a Labour win would send a strong message.
"ALL THOSE BLOODY YEARS"
"A middle-England council seat has had enough of the Tories, and that's really promising for Labour not just locally but nationally as well.
"A lot of people are fed up – long standing Tory voters who have had enough: pot holes outside their house; fly tipping on the local park; litter.
"Just a sense that the Tories aren't listening, they aren't listening to residents' wishes and ultimately it could cost them dearly tonight."
As the loss of Tory control became clear and reverberated around the hall, Labour party members celebrated and congratulated one another, with some – including leader Western – looking noticeably emotional.
"All those bloody years" rang out as red fists punched the air.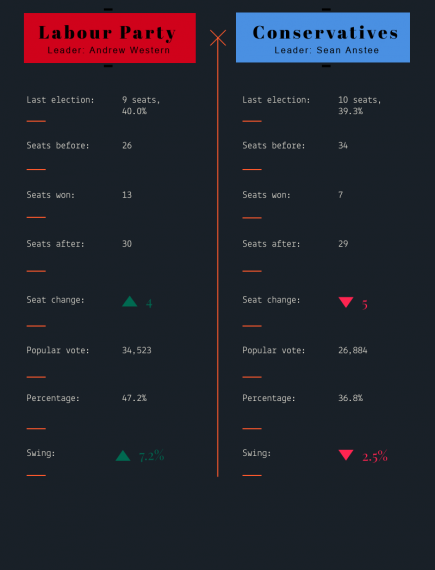 In between hugging fellow Labourites and posting victory tweets, Labour MP for Stretford and Urmston Kate Green said: "The local people have spoken.
"It's really clear that when you've got a very strong clear offer to local people about investing in the services that are important to them, about listening to what is important to local people and about taking their views on board that Labour does really well and that's what's happened here tonight."
Regardless of what has happened nationally, the loss of this flagship Tory council in the Northwest is a big loss for the Conservatives and a big scalp for Labour – a fact that was etched on the sombre face of every blue in the room by the end of Thursday's election night.