A Manchester humanitarian, who has led several life-saving aid missions to Syria, has spoken out about increasing police scrutiny he and other Muslim aid workers face at the UK border.
Ahead of a BBC documentary tonight, MM can reveal how dad-of-three Kasim Jameel, from Bolton, has embarked on the 3,000-mile journey to war-torn Syria 11 times over the last 18 months to provide vital aid for its people in the form of food and critical medical equipment.
When the war broke out in 2011, small aid convoys left the UK and entered Syria relatively unnoticed, now however, they can't get past the white cliffs of Dover without coming under police suspicion first.
MI5 has publicly stated that one of its top priorities is returning fighters from Syria and, after a recent jihadi recruitment video featuring young Brits was publicly released, British authorities remain on high alert.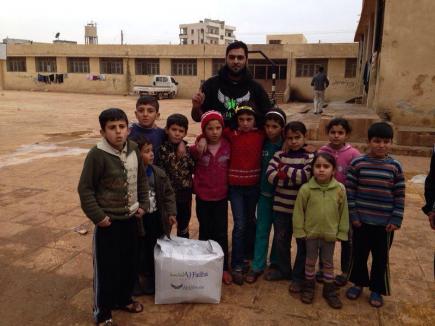 VITAL WORK: Kasim Jameel (c) has brought food and water to children caught up in the civil war
On their latest convoy, which was documented by BBC Asian Network's Catrin Nye, Kasim and his team of nine were held up at the UK border for hours while police searched their food-packed ambulances.
They also quizzed the group about their views on Isis, the Jihad and the murder of Fusilier Drummer Lee Rigby.
"They put us down as being guilty for something – they see us as potential terrorists," said Kasim, who, after 11 aid missions, has become very familiar with the Dover border control.
He argued that many Israeli Brits, who travel to Israel for military conscription, do not face any obstacles on their departure or return.
"They have to go over to a war zone, join the forces and train with weapons – but they don't get stopped at the border.  We see it as anti-Muslim," he said.

MISSION: Thousands of people in the war-torn state need urgent assistance
Making the week-long journey across land and sea means that the team has to stick to a tight schedule – being stopped and interrogated at the border causes significant delays to their humanitarian mission.
And there could even be a financial cost as Kasim revealed he was stripped of £25,000 in cash during one run-in.
Mohammad Waseem Qais, of Rethink Rebuild, the voice of Manchester's Syrian community, said that while they agree with the Government in advising against travel, and have warned their community not to, they do not agree with the authorities' actions.
He explained that the Government's arrests and threats were causing a lot of trouble for Syrians at airports and that their actions have 'negatively affected' charity aid work.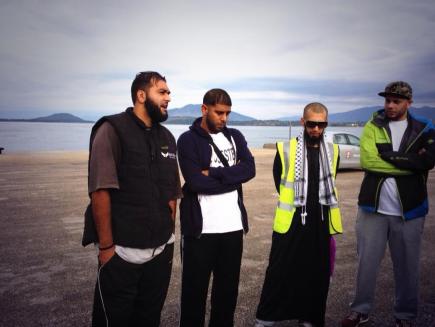 BAND OF BROTHERS: Kasim is one of many UK aid workers bringing medicine to Syria
The UK authorities argue that Brits, including charity workers, could be radicalised by what they see and become involved in terrorism if they go to Syria, which Kasim dismisses.
"I can't imagine anyone getting radicalised by going to a refugee camp," he said.
The UK Border Agency have threatened to seize the passport of anyone going against their warnings- but some British Muslims, like Kasim, are going there to help regardless.
"It's about being human," Kasim explained, "I am seeing people dying all over the world, and someone somewhere is doing something to help, but with Syria people are turning a blind eye."
He told MM it's the smiles and gratitude of the Syrian people that keep him going back in spite of such trouble at the border as well as being separated from his wife and three young daughters.
"Something as simple as a breakfast bar means the world to them – they really appreciate what we're doing," he said.
"We're Pakistanis, we've come from England, when their so-called Arab neighbours around them are doing nothing."
Kasim urges the British government to do more to help – as the situation in Syria continues to decline.
He explained how during previous missions he would witness an air strike 'once or twice-a-week', rising to three or four times-a-day.
"They need to do something like they did with Iraq, Afghanistan and Libya – they need to enforce a no-fly zone so that the killing of innocent people in air strikes will stop."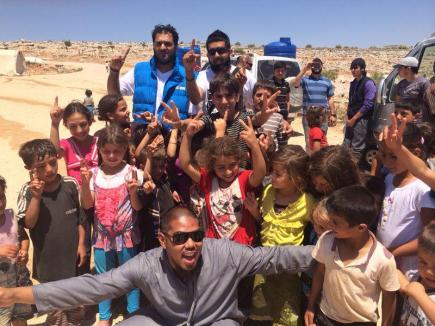 RELIEF: Kasim's visits put a brief smile on the face of the Syrian people
Sadly, this latest convoy was Kasim's final land mission, partly because he wants to spend more time with his family – but partly because it has become so difficult to get out there.
A few weeks ago, UN humanitarian chief Baroness Valerie Amos warned anti-terrorism laws were preventing aid agencies from reaching vulnerable people in Syria – the case with Kasim demonstrates just this.
But leading Muslim charity Islamic Relief, who have provided assistance to 2.1 million Syrians during this conflict – 1.4 million of them inside Syria, have also backed the efforts from aid workers to make it to the war-torn country.
Jehangir Malik, Islamic Relief's UK Director, said: "We admire the passion and bravery of those in the Muslim community in the UK who have tried personally to get aid through to the people of Syria in this horrendous conflict, often at huge personal risk.
"Many have done so partly because they have an understandable sense of alienation and frustration about the failure of the international community to make a major diplomatic breakthrough in a conflict that has lasted nearly three years and left nearly 10 million people in need of aid.
"What Syria desperately needs is peace, because ultimately there can be no humanitarian solution to a political problem.
"Our approach involves procuring medical supplies and other aid locally and distributing it across the border from Turkey through a network of Syrian nationals employed directly by us. We find that this is the best way for us to get help to those who need it as safely and cost-effectively as possible."
Catrin Nye's documentary, Destination Syria, will be shown at 5pm on BBC Asian Network and 8.30pm (GMT) on BBC World News tonight.
Images courtesy of Kaseem Jameel with thanks