Manchester's vegan landscape is one of the best in the UK; a city where you'd seldom find yourself in a café, bar or restaurant without at least one option of a meat-free meal.
But rewind just a few years and you'd be at risk of being laughed out of many an establishment if you so much as muttered the words 'vegan option.'
What was once a far-fetched absurdity reserved only for the most extreme has now become so normal that four in ten people in the UK admit to regularly choosing meat-free alternatives in a bid to cut down their meat consumption. 
These drastic changes could, in part, be down to the fact that people are becoming increasingly more aware of the toll that the meat industry has on the environment.
It is now estimated that there are almost half a million vegans in the UK, with numbers seeing a 360% increase in just ten years.
Claire Tuck, a hospitality manager from Middlesbrough, has worked in the food and drink industry for over five years, crafting individual menus for private events such as weddings and award ceremonies.
Speaking about the changes she has seen, Claire said: "The push for more vegetarian and vegan options is absolutely massive. The way in which we design menus has drastically changed even in the five years I've been working in the industry.
"People want more fresh produce and so many more people are concerned about where their food is coming from.
"We catered for our first all-vegetarian wedding last summer, where both the bride and groom were set on giving their guests a meat-free experience to prove to them how tasty food can be without meat. Everyone loved it- there wasn't one remark about a lack of meat at the table" she said. 
Despite growing enthusiasm for the vegan lifestyle, some people aren't so convinced.
Michael O'Hare, the Michelin-star-chef behind Manchester's The Rabbit in the Moon famously said that the restaurant in the city centre would not be catering for vegetarians, stating it would only be offering a 'protein heavy' menu.
But not everyone is taking to the lifestyle due to ever-growing awareness of animal rights or in a bid to get healthier.
Co-founder of The Legumerie and self-proclaimed futurist John McCullough is much more convinced it's because people are also becoming more aware of what will happen to the future of the planet.
"There is no way we can sustain the plant we live on if we carry on the way we're going.
"Not everyone has the same reasons [to be vegan] and I look at it mostly from a futuristic perspective- I think a lot more people do now. Being a vegan doesn't mean the same thing as it did 10 years ago.
"Within 100 years you'll be the odd one out if you're still ordering meat off a menu- if it's even still available by then. Slowly but surely the world is going vegan" said John.
According to research conducted by The Guardian, 42% of all vegans are aged between 15-34, meaning the drive for change is coming from the younger generation- something only projected to grow with future generations.
With all that being said, one of the main reasons people are still scared to take the leap is because they don't know exactly what's available to them.
Hannah Hornsby, a solicitor who studied at Manchester University, spent a year as a vegetarian but has recently gone back to eating meat.
She put it down to time and convenience mainly; stating that despite the growing availability of meat-free options, since starting work full-time she found it difficult to plan meals without meat.
"Being vegetarian was much harder than I expected it to be. It takes a lot of dedication and forward planning.
"I understand it's getting easier now but for me it just wasn't worth the time and hassle. I'm happy to cut down my meat consumption for environmental issues, but when I'm eating out with friends and family I want to be able to have my pick from the menu" she said.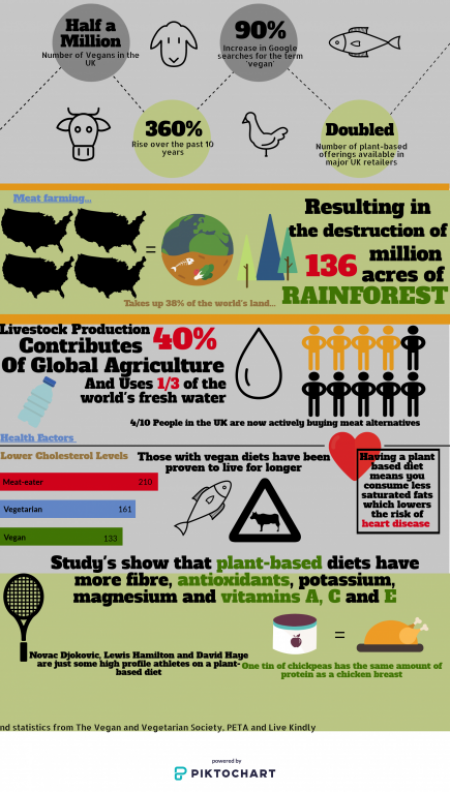 In 2017 major high-street sandwich shop Pret A Manger admitted that vegan options now take up a whopping 51% of the food on their menus- firmly cementing themselves as one of the most vegan-friendly cafes on the high street.
Last October, Chorlton became home to Manchester's first fully vegan take-away and cult establishments such as Bundobust have seen such popularity over the past few years that they've invested in growing and curating new menus to cater to the demand of meat-free diets.
Described as much more than a fad-diet by many, only time will tell if veganism really will become the diet of humans around the world in generations to come.