It's like a garden grown wild. Brambles, weeds and vast nettles.
A jungle of thorns; tangles of bindweed clinging to the surface. The once flourishing roots resemble dried-up stalks, unpruned, mortified by withered branches.
It's been six weeks since my last number one back and sides, and I look like the perverted love child of Brian Blessed and Russell Brand.
At least, that's how I feel. The reality is that I probably wouldn't yet get turned away by the bouncers at Revolucion De Cuba. But after nearly a month in isolation, I'm feeling massively unkempt and I'm pining for my barber.
But it seems I'm not alone here. Guys all over the country are fretting about their hair. Because, you know, it's not as if there's much else to worry about at the minute.
When I thought about it at first, it struck me as weird that isolated men up and down the country care so much about their appearance, but then I realised that I've actually been more social over the past few weeks than I have in the past five years. Facetime, Zoom, House Party, I've been like the Gatsby of webcam.
"Dwindling physical interaction has placed a greater emphasis on connecting with people visually," says Mr Johnny BaBa, owner of national barbershop chain, Barber Barber.
"I think the fact that we are now constantly on show, be it work, home or play, we all want to look our absolute best. Due to having to isolate ourselves, social media usage has sky rocketed so putting your best side forward is more important than ever."
42 UNDER 42
Johnny, 41, has been in the barbering world since the age of 11. He moved to Manchester in 2013 where he opened his first Barber Barber store. Not before long, he opened stores in London, Liverpool, Leeds, and Birmingham. Most recently in 2018, Johnny opened a store in Hale, south of Manchester.
Johnny featured in Manchester's 42 under 42 in 2016. He's headed up teams at London Fashion Week, the Style Masters Paris Show, and judged on the largest men's hair competition in the world, the American Crew All Star Challenge.
So basically, to be clear, we should listen to what he has to say about all thing's hair. And right now, I need Johnny more than ever.
The dilemma many of us are facing is that we're creatures of habit. I have a trim every four weeks. Five if I'm saving up for a holiday. Some psychopaths only have it cut when they feel like they need it. Never trust these people.
"There is no definite timescale how often you should get a cut as it's all down to personal choice. I have clients who I see every week, and clients that I see twice a year. Frequency is dictated by the client."
My thoughts are with those who usually get their hair trimmed once a week at these difficult times. Tonight, I may stand on my doorstep and clap for them.
"Some people like their hair super tight which means they go to their barbershop weekly, while others like to wear their hair long, so they see us twice or at most three times a year. I would say that the average Barber Barber customer sees us on a four to six weeks basis.
"The majority of men like to wear their hair short and tidy so I would say that's the correct timescale between visits. After six weeks it borders on the unruly side."
Which is exactly where I'm at, caught at the midpoint on the scale between Ross Kemp and Tarzan.
Take to Facebook and Twitter, men have already had enough of their wispy sides and frantic fringes and reached for the clippers. There are some god-awful sights. However only weeks into lockdown, this all seems a little hasty.
But is this the right thing to do to make our grooming needs easier in the interim? Should we chop it all off and embrace our inner Mitchell brother?
"NO, NO, NO, NO!" Johnny says.
I just wish our politicians were this clear. So, what should we do?
'STEAL YOUR PARTNER'S CONDITIONER'
"Now is as good a time as any to try out that beard or looser style that work or life wouldn't allow in the months and years gone by. It looks like we're in this for the long haul so let your inner lumberjack loose and embrace the bear."
Now, each time I look in the mirror, I look myself directly in the eye and yell, 'EMBRACE THE BEAR'. It feels like a mantra to live by. In my future, I see t-shirts, mugs, and mouse mats.
So how exactly do you embrace the bear without looking like, say, a bear? Even at two metres, I don't want to feel threatening on my daily walk.
"Just make sure you wash and condition your hair and beard regularly, using a good quality shampoo and conditioner. If you don't have one, steal your partner's – they can't moan at you because they have nowhere to go either, so tough!"
If you're single, now's the time to stop doubling up your Lynx Africa bodywash as a shampoo and conditioner and treat yourself to decent product online. I've been using my girlfriend's Tigi Bed Head Resurrection conditioner and throughout the day I've found myself stroking my own head like I'm a Labrador.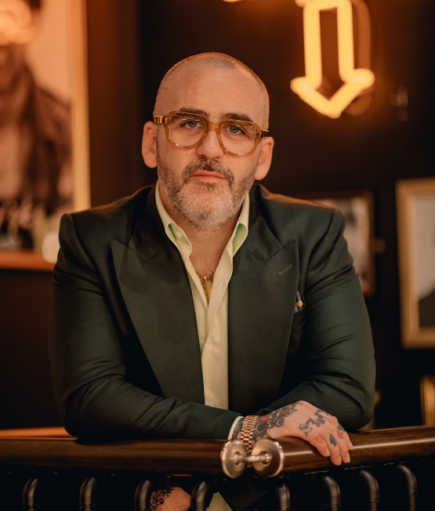 LUMBERJACK LOOK: Normally an advocate of a sharp style, Johnny Baba says now is the time to go wild
And when this is all over, weeks, months, years down the line – when the queues for Barber Barber are out the door and we're at the back of the line, hair down to our knees crying for Johnny, what should we ask for when we're finally sat down in the chair?
"The usual please!" Johnny says. "There's no need to change anything. This is just a pause not a stop button. We ain't going nowhere."
In the meantime, wash, condition, but whatever you do, stay strong and do not shave it all off.
Say it with me loud and proud, EMBRACE THE BEAR.
Join Johnny and men's grooming expert Robin James on Instagram Live, 6pm Tuesday 7 April where they will be answering questions and discussing all things home grooming.
You can follow Johnny on Instagram at @mrjohnny_baba