Piccadilly Gardens is perhaps one of the most popular destinations at the heart of Manchester's city centre. It has long been a place of relaxation and, more often than not, congregations for various groups of people.
This description, however, doesn't entirely attest to the true nature of Piccadilly Gardens – a place which, rather unfortunately, has become synonymous with drug use, and amongst other things, disorderly behaviour.
The Piccadilly Gardens we know today, surrounded by restaurants and a pace away from the ever busy Market Street, can have its more modern roots traced back to 1914 when the area was developed from a previous site of the Royal Infirmary into a public garden space.
The garden, a sunken block of land, was to spark a change in the environment harboured in the city centre.
Despite suffering damage during World War II, the area was rebuilt and maintained as a garden and quickly became a place of public gathering and general unwinding by the 1960s. This was an era of change for the area, given that it saw the construction new office buildings and the erection of the infamous partition wall, dividing the gardens from the hectic bus area.
The more final upgrade was completed at the beginning of the millennium, with the reorganisation and redevelopment of the gardens. It is this modernising refurbishment, so to speak, that created the Piccadilly Gardens of today – at least in physical appearance.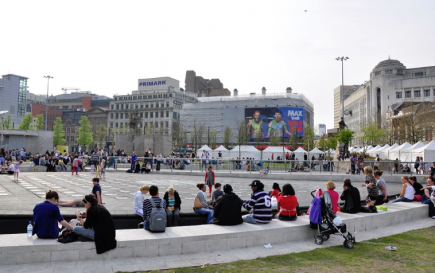 This plot of land has, however, long been an area of contention and controversy. Twitter users are constantly comparing past and present in tweets such as this one written by @BertieBuncle. He posted: "Beautiful Piccadilly Gardens in Manchester before it became the ugly depressing crime hotspot it is now."
It is abundantly clear that the general opinion has become one centred on the idea of the area suffering some form of loss with the redesigning of the gardens and the rise in crime (there were over 890 instances of violent and sexual offences between July 2018 and June 2019).
The area has never truly been regarded as a safe space, however, as history proves.
Before becoming the Cheadle Royal Hospital, the modern psychiatric hospital was previously located in the very spot we know as Piccadilly Gardens today. Regarded as a 'lunatic asylum', the area was a place for the mentally ill and, hence, not necessarily a haven for tranquillity and peaceful relaxation.
It seems that controversy is deeply rooted in the location. Whilst people may currently complain of the area being an eyesore, having unnecessary walls and being a sanctuary for crime, the site is, at the very least, rooted in a disturbing past and shrouded in controversy.
This poses the question: could the area ever really become the utopian ideal so many people want it to be, in spite of its past and its present?
Image courtesy of Pete Birkinshaw via Flickr, with thanks.