Zoe Lyons is not someone with a lot of time on her hands. Speaking to MM a week before her tour kicks off, it's clear that preparations are now in full swing.
"Can you hear me properly? I'm just sort of hanging out of a window at the moment!" Zoe says, desperately trying to pick up phone signal at her home.
With technical difficulties soon navigated, we get on to talking about her upcoming tour. Her first date – The Lowry in Salford – falls this evening, and she recalls fond memories performing here in the past.
"I like the Lowry. It's a lovely venue. I've done two shows twice before and both times really enjoyed it. It's got a great comedy savvy audience."
Though she's already had a chance to trial material at the Edinburgh fringe back in August, she explains how her performances, perhaps inevitably, develop.
"It's the show I did in Edinburgh this year for the festival so I'm looking forward to taking it on the road.
"The show will change over the course of a few months, stuff happens that you incorporate in, things in the news for example.
"Comedy always changes and shifts a bit, it's like a living breathing thing."
By now it's to be expected that Zoe is a dab hand at life on the road. Since 2004 she's toured the UK stand-up circuit, and has also found time in between to be a regular at the Fringe and appear on BBC's Mock The Week.
So does her busy schedule ever became too much, even doing something that she has such a passion for?
"The travelling does get a bit tiring. But you get used to it and you get used to being on your own a lot.
"I'm very comfortable at eating in restaurants on my own now."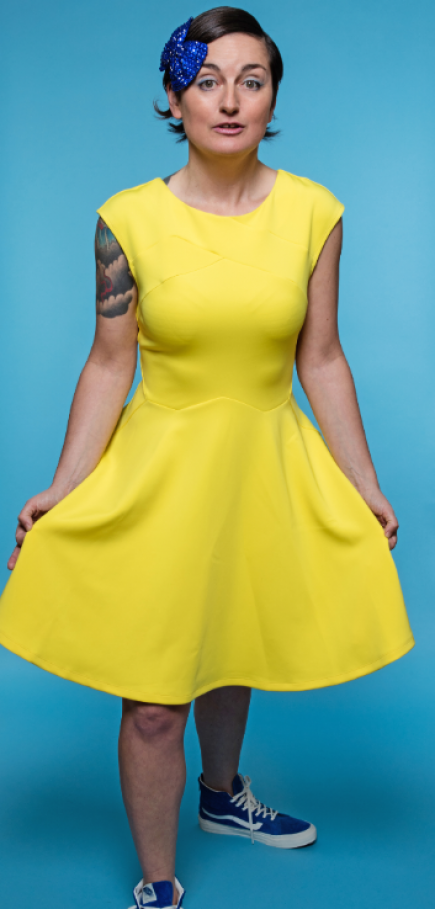 SHAKEN AND STIRRED: Zoe Lyons likens Theresa May to a lizard and says Donald Trump looks like a cross between an orange and a maniacal squirrel
As for the tour's name, 'Little Misfit', where did this come from, and what does it say about Zoe's personality as a comic?
"It's very loosely connected to the idea that as a comedian you never really fitted in. As a comedian I fit in, but as a human being I certainly don't."
Throughout her career, Zoe has been a comic who doesn't feel pressure to be anyone but herself. 
In 2009, she made it onto The Independent's 'Pink List', which recognised the most influential lesbian and gay people in Britain that year.
This hasn't stopped some people targeting the alternative part of her persona however.
"I got heckled at a gig last year which has made it into the show, a guy said 'you only get on telly because of tokenism' which I thought was quite a cutting heckle.
"It's one level above 'get your tits out'," she says, chuckling rather exasperatedly.
In the digital age, it's becoming increasingly hard for comics to avoid would-be hecklers. Twitter has opened the door to a new kind of nuisance, trolling, for comedians to deal with.
Zoe's response when asked for her take on Twitter trolls was fairly reasonable.
"Usually I'm so good at ignoring them.
"But when you're tired and you're cranky they're like a mosquito in the room and you can ignore it and then sometimes you just think 'Oh I'm going to beat the shit out of this'.
"Do you know what the Internet has proven to me? Before Twitter these people would bark at the moon and shout at passing cars. An intelligent person just wouldn't get involved.
"99.9% of the time I totally ignore it but occasionally I just want to say 'oh fuck off'!"
When the conversation moved onto the ever comedic state of British politics it was clear that there's a paradox at work in the comedian's perspective on it. Turmoil seems to provoke both despair and inspiration in equal measure.
"It's not fun to see the world fall apart, but it's fun to see it shaken up a bit.
"We have an unelected prime minister who looks like a lizard, we've got Corbyn who's taking us back to the 70s and we've got Donald Trump who looks like a cross between an orange and a maniacal squirrel, possibly with his finger on the nuclear button."
But not everything is doom and gloom. Adversity breeds creativity, and comedy has always been an outlet for discontent.
"A lot of the backlash against Thatcher did provide a lot of creative outlet. She shut down the mines but she certainly opened up a lot of comedy clubs – because at least people had something to shout against."
Few would disagree with saying that there's plenty to shout about in 2016. What speaking to Zoe shows is that we will always need the misfits to keep us laughing against the state of the world.