'The perfect mum' is looking for her own home after saying goodbye to all eight of her newborn puppies.
Three-year-old Staffordshire Bull Terrier Cleo joined Dog's Trust in Denton last October, and gave birth to four boys and four girls' just days after her arrival.
However, one by one each of her pups left for their new homes leaving Cleo behind and after five months still hasn't found her home.   
Lesley O'Donoghue, 29, Deputy Manager at the Rehoming Centre, told MM: "Eight is quite a large litter and were very lively as you can imagine, she was very patient, and was just a perfect mum.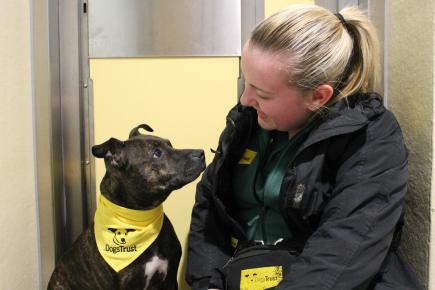 PERFECT MUM: But Cleo has had to say goodbye to all her little puppies
"We're just really sad that she hasn't found her forever home yet because she really is adorable and we can't understand why people just keep walking past her.
"She's a lovely little dog with bundles of character, she really would make a lovely loving addition to a home.
"She loves company of people, she loves playing with any kind of toy and she really enjoys walks and getting out and about and exploring."
Cleo and her puppies had a great relationship and the staff were very proud of how well she coped when they left.
And Dog's Trust is hoping that the love in the air this Mother's Day will encourage people to give this perfect mum a home.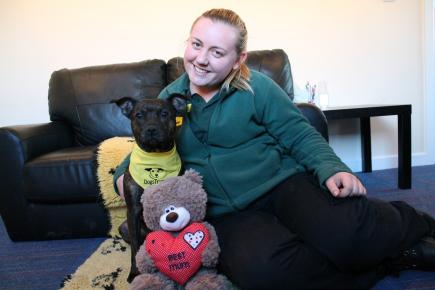 BUNDLES OF CHARACTER: Cleo has been without a family since October
The Staffy is a very intelligent dog, but could probably benefit with some training from future owners.
Cleo is a boisterous pooch who is looking for a home where the only dog, with children no younger than 11 so that she can join in with all of the family fun.
The Dog's Trust cares for almost 17,000 stray and abandoned dogs a year across 20 different re-homing centres through the UK and Dublin.
If you think Cleo would be the perfect little addition to your family then click here.