Whether listening to Radio 4 and The Archers, the latest film podcast on Empire or a 5 Live sports documentary, almost everyone finds themselves listening to the radio.
The wireless has been around for over a hundred years and was once seen as the prominent source for news and music, but sadly the glory days of radio are no more.
Strides in TV and in more recent years, online, has relegated its older sibling as a niche medium, but a unique experience returning to Manchester is going to attempt to rekindle our love of radio, and take us back to the days where what we saw was only limited by our imaginations.
In The Dark provides people with the chance to experience the best of radio podcasts and documentaries from around the globe and share their experiences with others who have the same passion for storytelling on the wireless.
Founded in January 2010, the event has appeared at cities across the UK and will be playing at Manchester's Castle Hotel on April 7.
Run entirely by volunteers, the events are often unique in terms of format  as each event is run differently by the person curating it, reflecting their tastes.
The events all feature very little lighting, hence the name, to provide an atmosphere to allow the imaginative juices to flow.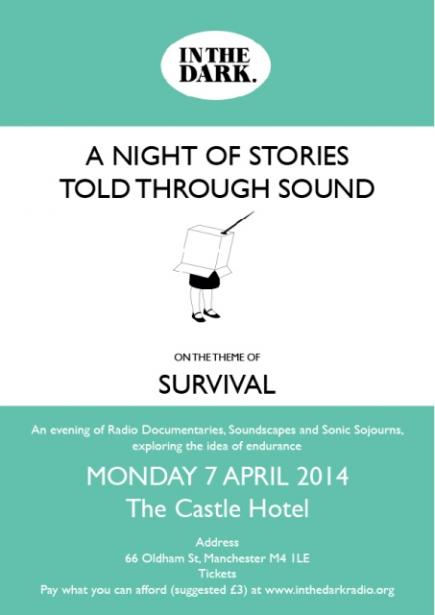 COME ALONG: Radio lovers are invited to a wonderful night
 
"In The Dark is a collective of audio producers and enthusiasts that have come together out of a shared passion for storytelling through sound such as radio, podcasting and sound art," explained Nina Garthwaite, director and creator of In The Dark.
"It may sound strange to anyone who's never been, but basically what this involves is going into a darkened room,  usually a bar or cinema, but sometimes somewhere a little unusual and listening to audio stories from around the world.
"The idea is that our events are a bit like a pop-up cinema, but without the pictures." 
The inspiration behind the event was to give radio enthusiasts the chance to meet up and share their experiences on a perceived niche topic.
"I always loved radio but it wasn't an interest I could ever share with anyone," Nina told MM.
"People tend not to strike up a conversation about the radio programmes they've heard recently when they're down the pub, the way they do with films or books so I felt alone.
"I decided to start these listening events, fairly casually, with the idea that I would both share the audio that I loved and also get to hear new stuff myself by inviting producers I liked to appear at events. 
"It turns out I was not alone. The events were incredibly popular and In The Dark just grew and grew."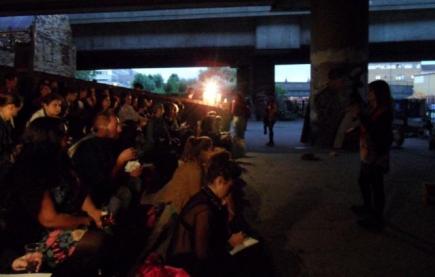 UNUSUAL: Some of the venues have been rather odd
 
As well as holding In The Dark at a range of venues like cinemas and bars it has been staged at some more obscure locations like a boat and even a cemetery.
Manchester has staged three In The Dark events to date and will be running a fourth event at the Castle Hotel this Monday.
As is the trend with In The Dark events, a certain theme or topic is used for them and the one in Manchester is no different as it will have a survival theme.
Nija said Dalal said, a 'member of the collective' at In The Dark and a BBC radio producer, said: "It will be a collection of audio documentaries about surviving whatever life can throw at you. It's going to feature sound art as well as beautiful documentaries.
"An In the Dark radio night, fundamentally, is our way of lifting radio out of its traditional settings.
"It's kind of like a film festival for your ears."
Despite being an unusual and unique experience, Nina is keen to stress that all the events receive massive amounts of interest and attract a variety of people, radio enthusiasts or not.
"I'd say that broadly speaking we attract two audiences," explained Nina.
"One is radio producers/podcasters with an interest in hearing more and meeting others to work and collaborate with.
"The other is members of the public who like radio already or are just intrigued to find out what it's all about."
Nina says it's great to see people who've been dragged along with a friend who have no idea what they are coming to.
"At the end they're always so excited. Radio is still something you can 'discover', which is strange when you think how long it's been around," she told MM.
"It's just been overshadowed for a very long time, but sometimes I think the best stuff comes out of the shadows, where no-one's been paying attention or creating too many rules."
Due to its relative success, In The Dark has been able to provide a grant called 'The Sound Bank', which is awarded yearly to people looking to make creative radio.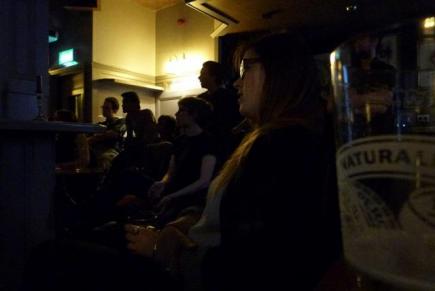 LIGHTS OUT: Darkness helps the imagination 
 
Nija says the event offers a great platform for budding new talent.
She said: "I think that behind In The Dark is also a sense of wanting to encourage and celebrate creativity in audio, to create an audience for adventurous work, to help new producers have their work heard, and to surprise people with pieces from around the world that might be very different to what they hear normally."
Being a true champion of radio, Nija said joining the project was a no-brainer. Nija told MM: "My inspiration for joining In The Dark is that I am a radio geek.
"I love listening to radio and while most of what I hear is interesting or informative, occasionally, there will be a documentary that is completely arresting and it just changes how I think about radio specifically and the world in general.
"Another reason I joined up is because Manchester hadn't had anything like In the Dark before –  a lot of my friends run literature nights and I love Manchester's DIY culture – if you have an idea for a night, you can put it on.
"I thought In The Dark would be a great addition to the cultural life of Manchester as a city."
In The Dark will take place at the Castle Hotel, Manchester, on April 7.
For more information, click here.
Image courtesy of Austen Gruelweller, with thanks.