HMP Manchester, formerly known as Strangeways, has held Manchester's criminals since 1868 and was one of the last prisons to perform executions until they were abolished in 1965.
In that time, some of the UK's most infamous criminals have been held behind those 16 foot stone walls – and even some names who you might not know of their criminal past.
The prison has always been noteworthy – inspiring songs and album titles (Deep Purple's Strangeways and The Smith's Strangeways, Here We Come), books and plays, as well as making headlines with the infamous Strangeways Riots in 1990, the longest prison riot in UK history.
Here's the some of the most notable inmates of Strangeways Prison:
Christabel Pankhurst and Emily Davison
Before the suffrage of women in 1918 many women were imprisoned for their efforts to attain the right to vote.
Many leading Suffragettes were Mancunians, most notably Emmeline Pankhurst who was memorialised with a statue in St Peter's Square in 2018.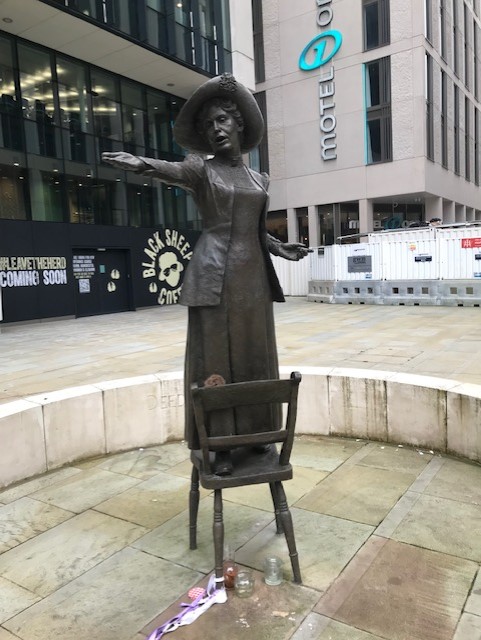 Her daughter, Christabel Pankhurst was also involved in the campaign for women to have the right to vote and, in 1905, she was arrested and imprisoned in Strangeways for a week after interrupting a meeting of the Liberal Party.
Christabel and Annie Kenney, another Suffragette involved at the protest, were fined half a guinea for assaulting the police officers arresting them – but chose prison time over the fine.
Similarly, Emily Davison was arrested in 1909 for throwing rocks at the carriage of then-Chancellor of the Exchequer David Lloyd George.
She was sentenced to two months in Strangeways for the second time that year and, as she had during her first stint inside, went on hunger strike.
In her previous stay in prison Davison had gone on hunger strike for five and a half days, losing 21 pounds, and so after two and a half days she was released from Strangeways.
Four years later, with the Suffrage campaign still ongoing, Davison ran out onto the track at the Epsom Derby and was struck and killed by King George V's horse.
James Inglis
James Inglis is probably not the most famous name on this list, but he does hold a significant place within the records of Strangeways.
Inglis was convicted of murder in 1951, having strangled 50-year-old Alice Morgan in Hull in the February of that year.
He was imprisoned in Strangeways to await execution, which was carried out on May 8th.
His place in the history books was guaranteed on that date when he underwent the fastest hanging in British prison history.
Taking only seven seconds from Inglis leaving his cell to the opening of the trapdoor. Inglis reportedly followed the advice of guards to go quickly and without fuss to the gallows, one guard saying he practically ran.
Inglis' hanging was included in the 2006 film Pierrepoint, about Britain's most prolific hangman, Albert Pierrepoint who performed Inglis' execution.
Dr Harold Shipman
Some of the most high profile cases in British Criminal History have been held in the prison, including the UK's most prolific serial killers, Dr Harold Shipman.
Shipman was imprisoned in Strangeways for four months while awaiting trial for 15 counts of murder — though he is believed to have killed up to an estimated 260 people.
Over the course of nearly 30 years, Shipman killed countless of his elderly patients from his GPs surgery in Hyde.
He was discovered in 1998 after injecting his final victim, Kathleen Grundy, with diamorphine but writing old age as cause of death on her death certificate.
Grundy's daughter went to the police after finding that her mother's will had been amended shortly before her death that excluded all of Grundy's children but left Shipman £386,000.
After his stay in Strangeways Shipman was convicted on all counts and sentenced to life for each count and was transferred to HMP Wakefield.
Ian Brady
The Moors murders are one of Britain's most shocking cases, where Ian Brady and Myra Hindley lured five children to their deaths between 1963 and 1965 and burying their bodies on Saddleworth Moor.
Eight years before the first murder, Brady spent 3 months imprisoned in Strangeways at age 17 when he was caught with stolen lead seals from Smithfield Market.
Convicted as a minor, Brady was then sent to a Borstal in London to be reformed. After two years, having been transferred to a more severe facility in Hull, Brady returned to Manchester.
When he was convicted of the murders in 1966 Brady did not return to Strangeways, instead being taken to HMP Durham, and eventually dying in 2017 at the high security Ashworth Hospital.
Brendan Behan
Poet, playwright and novelist Brendan Behan has been celebrated as one of the greatest Irish writers of all time.
His novel Borstal Boy, was based on his experiences of juvenile Borstals following his conviction in the late 1930s for IRA activities.
Although staunchly republican, his involvement with the IRA declined by the mid-1940s — and his final escapade is what brings him onto our list.
In 1947 Behan was imprisoned in Strangeways for a short sentence following his attempt to free an IRA prisoner from the prison.
Ian Brown
Behan is not the only lyricist to have spent time in Strangeways. Stone Roses front man Ian Brown also spent a short stint inside in 1998 following threatening behaviour on a British Airways flight.
Brown was sentenced for four months, but was released on parole after only two.
While serving his time Brown wrote the lyrics for later songs 'Free My Way', 'So Many Soldiers', and 'Set My Baby Free'.
Despite the reputation of Strangeways, Brown reportedly said that the experience had left him in the best shape of his life.
David Dickinson
Probably the most unusual entry on our list, David Dickinson's time in Strangeways was a long time before his showbiz career.
Dickinson spent three years in Strangeways in the 1960's, having been sentenced to four years for mail-order fraud.
He had been buying goods on credit and then selling them on and recycling the money in order to gain a better credit rating.
In 2005, he told the Mirror: "I vowed I would never do anything to put myself back in this position. I had brought shame on my family, I'd been a cocky young thing."
Strangeways is still in operation today holding 750 prisoners and its reputation still remains. These are just some of the notable cases who have spent time within the walls.