Being sent to the doghouse will be more of a (chewy) treat than a punishment with one of Samsung's new futuristic indoor dog kennels. 
To mark Samsung's partnership with Crufts, the £20,000 Dream Doghouse –  featuring gadgets which would make even the biggest tech junkie green with envy – will be on display at the dog show, hosted by the NEC in Birmingham.
It consists of two separate areas – one for your pooch to put their paws up and one for those barking mad playtimes.
These areas include a dog-operated treat dispenser, a call bell and a wall mounted tablet, as well as an outside leisure area which features a hot-tub, treadmill and spa.
There is something for even the pickiest of pups. No matter what size, shape, or pedigree tails will be wagging!
MM hit the streets of Manchester to gauge the city's opinions on the Dream Doghouse.
Joshua Cooper, 34, a sales assistant from Bolton, said: "It's a good idea to give animals a luxurious life but in reality I can't see it becoming very popular.
"It's one of those inventions that only targets rich higher class people and misses out on middle and lower class people."
Victoria Burfield, 20-year-old student from Fallowfield, said: "To be honest if I could afford to buy that doghouse I definitely would.
"I'm one of those people who even Facetimes their pet. It would be amazing to see her whenever and wherever I am."
The Dream Doghouse was commissioned off the back of a poll of 1,500 dog owners carried out by Samsung, which returned that a woofing 64% agreed their dogs would benefit from more technology and gadgets.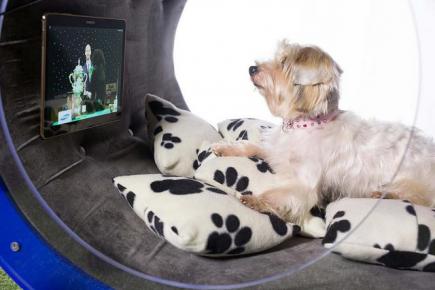 THIS IS A DOG'S WORLD: Necessary pet accoutrement or Orwellian nightmare?
Emily Wilson, 28-year-old secretary, who owns two dogs, said: "I think it's ridiculous to have a hi-tech doghouse.
"Probably the only thing I have that is remotely close to a doghouse is a dog bed. I don't know anybody who would spend £20,000 to buy their dog an indoor house."
Craig Davies, 22, a waiter from Salford, said: "I don't have a dog but I wouldn't buy a doghouse for that price even if I did have one. Even I don't live in that sort of luxury!
"I think it would be a waste of money to spend that amount of money on something you can't use yourself."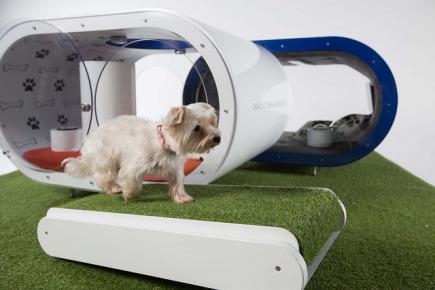 IT'S A DOG'S LIFE: For £20,000 your dog can live better than you probably do
Andy Griffiths, President, Samsung Electronics UK and Ireland said: "With the Samsung Dream Doghouse, we wanted to reflect the nation's growing trend for using technology.
"From dogs who have social media profiles to owners who use video calling to check on their pet while away, technology is fast becoming an integral part of everyday life."
According to the Samsung research, 18% of dog owners would like their favourite poochy pals to have a hot-tub or a spa, and a further 24% would prefer to have a tablet in their canines' kennels.
Images courtesy of TaylorHerring, with thanks.
Video courtesy of Samsung UK via YouTube, with thanks.