2022 has been a year full of funky hairstyles from slick back buns to waives, But for Ella Refson this isn't her normality. 
In October 2021, Ella was diagnosed with diffused alopecia alreata, a rare form of alopecia that affects 0.02% of the population. 
Alopecia is the inflammation of hair follicles that causes many people across the world to lose some or all of their hair. 
The student was put on steroids to try and stop inflammation and slow down the process of losing hair.
She said: "It was definitely very confronting watching my hair fallout, I just remember that I didn't like to wash my hair in the shower because I knew that it would fallout.
"Ultimately it did end up all falling out and I was left with patches of long hair and complete bold patches
"So it got to a point a couple of months ago where there was just a little a couple of strands of hair and I decided to cut that off.
"I obviously didn't expect to have alopecia. They said at the start when I was diagnosed it could fallout, bits could fallout or it could all fall out so you kind of in the dark about it. 
"It's also definitely a very stressful situation, stress is a trigger of alopecia and it's hard not to be stressed about your hair falling out, so it's kind of a vicious cycle in that way. 
"It was definitely very distressing and upsetting during an already confusing time.
"It started to fallout in clumps and then they put me on steroids to try and stop the inflammation, so it stopped falling out as fast but ultimately it did end up all falling out and I was left with patches of long hair and complete bald patches. 
"It got to a point a couple of months ago where there was just a little a couple of strands of hair and I decided to cut that off.  Then I went to a barber and got that shaped with the same length and hope that it will grow back all the same length.
"It was a male barbers because I didn't really feel comfortable going into a female hairdressers. I didn't want to be around a bunch of girls with lovely long hair when I didn't have much hair.  I just went into the barbers and explained the situation and she was lovely about it. 
"She helped me out which was really nice and I got my first fade which was definitely an experience!"
Ella's boyfriend Rhys Davidson, a fellow student, has been with Ella since before she was diagnosed.
She explained: "I have been with my boyfriend for about three years now. He's very supportive of my diagnosis which has definitely helped me along my alopecia journey."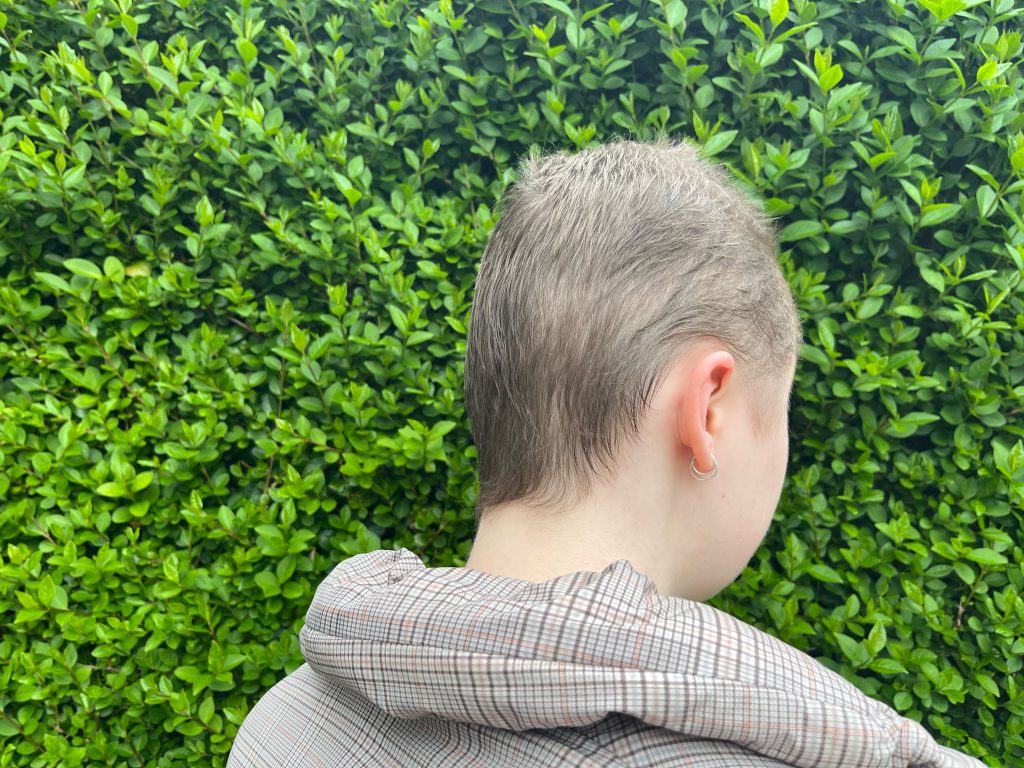 Asked if she spent time with him without wearing a wig, she replied: "Yeah definitely. The support from my friends my family and obviously my boyfriend has been amazing so I will just wear my hair as it is because I feel supported."
Ella added: "There is no cure to alopecia, in that sense the main treatment options for alopecia is the use of steroids because alopecia is the inflammation of hair follicles and steroids are anti-inflammatory. 
"Steroids can come in different forms so you can have tablets, steroid injections which go directly into the area that is affected with alopecia and there are certain other treatments, none that I've explored. 
"I'm currently on the tablets and they've worked for me. I've managed to be able to grow my hair back but you never know when you're going to have an episode of alopecia, so I could grow all my hair back and then it could just all fallout. 
"However I do have the ability to grow the hair back because obviously there is scarring alopecia and non-scarring alopecia, scarring alopecia is where the hair does not have the ability to grow back but I have un-scarring so I do definitely have the ability to grow it back it's just whether it's able to stay in my head or not."
Having thick, long and vibrant hair has been the societal norm throughout history, but as we move further into the future, social stigma of women with short hair has to become more normalised.
Alopecia UK is a charity which has taken these issues into consideration and enabled people with alopecia to be in touch with other people that share the same experiences as them.
Amy Johnson from Alopecia UK, who developed alopecia two years before she started working for the charity, said: "The world would be an easier one to live in with alopecia if there was an awareness and an understanding of what it meant to have it and what it is."
Ella, the final year University student at Leeds Trinity, currently wears a wig that was provided to her by the Little Princess Trust free of charge to help her feel more comfortable going outside. 
Unfortunately funding for alopecia isn't at the top of the NHS' priorities.
Some permanent hair treatments which allow people to feel comfortable in their own skin can cost anywhere up to £2,000. 
Amy said: "There can be a bit of assumption that it's a bit of a cosmetic thing and not treated with the same level of importance 
"For lots of people, wigs or their way to manage their alopecia is the tool that they need
"The big message we're trying to get across to the NHS is that we believe there is a place for funding for wigs within the NHS."
Ella's hair is finally growing back but she continues to wear her gorgeous wig for all social activities.
Should an individual with alopecia have to pay to feel comfortable?