As Redhead Day UK returns to Manchester this weekend, MM picks its top (or should that be carrot-top?) Mancunian redheads. 
Paul Scholes
Where else to start but with the 'Ginger Prince'?
The 39-year-old made 718 appearances for Manchester United, scoring 155 goals as well wining 66 caps for England, making him true football royalty.
Not that he sought the limelight as a player – far from it.
Instead he expressed himself on the field, first as an attacking midfielder known for the timing of his offensive runs and the venom of his shots.
And then as a deep-lying playmaker, who controlled the tempo of games and asphyxiated opposition teams with the relentless precision of his passing.
Scholes was not the complete player – his tackling was laughably poor and it never improved in his long career – but that flaw only serves to further endear him to the imperfect athlete in all of us.
Underappreciated by England, the national side's loss was United's gain.
It would be no exaggeration to say that Scholes was Sir Alex Ferguson's very best.
Ellen Wilkinson
A red-haired female Labour MP from Greater Manchester? It must be Hazel Blears, right? Wrong.
Ellen Wilkinson (1891-1947) was born in Ardwick and is described as being under five-feet tall and having a shock of red hair and striking blue eyes.
Having studied history at the University of Manchester, Wilkinson took an active role in the women's suffrage movement and was a founding member of the Communist Party of Great Britain in 1920.
After being elected to Manchester City Council in 1923, she spent most of the following two decades as a Labour MP in Middlesbrough East and then Jarrow.
In 1945-47 she served as Minister of Education in Clement Attlee's government, becoming only the second woman to gain a UK Cabinet position.
Before dying in office, at the age of 55, she persuaded Parliament to provide free milk for all British schoolchildren and raise the school leaving age to 15.
Mick Hucknall
When you think of sexy redheads, you're probably not thinking about Mick Hucknall.
If you are, seek help.
Back in the 1980s, though, the Denton-born Simply Red frontman couldn't keep the ladies off him.
He once told the Guardian: "Between 1985-1987, I would sleep with about three women a day, every day. I never said no."
That's more than 3,000 women. Even if Mr Hucknall is stretching the truth a little, it's a quite distressing figure.
But then how could you possibly resist a man who has sold more than 50 million albums, featuring such alluring song titles as Something Got Me Started and For Your Babies?
Simply Red disbanded in 2010, with Hucknall its sole remaining member. Their last single to chart in the UK was Go Now, which reached number 157 in 2008.
Karen Elson
A rather different singer to Hucknall, Karen Elson from Oldham has also ventured into modelling and fashion design.
At the age of 18, she appeared on the cover of Vogue and has also featured in a number of adverts and music videos, including for the White Stripes' Blue Orchid.
During the filming of that video she met Jack White, whom she married in 2005. They have two children, but were divorced in 2013.
Her musical career may not have hit the high-notes of her ex-husband's, but then she did produce a rip-roaring cover of Fleetwood Mac's Gold Dust Woman for the US TV series Revenge.
Your move, Jack.
Jennie McAlpine
Best known for playing Fiona 'Fiz' Stape in Coronation Street, flame-haired Jennie McAlpine began performing as a child in her hometown of Bury.
After doing stand-up comedy in her teenage years, she landed the part of Fiz in 2001 and has appeared in the soap ever since.
Her character has displayed some questionable judgement while on the show, notably marrying a man who had cheated on her with a schoolgirl and then (twice) kidnapped said schoolgirl in revenge for 'ruining his life'.
Then again, when have soap characters ever acted rationally?
Outside of acting, McAlpine has undertaken charitable work in Egypt and opened a restaurant, Annie's, in Manchester city centre with her boyfriend Chris Farr.
But none of these can compare to MM's very own resident redhead…
Andrew Greaves' Beard
Andrew Greaves may be able to juggle his consultant editor role at MM while also teaching scores of aspiring journalists each year.
He may know all of the distinguishing features between two-tier and unitary systems of local government.
He may also be in line to succeed Jeremy Paxman as lead presenter on Newsnight.
But we know that none of this would be possible were it not for The Beard.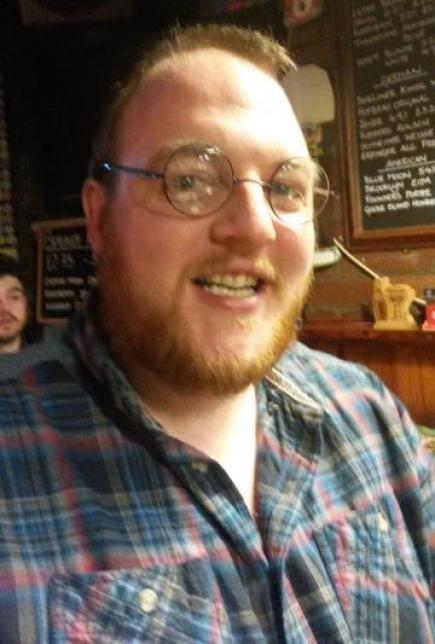 YOU'RE A WIZARD GREAVSEY: MM's very own conusltant editor with The Beard
Russet in colour, The Beard has much in common with its close relation the red fox – cunning, fearlessness and an insatiable desire to scavenge for the choicest pickings Burnley FC has to offer.
One question remains, however: does The Beard need Greavsey as much as he needs it?
Image via shira gal, with thanks