Mancunians are being encouraged more than ever to sign the Organ Donor Register for National Transplant Week – and ensure their families know their wishes.
This year, NHS Blood and Transplant (NHSBT)have a special emphasis on those who do choose to sign the register to let their family and friends know ahead of the week-long event from July 7-11.
Research by NHSBT has revealed that only 31% of families would agree to donation going ahead if they were unaware of their loved one's decision.
But this rises to 90% if their relative's decision is known.
The 'Spell it Out' campaign has already imaginatively promoted across social media with the hashtag #spellitout, a Facebook gallery and a 'Thunderclap' event.
Love our #SpellitOut images? Vote for your favourites here: http://t.co/DKG9UKxsn1 pic.twitter.com/x2MvEwa5uM

— NHSOrganDonation (@NHSOrganDonor) July 4, 2014
People can also add a National Transplant Week 'Twibbon' to their Facebook or Twitter profile pictures.
Carla Phillips, a kidney transplant recipient and North West advocate for the Live Life Then Give Life charity said: "You are more likely to need an organ than you ever are to be called on to donate. But if you do decide to become a donor, please have the chat with someone.
"Tell them 'by the way I signed the Organ Donor Register today' and if the worst should happen you could save the lives of nine people."
Most people would rather not dwell on their own mortality and what might happen to their body afterwards.
But Carla says making a decision on organ donation could potentially ease the burden on your family during a traumatic time.
"We still need permission from families," she told MM. "They may say 'no' and may regret it afterwards.
"A study has shown that over 90% of families who declined donation regretted their decision afterwards."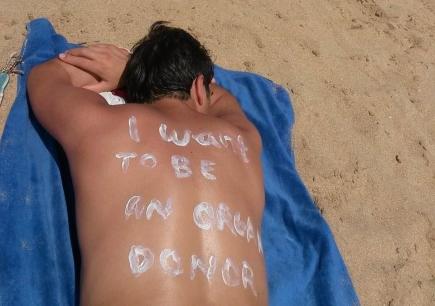 DON'T MISS A BIT: The NHS message has been spelled out in all kinds of creative ways (© NHS Organ Donation Campaign via Facebook with thanks)
On average, three people-a-day die in need of a transplant because there are not enough organs available.
Shaun Fletcher, from Glossop, near Manchester knows first-hand how transplants can save and transform lives – and how vital a supply of organs is.
The 21-year-old was born with cystic fibrosis and was on the transplant waiting list for six months before receiving the lungs that saved his life.
He suffered a nervy wait as his health deteriorated and had to deal with the stress of not knowing 'when or if' the call would come.
He also suffered a 'false alarm' – when he was called in for a transplant but the lungs were not deemed suitable after assessment.
"The false call I had was a weird experience," said Shaun. "On one hand, it was kind of nice knowing that they don't just throw any lungs into the patient – or me in this case. It reassured me that they would only use the best that was available for me.
"But understandably I was also very disappointed. Getting the call is a very emotional time from going from the high to the low of being told it wasn't going ahead. Your head just goes all over the place and, for a week or so, I was down. But you've got to pick yourself up!"
@NHSOrganDonor #NTW2014 #SpellitOut pic.twitter.com/hbuBLwtlwh

— Amanda Jayne (@AmandaJayne1511) July 2, 2014
Asked what he would say to someone who is still unsure about signing the Organ Donor Register, Shaun said: "You can change multiple people's lives from being on the organ donation list. Lungs, hearts, liver, kidneys, corneas – that's a lot of people's lives you could be changing."
Sarah Jones, 41, received a transplant in 2006 after five years on the waiting list, during which a dialysis machine had to perform the job of her kidneys.
Her story demonstrates how a family's decision to donate their loved one's organs saved her and led to a new lease of life.
"I had a call from Guys Hospital at 4.30am to say a match had been found from a young lad in his thirties who had been fatally injured in a car crash," Sarah told MM.
"His family, at the worst time of their lives, agreed to donate their son's organs so others may live. That night he saved 6 other people beside me. What a legacy!
Like Carla, Sarah has also become an advocate for Live Life Then Give Life to promote the cause of organ donation after it changed her life.
"Since the transplant, I have been given a new zest for life and have more freedom to do what I want, when I want.
"I have been away a lot more, and can eat, drink and do anything that anyone else can do. I take medication everyday – but that is so insignificant compared to a life on dialysis. I work full-time and have a great social life."
National transplant week next week! Please rt if ur organ donor! And if your not rt & #signup @LLTGL @NHSOrganDonor pic.twitter.com/o7RWpppElx

— Amelia's Chocolate (@AmeliasChocolat) July 3, 2014
A parliamentary debate to discuss organ donation at Westminster will coincide with National Transplant Week.
On Tuesday, MPs will discuss issues around the Cystic Fibrosis Trust's Hope for More campaign as well as wider issues around transplant and organ donation.
Celebrities supporting this year's event include comedian Rhod Gilbert, recently retired Newsnight host Jeremy Paxman and Olympic gold medallist Sally Gunnell.
National Transplant Week takes place between July 7 – 11.
For further information, visit the National Transport Week website or their Facebook  and Twitter pages.
Image courtesy of NHS Organ Donation Campaign via Facebook with thanks