Artist Sue Scott, better known as S L Scott, has been painting Manchester for almost a decade using her spare room in Didsbury as a makeshift studio.
We met on an unusually sunny morning in December outside Manchester's Central Library to talk about her life as an artist and the inspiration behind her work.
Born in Timperley near Altrincham Sue grew up in Manchester but moved to Aberdeen in 1999 with a partner. She loved the people and the landscapes captured her imagination.
However after a 12-year hiatus from Manchester, she felt it was time to return to her roots.
When Sue returned to Manchester in 2011 the city was very different to how she left it.
"It was just transformed," she said.
She suggested the 2002 Commonwealth Games played a big part in this change as it brought a lot of investment to the city.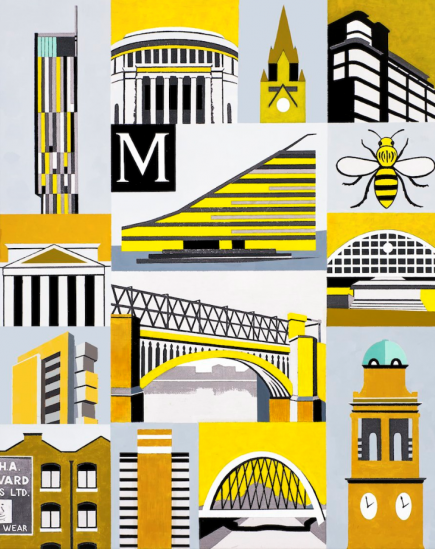 Despite painting all her life, it wasn't until she came back to Manchester that she decided to become a full-time artist. 
"If I hadn't been away for so long I don't think I would've become an artist and really focused on Manchester. I probably would've painted landscapes.
"I looked at it through rose-tinted glasses really," she said.
Sue started to rediscover the city of her childhood. She wandered around the site of the old mills in the Northern Quarter, where William Nelson, her great, great, great grandfather owned a successful glass factory. A lot of these former industrial buildings are now modern apartments.
She also revealed that on her mother's side she's related to William Plant, the last hat block maker in Northern England.
In fact, Sue's auntie, William Plant's niece, donated his old hat manufacturing workshop to the Hat Works Museum in Stockport.
"I've got a lot of family history in Manchester and that really inspired me," Sue said.
After spending two years diligently building a collection Sue decided to start selling her paintings and set up a business.
STRONG FUMES, SLOW DRYING TIMES
Sue's paintings capture Manchester's skylines and its iconic landmarks across the city and surrounding districts. Other cities to feature in her works include London, Aberdeen and Las Vegas.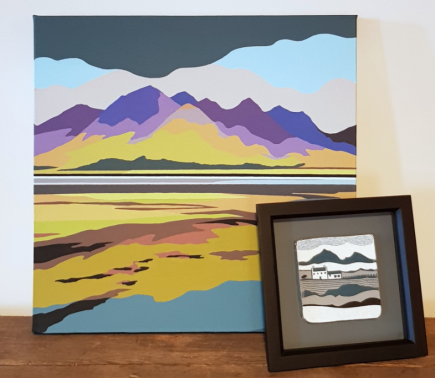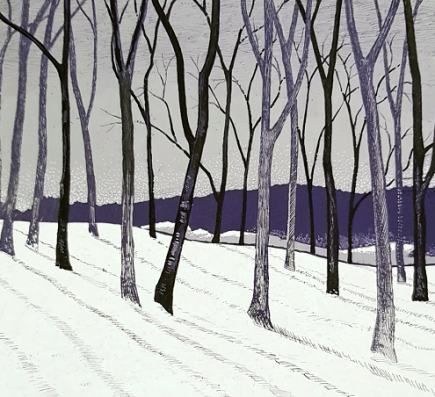 Amongst the urban scapes are also a few rural-inspired paintings of the Scottish mountains, the Lake District, Snowdonia, and Shropshire where Sue lived for a while.
When discussing her earlier, more realistic, oil paintings such as London Road Fire Station (below), she said: "There's a lot of calculations in my head, lots of trying to understand the light, shadows, colour."  
She decided to paint the Victorian fire station after the media interest surrounding the Compulsory Purchase Order made to Britannia Hotels.
"It's a stunning building," she said.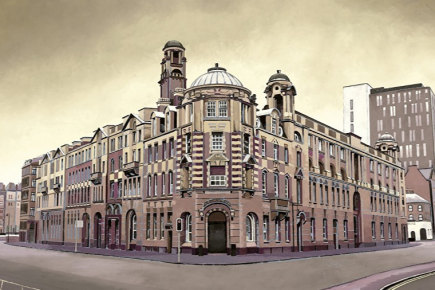 While oils allowed Sue to paint more realistic scenes, a combination of strong fumes and painstakingly slow drying times meant it was time for a change.
She started experimenting with acrylic paint producing bolder and brighter colours with a pop-art style. Moving on to a more abstract style allowed her to "paint faster" while also pushing her creative ability.
However acrylic posed its own challenges as the paint dries a different tone to when it's wet.
You have "to translate [the colours] in your head," she explained.  
Beetham Tower, or the Hilton Hotel, dominates the Manchester skyline and features a lot in Sue's acrylic paintings. Not that it's an easy subject to capture.
"It's so stripy it's really hard to paint," she said.
Scott recently produced a commission piece for Sunlight House on Little Quay Street, which takes pride of place in the foyer. She used natural colours and bits of grey to complement the stone interior and "bring out the warmth" of the old red and green Victorian features.
"I really like Sunlight House as a building architecturally," she said.
About a year and a half ago Scott was approached to design a new label for Duerr's Manchester Marmalade. She insisted that she provide the artwork for the Manchester marmalade rather than Seville. Her Industrious North pen and ink drawing still features on the label.
More recently Scott has been trialling painting and etching on ceramic tiles.
"I'm always changing my style. I go through phases," she said.
"It's very subconscious – I'm really not aware of where an idea has come from. I dream very visually – I think some of my best work comes from when I've had a dream about a painting."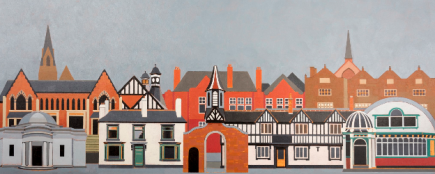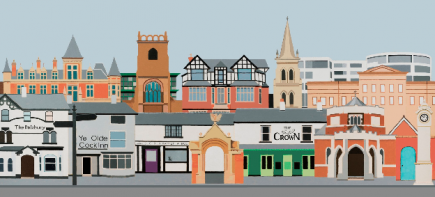 While Sue would "love to be" a big gallery artist and paint great masterpieces, for the time being she relies on loyal customers, commissions, and paintings that she can produce and sell quickly.
"I have to compete with a lot of other artists that are working at the same level as me," she said modestly. 
She also spoke candidly about the challenge of balancing business duties with creative work.
She explained that she often spends "more time selling" than "painting" and relies heavily on social media to acquire buyers. "I wouldn't have a business without it," she admitted. Not all her paintings go to plan either which can be "frustrating" when relying on creative output to pay the rent.
"Time's money, I can't afford to spend five days doing nothing!" she said.
That aside Sue thrives on the "freedom" of working for herself. "I don't think I could go back to a conventional job," she added, having been a support worker for 21 years working with adults with learning disabilities.
This year, Sue is planning to focus on Altrincham and Hale, painting traditional terrace houses rather than large city centre landmarks. Pictured above are her Chorlton and Didsbury skylines.
Alongside her paintings, Sue also produces beautiful Manchester inspired gifts, gift wrap, and offers bespoke features. You can view Sue's work at the Northern Quarter Art Gallery or purchase her work on her website, on Etsy, or at the Chorlton Art Market Shop.
I'm finally out of my flu hibernation!
Feeling much better! And ready to plan for the new year! So I'm now taking bookings and enquiries for #Commissions in #2020! If you would like something painting drop me a message!! pic.twitter.com/VxW0Q4oNN9

— S L Scott (@slscottartist) December 28, 2019