A single lifeless crow peers down at us with beaded eyes from the bookcase, wings splayed out, in a small flat in leafy Didsbury.
His name is Bird Reynolds.
This preserved black bird is the very first piece of taxidermy by local artist Christelle Bileci-Haddow.
We take a seat in the living room for our interview, surrounded by alchemy-inspired pieces, old records, and antiquated books. Incense hangs in the air.
Originally from Lyon in France, Christelle, 35, has lived in the Manchester suburb with her husband and black cat for four years – in which time she has developed a passion for taxidermy.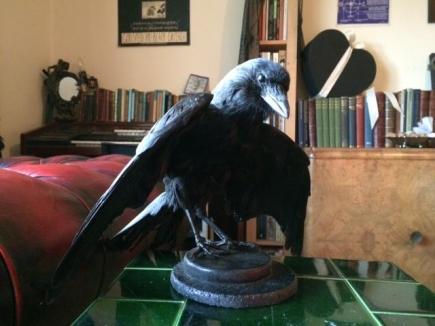 FAVOURITE: Bird Reynolds is the only taxidermy on show
With long dark hair and dressed in gothic-style all-black, now and then she unconsciously strokes the fur choker pendant at her neck. It's like it's a comforter.
"I wanted to use natural elements in my Applied Arts Foundation Degree at MMU," she says.
"We went to the Pitt Rivers Museum in Oxford and I was fascinated by their collections. I wanted to use fur, but how to source it?"
Three years ago Christelle's desire to make some jewellery with bird wings led her to a taxidermy workshop at Madlab, Manchester.
At first, she was terrified.
"The tutor lined up these birds out of the freezer and I just wanted to cry for them all," she says.
"I just vowed to my little bird 'I'm going to look after you and make you as beautiful as you were in life'.
"That's how it started."
From country-dwellers and hipsters to hen dos, Christelle met others interested to learn a new skill, and those drawn by a trendy appeal – something a bit 'edgy' to do.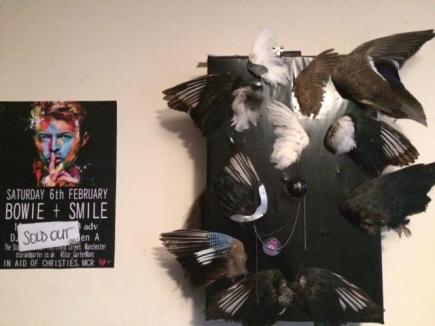 VOW: Christelle attempts to make her animals 'as beautiful as they were in life'
Now, armed with a scalpel and embroidery scissors, she works away in her home studio – a hive of art materials and designs – creating pieces that incorporate real furs under her brand Christelle BH Jewellery.
"If you do it well, then they won't smell and rot," she says.
"It's just like taking their jacket off and putting it back on again.
"I've very rarely had any blood on my work table when skinning. But if the eyes pop, then that's a bit gross."
Despite Christelle's love for her creatures, Bird Reynolds is the only taxidermy piece on show in the home.
The rest is kept in boxes, away from Zola the cat – the live one, she jokes.
She brings these boxes into the front room and carefully unwraps and positions curled up preserved mice and jewellery pieces on the dining table, one-by-one.
She does this in a serene, almost motherly fashion.
"I want to show people their beauty," she says.
"They're not just rodents or pests or food. They are little creatures."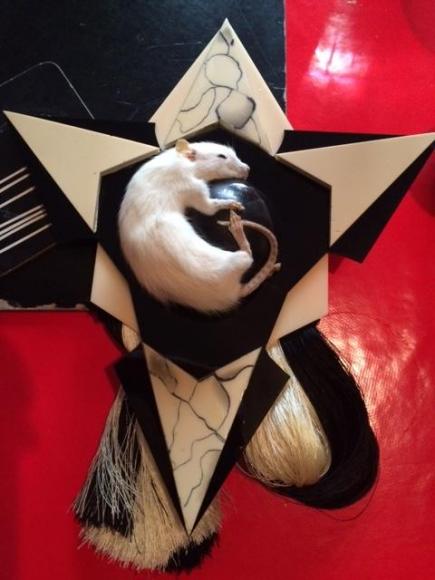 MY BABIES: Christelle forms a connection with her taxidermy
There are rings and pendants with fur set in silver and resin – statement pieces designed to harmoniously unite natural elements – a message for which faux fur would not suffice for this artist.
"I use pieces of fur as if they were precious stones," she explains.
"It's not that I don't like animals – on the contrary, it's complete respect.
"It's a big statement, actually."
She then unveils one of her signature pieces, The Dark Night of the Soul, two conjoined crow heads mounted on a resin alchemy symbol, adorned with hanging silk tassels. It's a striking sight.
Though not vegetarian or vegan, Christelle's dedication to a caring, nature-loving lifestyle is clear.
She makes all her own cleaning products, cosmetics and shampoo from scratch with completely natural ingredients.
That goes for the materials she uses for preserving, too. Each animal has its own special magic potion – Bird Reynolds has his very own dry shampoo to keep his sleek feathers in top condition.
The itching question is how the animals for these pieces are sourced. Christelle gives a small automatic smile to this.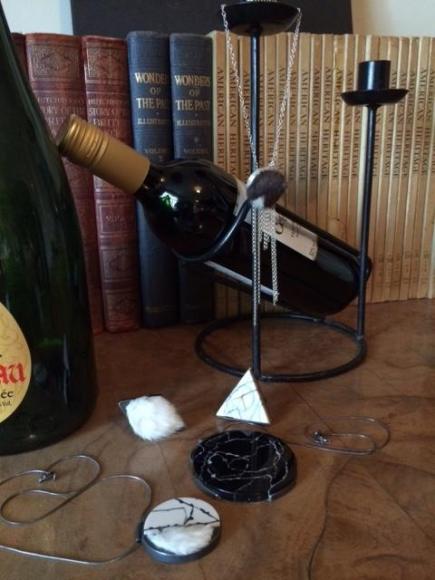 THEY AREN'T JUST PESTS: Christelle wants to show people her animals' 'beauty'
"People always ask: 'Do you kill them yourself?'" she says.
"I'm not a hunter and it's not a trophy thing.
"You can find the mice easily in the pet shop for reptile food.
"They are bred to be killed. Their fate is to grow up in a box and once they reach the right size they're gassed. Then they're in the freezer.
"If I could bring them back to life I would love to. But the only thing I can do is revere, pay homage to the life they didn't have and give them a decent 'after-life'."
Of course, some individuals challenge this view. She's previously been called a murderer by vegan activists.
The accusation is untrue.
Christelle only uses pet shop food mice which will otherwise be discarded, or animals killed by pest control services – 'I don't want to be part of the demand or take another animal's meal'.
The carcasses are buried in the back garden for the foxes, so 'everyone's happy, nothing is wasted or disrespected'.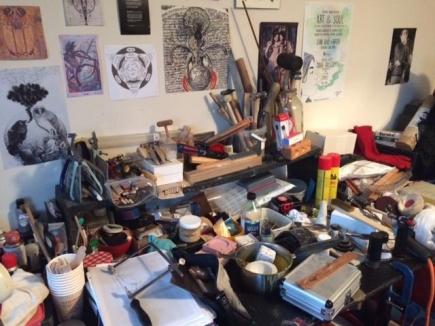 A DECENT AFTERLIFE: Christelle sees her work as homage paid to the lost lives of the animals
For her, there's a hypocritical side to negative comments.
"There's a dark side to organic farming," she says.
"They can't have 'pests' taking away crops. That's the wider picture. Sometimes it's quite shocking.
"Yes, all-organic and all-vegan, but I've got that bird thanks to you, really, because you contribute to big organic farming.
"That's also what my pieces are about."
Most people are just curious, she says, and ask questions when they see her pieces displayed at the Northern Quarter Craft and Design Centre.
But when I ask how much her work sells for, Christelle squirms slightly.
She's reluctant to sell many pieces right now, despite substantial offers from fans. The Dark Night of the Soul received a £600 offer, which she rejected.
There's a real fondness, a bond, between her and each piece that makes it difficult to say goodbye.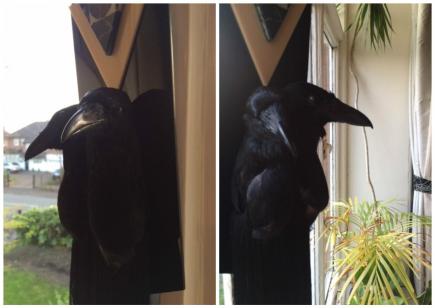 STRIKING SIGHT: Dark Night of the Soul was subject to a £600 offer
"They're like my babies," she says.
"I spend a long time on and put a lot of work into each one of my creatures. I'll talk to them as I work and I'm crying for them every time as I do it, paying homage.
"I once had a mouse that turned out to have a tumour, so I removed the lump before I could skin it properly, as if I had healed it somehow.
"On a physical level they haven't been treated well in their short lives, so I want to cherish them. It can make it a bit hard to let go."
She will take commissions, but it has to be for the right person – someone who truly understands the meaning behind her work.
As she wraps up talking me through her workshop and artwork, her creatures lie peacefully on the table amongst the half empty bottle of wine and the mustard pot.
It's natural, and weirdly a bit transformative.
"I'm not looking for people to agree with me or have empathy or anything," she says.
"Just think about the reason why I'm using taxidermy in the first place."