She's just a small town girl… from Stephenville, Texas, and she needs your help to get across the pond to study how to tackle teen pregnancy and sexual health in Manchester.
Lauren Darby, a 21-year-old senior at Texas State University, has been offered the opportunity to spend this summer in London and Manchester learning how the UK has achieved low rates of youth sexual risk-taking.
It may seem like we hear about teen pregnancy all the time in the media over here but it turns out Britain actually has some of the lowest teenage birth rates in the world.
Lauren, who majors in Health and Wellness Promotions, says this is because the UK employs health policies and practices rarely seen in the US, making it the perfect place to further her education.
MM caught up with the president of Gamma Phi Beta international sorority – whose motto is to inspire the highest type of womanhood on a daily basis – to find out why a girl in the 'cowboy capital of the world' with a population of just 18,000 wants to cross the Atlantic to study sex ed.
She said: "I grew up with my parents and younger sister on our family land outside of town that we shared with my grandparents and cousins.
"We grew up with cows, horses, goats, chickens, geese, ducks, dogs, cats, longhorns, and other animals over the years.
"My mom is a fifth and sixth grade special education teacher for Stephenville Independent School District and my dad is a body shop manager at a local car dealership.
"I played soccer and was a member of FCA and FCCLA at Stephenville High School where I made mostly all As and graduated in 2011 with some college credit already earned.
"Attending Texas State University in San Marcos, Texas was not a hard decision for me due to the location and the positive vibes that radiated off the campus each time I visited.
"My grandfather graduated from Texas State in 1939, I will graduate May 2016, and my younger sister starts this fall as a freshman!"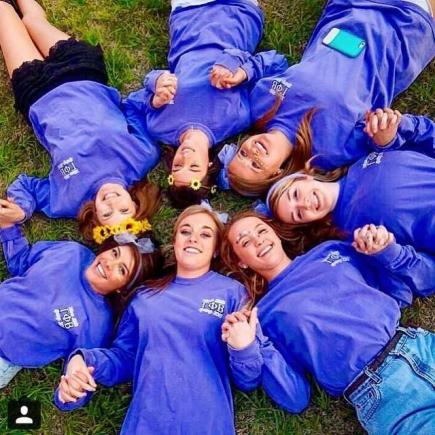 SORORITY SISTERS: Lauren is president of Gamma Phi Beta who believe in inspiring the highest type of womanhood
Lauren's country girl upbringing might sound idyllic – and almost movie-like – and her obvious ambition and drive is inspiring but there is a more serious side to her determination and want for something different.
"Teen pregnancy rates are an issue in the United States, and very much so in Texas specifically, and I grew up with it being common for multiple girls in school to be pregnant," she said.
"I do not look down on these girls and they all have beautiful children and have been successful, but I do believe that their lives would have been a little easier for them if they had not had children as teens.
"I am very interested in the fact that the United States has many more restrictions on sex education in schools and birth control availability than England but yet the United States has much higher teen pregnancy rates."
This bright young woman's thirst for knowledge seems to be matched by her eagerness to help people and her empathy.
"I really enjoy encouraging people and watching them grow as an individual while they reach their goals and hope that someday I am able to have a career that allows me to do this on a daily basis!"
Although it turns out Lauren wasn't always quite sure what the best way to pursue her dreams would be – but then who is at 17 – and she started off in freshman year with a nursing major.
She said: "I entered my freshman year as a nursing major and quickly realized that wasn't the career path for me.
"I then changed to a Healthcare Administration major but decided it would be better suited as my minor and finally found a major I love which is Health and Wellness Promotions which is under the College of Education."
And luckily for Lauren her early decision to change her course has proved nothing but beneficial, especially, when the university decided to launch a study abroad programme.
"I am so fortunate for this study abroad opportunity and this is actually the first time Texas State is offering this particular course on sex education in London and Manchester," she said.
"I had always found studying abroad interesting and hoped to be able to participate someday but there was not usually classes offered that were part of my graduation plan.
"When a speaker came and spoke in one of my classes about sex education in the UK I immediately perked up and became interested!
"I only have 13 hours of college left and a mandatory internship before graduation so I knew I needed to jump on this opportunity if I wished to study abroad before my quickly approaching graduation.
"I pulled a typical college student move and signed up for the classes and then called my parents and told them how excited I was… and they were mainly concerned about the money."
The Texas State senior has worked hard to try to fund the trip herself, but quickly realised it wasn't going to be enough, not even with a loan from her parents.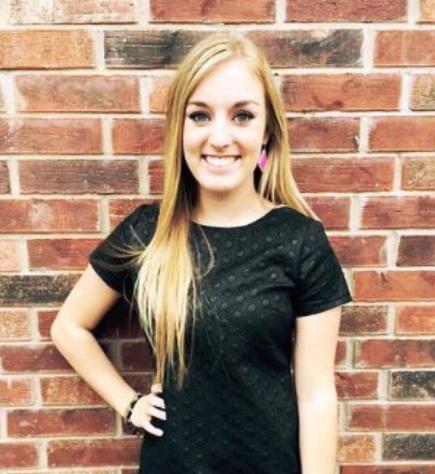 BRIGHT FUTURE: The Texas State senior says she is driven by her want to encourage others and watch them grow as individuals
She said: "I work at the Texas State Athletic Department where I sell tickets and between work, a few scholarships, and some help from my family I was hoping to be able to cover the trip.
"But between tuition for six hours, room and board, flying across the world, food when I get there, and extra expenses that seem to add up quickly, the trip has become quite expensive!
"My parents have given me a 'loan' to pay for some of the trip which I am to pay them back as soon as I am able to."
Lauren still needs about $3,000 (about £2,000) to make her Transatlantic dream a reality and she's got less than a week left to earn it as the study programme starts on June 13 – so of course she's turned to the crowdfunding site gofundme.
This is the first time Lauren has ever had to put her fate in the hands of anonymous donors, which she says has been both 'awkward' and 'overwhelming'.
"I have felt really awkward about the whole thing as this is the first time I have ever asked people for donations and financial support," she added.
"But my family and friends have been as supportive as they possibly can be and I am so thankful for that!"
And it is not just the first time Lauren has had to fundraise but it will also be her first time travelling on her own.
The burgeoning academic is, as expected, both excited and nervous – mostly about seeming like an 'annoying tourist' – about what her journey has in store for her.
She said: "I am hoping that people in England are more willing to talk about sex education than people in America and hope to feel welcomed and learn not only about the subjects I am studying but also about the culture and how to travel independently.
"This will be my first time to ever travel without at least one friend with me!
"Although there are other students and a professor going with me, I will be doing a lot of the travel on my own.
"I am a little nervous but I'm hopeful people will help me if I ever need it and really hope I am not seen as an annoying tourist!"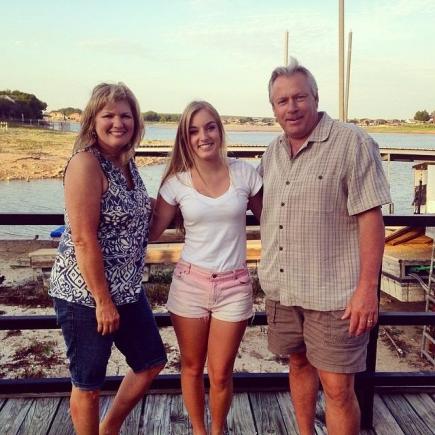 BANK OF MUM AND DAD: Lauren's parents have given her a loan to travel for her studies but she needs your help to raise the rest
Lauren may not have ever been to England before, and to Europe just once, but she seems fairly clued up on what to expect… well, maybe not about our fashion sense.
She said: "When I picture the people in England I picture high fashion, people eating much smaller meals and eating crackers or something as a meal, lots of pubs, narrow brick roads with black fences down them, not many animals besides birds… So I will see if everything meets my expectations!"
So what exactly will you be helping Lauren to achieve if you make a donation on her gofundme page?
"My schedule in both London and Manchester include touring Parliament, hearing guest speakers from charities Brook and Redthreads, visiting the Institute of Sexology, PSHE Association, Office of Children's Commissioner, National Union of Students, the National Aids Trust, and a sexual health program shadowing, and a special topic of my choice," she explained.
"I am so fortunate to be meeting with all these organizations and individuals while in England and know it will be extremely valuable to my education.
"I will be creating a research paper that's purpose is to examine the development and use of school-based sexuality education laws and policies in the United States and the United Kingdom.
"Studying abroad will not only help me to research sex education and the laws and policies around it, but also give me self-confidence, more ability to learn from different teaching methods, an ability to communicate effectively among diverse groups, a stronger independence, better appreciation for cultures other than my own, and the ability to solve problems on my own."
While London may seem an obvious choice for students studying abroad in England, the decision to come to Manchester seems slight more obscure.
The Texas State University study abroad website states: "With Manchester being the 3rd most visited city in the UK and being noted for its architecture, culture, music scene, media links, scientific and engineering output, social impact, sports clubs and transpiration connections, it makes it a wonderful city for us to be studying in."
Lauren will (hopefully) be in London from June 13-June 27 and in Manchester from June 28-July 3rd.
To help Lauren Darby study abroad in London and Manchester this summer, donate to her gofundme page by clicking here. 
All images courtesy of Lauren Darby, with thanks.