Manchester's video game developers are still buzzing following the second ever edition of the country's largest game jam.
Jamchester – which recently took the city by storm during a three-day event – sees groups of developers have a set time to create their own games from scratch around a specific subject.
This year's event, held at The Studio in the Northern Quarter, saw professional and student teams of up to four people gathered to create content around the theme of 'Shape the Future'.
Event co-organiser Simon Smith said: "I think it's helped to act as a catalyst for the games industry in Manchester which has a variety of different developers working in different companies.
"Jamchester allows these programmers, artists, musicians, level designers and those with other skill sets to get together and work with new people and in different ways than they normally would, which is really exciting for people who are naturally creative anyway."
Over 200 people attended the recent event which kicked off on Friday, June 23 and ran non-stop until noon on Sunday, June 25.
Luke Thompson, whose group Sigtrap won best company game for Synchrocide, spoke to MM about how events like this have helped improve his group's reputation in the professional development sphere.
He said: "Winning an award at something like this is always a good thing. One of the nice things about how this is judged is that the judges are there all the time and judge your process as much as the final product.
"It's a really positive award if you are pitching a game to a publisher because they can trust you to have a good process and work as a solid cohesive team. A lot of issues come up in development and they will be able to trust you through the whole process."
Those who were in groups were able to sleep in shifts while the other members of their team worked, but some developers had come alone and spent nearly all of the 30-hour period creating their projects.
Ashley Gwinnell, from games company Force of Habit, attended the event as a developer by himself and told MM about the difficulties of designing a working game in such a short space of time.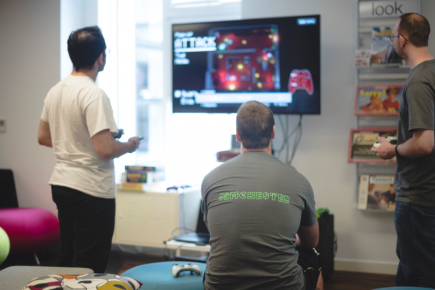 INTENSE: The event took place consistently over three days
He didn't come up with his game idea, which won an award for best technical achievement, until Saturday morning, leaving him with only a day and a half to complete a process that can take many large companies months to finish.
That is the most interesting thing about events like this; it pits different styles of developers against each other, often result in a variety of games.
For example, Ashley's game The Butterfly Effect was a survival-based shooter which followed a player trying to stay alive in an environment which adapted to the style of play you chose.
However, other groups took a different tact with games like Congruence from Next_Level, which involved players being able to send real-world text messages into the game in order to affect gameplay.
Plan of Attack by Codemasters Evo won best design and gameplay and would go on to win the best game gong over every submission at the event.
The game involved up to four players in a turn-based shooter which worked by allowing each player to programme a move before the turn begins and then watch to see how those tactics panned out against their opponents.
The winning game, along with the 44 other submissions, is available to view and download HERE.