A Moss Side quadriplegic is taking to the skies while sat in his own home – by controlling a robotic drone 3,000 miles away.
Stuart Turner is no stranger to MM readers after we revealed the CCTV footage which appeared to show his shopping being swiped from his own door step last month.
The video went viral and notched up 14,864 shares on Facebook – but Stuart just 'wanted to show that there was a real human connected to that box' that was swiped that morning.
And the whole affair has not dimmed his faith in humanity.
After a speculative email or two to gain a sponsor, Stuart, who helps to develop robots to help quadriplegics, has been handed components worth £3,000 to give him the tools to make Operation QuadriCopter.
"People are really nice. People are generally awesome," he said.
"Things like that have restored my faith in humanity."
Set to be his first full solo project, the operation could be about to give the 36-year-old, who has lost function in his arms and legs and is confined to a wheelchair, the chance to take flight.
Operation QuadriCopter is aiming to enable Stuart to control a Quadcopter (a combination of quadriplegic and helicopter) without needing to touch a traditional controller – using only basic head movements and his right index finger.
After not leaving his 10ft² room in over six years, Stuart is working with Kevin Finisterre – a Senior Research Consultant at Pillar Technology – to produce the life-changing technology.
And it is not the first time part-time hacker Stuart has taken to the skies.
He has also worked with Parrott AR drones in conjunction with Brown University robotics expert Chad Jenkins to zoom around the corridors of the legendary Rhode Island institution – remotely piloting the miniature craft from his bedroom more than 3,000 miles away.
"It's pretty cool," he said.
"I've pretty much been flying them around the laboratories and corridors at Brown, which has freaked a few people out when they don't know that I'm there and I can see them through the camera."
With drones currently targeted by protestors for their negative deployment, work in robotics could help dispel the myth that all drones are bad and turn them into a force for good.
"The US military uses about 8,000 drones and about 300 of them do the blowing up and the killing, which is reprehensible.
"But they are also doing such amazing things."
Ten years ago, while studying a Computer Science undergraduate degree at university, Stuart began to lose function in his arms and legs, due to cervical spina bifida with tethered spinal cord syndrome and chiari malformation.
But even though he is unable to physically visit places, it has not stopped him seeing the world and with the help of a beam telepresence robot he can even 'beam in' to tour museums in a way that would never be possible in person.
"You just log-in and you can wander around. It's pretty amazing," said Stuart.
"It's really new and I think that we are right at the start."
Using the 5ft camera-mounted robot, he also managed to have his very own Night at the Museum experience when an Australian institution stayed open an extra hour so he could tour it.
But the robots don't just let Stuart inspect exhibits around the world.
Also Down Under, the technology is used to transport children across the wide expanse of land in the centre of the country to experience museums and education on the other side.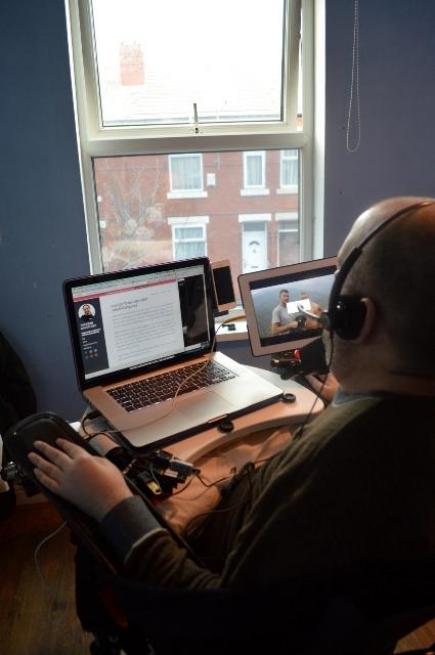 TECH GURU: Stuart surveys multiple screens
Stuart is keen to see this technology spill out into the mainstream and break down barriers between quadriplegics and the rest of society.
"I don't want this to be some weird thing quadriplegics do. I want it to be something everyone can do. I want it to become acceptable. Something that doesn't mark us out as different," he said.
"It would be virtually impossible for me to visit the Manchester Museum of Science and Industry (MOSI).
"But if they had a beam telepresence robot, which costs $15,000(£8,000), I would be able to go."
It's not only trips to further his mind that Stuart has his eye on after he revealed that his condition has caused him to miss a couple of family weddings.
The wider integration of the robot would help the Stuart attend such events and he claims that it also encourages people to treat him 'as a person' – although 'it doesn't really do stairs as it is like an iPad on a remote control car'.
"It feels like moving through a place as opposed to being moved through a place," he said.
"When you're stuck in bed, you really cherish stuff like that."
Stuart launched Robots and Cake early this year, his all-encompassing hub for all his ventures that runs alongside the Robots for Humanity Project – the brainchild of fellow quadriplegic Henry Evans.
While separate, the two share a goal of working with robotics to benefit quadriplegics by connecting them with researchers and escaping 'bureaucracy'.
Stuart insists that Robots and Cake – which was the funniest name available that involved robots – has 'exploded' in popularity and already propelled him into the tech world.
The success has already seen Stuart deliver a TED talk to more than 1,000 people – delivering the only public speaking event of his life at the global conference event.
In addition, when he's not beta testing products, Stuart trains in wi-fi hacking and is currently learning penetration testing to find flaws in systems and networks in his spare time.
"I hate being bored. My brain is the only thing I have left so I need to keep feeding it otherwise it will die," he said.
Among his biggest clients is computing giant Apple, whom Stuart has been testing hardware for since before the release of operating system iOS6.
"On the whole, disability features are focused on deaf and blind people rather than people with motor issues like me," said Stuart, who joked that he needs about five screens around him at any one time.
"Apple make the best disability software in the world. They have included features for disabled people by default instead of as an add-on."
Now, Stuart is able to perform any action on an iPad or iPhone with ease and without even touching the screen – and that has allowed him to quench his thirst for knowledge.
"All you need is curiosity and some time and you can learn anything on the internet," he said.
Inset image courtesy of Ryan Derry, with thanks