After ten years in and out of prison for drug-related crimes, Haydn Smith was signposted to Mustard Tree, a charity helping the homeless.
But the 53-year-old from the Northern Quarter has experienced a real turnaround in his thinking, and he attributes this to participating in the charity's courses, including their leadership programme, which ended last week.
Mr Smith initially volunteered at Mustard Tree – within eight months, he moved into a supervisor role, now he is a paid van driver with responsibility for a number of volunteers.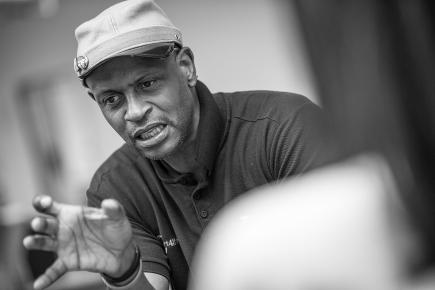 TURNAROUND: Mr Smith has created a new life for himself
Jez Green, Leadership Faculty Coordinator, said: "Haydn saw the leadership programme as an opportunity to further himself.
"He showed great determination.
"He was an inspiration to the group, and it was a pleasure to watch him take increased ownership of 'being a role model'."
Mr Smith hopes to use his recovery to inspire young people. He sat opposite me at Nexus Art Café and shared the story that brought him to this point.
Mr Smith was referred to Mustard Tree six years ago by Addiction Dependency Solutions (ADS).
"They said they wouldn't point the finger at me, and wouldn't care what I'd done in the past," he recounted.
"They were very much about the present and looking forward. I found there were lots of other people in the same boat as me."
The Mancunian has four prison sentences, a Class A drug addiction, homelessness, rehabilitation, depression, attempts on his life, and near-suicide to his name.
He said: "My past is riddled with darkness. I walked around with blinkers on."
Mr Smith grew up in Old Trafford, the third youngest of six siblings, as part of a working-class family, recalling how his father, Anthony, 'saved up for his five kids and provided for us all'.
"I was the bad sheep of the family", he said.
"I couldn't get to grips with English and Maths like all my other siblings, and so I left school with no education."
Instead, aged 16, Mr Smith left Great Stone School, and started work as an apprentice.
In the 1970s, he was a decorator at Manpower Service, but got into the wrong crowd.
During Mr Smith's childhood and teenage years, he experienced racial tension and inner-city deprivation.
He regarded himself as a Rastafarian and started smoking at 18, before gradually advancing onto harder drugs, and becoming addicted to heroin.
He said: "My mentality to life was injustice. That was my religion.
"I was desperate to get my life back on track, to sort myself out, but everything I tried seemed to fail. I couldn't get off the drugs.
"I did [rehab] twice but relapsed, wound up back in jail, and then went back to rehab."
"I'm sad to say I've been to prison a few times.
"At one time, it became my refuge – I got square meals, got a bed. That was better than being homeless."
Mr Smith was lucky to survive on a few occasions – someone had wanted him killed and, in 1998, he wound up in hospital with severe stab wounds.
In 2008, on release from prison in Middlesborough, he found himself homeless.
From then he lived a life of insecurity and unsafety: he moved between hostels, lived on the streets, got picked up by Nacro, and got an ASBO for missing rent payment.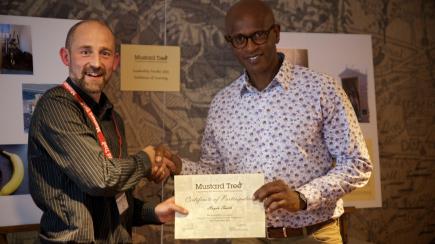 LEADERSHIP: Mustard Tree have given him the opportunity to help others
He said: "I had no alternative other than to go and find my son, Darren, who lived in Manchester, and ask for help.
"He had had his first baby and I hadn't been there for him.
"I'd believed 'out of sight, out of mind'."
Street Shelters gave Mr Smith a one-way ticket. The authorities housed him at Val's hotel, Ardwick, where he remained for 18 months.
He said: "I had a room that was about 12ft by 6ft. They divided the room in half and put two beds in there.
"I shared with an alcoholic. There were mice and rats. The place is still going now, I hope it's different."
Whilst at Val's, Mr Smith received anti-depressant pills following a Manchester doctor's diagnosis, saying 'this was a dark time for me, and I began saving them up'.
Around this time, Mr Smith found out about ADS – 'the only thing that attracted me was their guitar symbol!'
He had always wanted to play guitar, so was thrilled when a vicar gave him one in the mid-80s.
He said: "I played it every day. I took it to prison.
"I learnt all of the Beatles songs, all the Dire Straits songs.
"At times, it was, quite literally, my only possession."
At ADS, Mr Smith took guitar lessons, but there were other classes to attend – to find solutions, to manage savings, to address his situation.
He said: "When it came to it, I couldn't bring myself to end my life.
"I had family; my mum was still alive, my son was alive, and my first grandson had been born.
"I was still homeless when I came to Mustard Tree, with a three to five year addiction to methadone, but I got over the depression, and got off the pills."
For three and a half years, Mr Smith volunteered at Mustard Tree every single day, and he kept up guitar lessons, even outshining his teacher.
 He said: "All of this was giving me purpose."
Now, six years on, Mr Smith works as a van driver, overseeing those on probation, on drugs, lacking ability or confidence.
He said: "I wake up with a desire to help others.
"My grandson, Ethan, comes to visit me every week, my son stays with me, my mother is 90 and going on strong."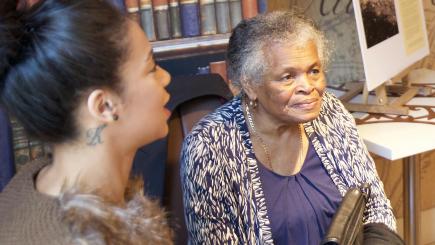 FAMILY: Mr Smith is now closer to his family, including his 90-year-old mother
Having been given an opportunity to turn his life around, Mr Smith is keen to set an example; his dream is to go into schools and use his story to teach young people about the dangers of living a life of crime.
This Friday, Mr Smith will speak to Manchester City Council at Friends Meeting House, to discuss the wider issue of homelessness across Manchester.
He said: "When any of my volunteers say that there's no hope, I can tell them that it's a challenge, but there's always a way out. I'm living proof."
Images courtesy of Tony West (black and white) and Vincent O'Brien (main and certificate), with thanks.