Collecting vinyl is by no means a rare or remarkable hobby, but in the case of DJ and crate-digger-extraordinaire Johnny Starke, it's a passion that filmmaker Anthony Ladesich had to document.
Kansas City filmmaker Ladesich, director of Forty-Five: The Search for Soul, first met Starke 10 years ago when they were working at the same film company. Starke bought his first Vespa from him.
Ladesich has worked in film for over 15 years as a director, cinematographer and editor. In that time the 45-year-old has won two Emmy awards producing films and commercials across the US.
His most recent short documentary, which screened at Manchester Film Festival this year, was chosen as Best Short Documentary.
"I wanted to direct a film about record collecting," he told MM at the festival.
"Stylistically, what I wanted to do was create something that focused on one record collector and one record to kind of show a microcosm of what I think all record collectors do, which is cultural archeology."
Just spoke to filmmaker Anthony Ladesich and DJ Johnny Starkey about the making of Forty Five: A Search For Soul.
Stay tuned for the full interview on @MM_newsonline and make sure to check the film out during the 2nd Documentary Shorts session at 8:20pm #Maniff2018 pic.twitter.com/KFwUajPEi2

— Joseph Timan (@josephtiman) March 2, 2018
As a record collector himself, Ladesich follows Starke in this short documentary as the obsessive crate-digger sifts through junk shops around Kansas City and beyond, looking for an unknown 45rpm soul single to return to the dancefloor.
In the end the project took the pair three years to complete as Ladesich was determined to film the whole process of searching for, finding and dropping the needle on the chosen record for the first time.
"The best part of that was watching Tony being so adamant about not faking anything for the film," Starke said.
"As a documentarian, for him it had to be true to life and there wasn't any wiggle room.
"I would call Tony every time I thought it would be a big win, like 'I'm gonna find something great here' and we'd film for two or three hours, get some decent footage but we wouldn't find the record. And then I'd find an incredible record but he wouldn't be with me."
The duo cast their net fairly wide with the furthest trip out of town taking nearly two hours. For Starke, it was often about instinct.
"I winged it as much as we could," he admitted.
Like Ladesich, Starke was concerned about getting it right for the film. As a DJ, he said, he's used to sharing up to four hours' worth of music with an audience. But with the film, he had just one choice.
"Every time I found a record that was not good enough for me – but a really great record – Tony would spend a good chunk of a week trying to talk me into it," Starke said.
"There's always gonna be great soul records that are deep soul, that make you feel something really powerful, but if it doesn't make you want to dance, that doesn't get the same effect across."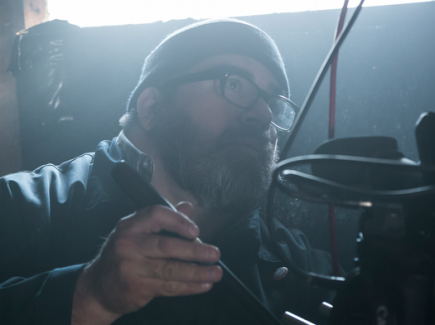 JAZZ, NICE: The smell and feel of flicking through vinyl records, Ladesich says, will leave music lovers wanting more in Forty-Five: The Search for Soul
Ladesich said it wasn't enough for Starke to pick a record that was unknown to most. He wanted to pick a record that was unknown even to deep soul collectors and crate diggers.
In addition to this, Ladesich wanted the chosen track to be from their hometown.
"Kansas City is known for Jazz, that's our claim to fame, and there was a really deep important soul scene in Kansas City in the 60s and 70s […] it's a hidden history of a town and no one really talks about," he said.
Ultimately, the pair shared a desire to put that specifically chosen record back on the dancefloor, where it was meant to be.
"It re-contextualises it in some regard," Ladesich said. "But at the same time it's putting it back in its original context. Because we're taking it from one time period to another, the people change but they're still the same."
Starke concurred: "You have a teenager in 2018 who hears the song and feels the same thing as a teenager in 1966, and that's incredible that a songwriter can make a time capsule that lasts through the ages."
Best Documentary Short – Forty Five-The Search For Soul

— Manchester Film Fest (@ManIFFofficial) March 4, 2018
The appeal of this 10-minute documentary for music lovers should be obvious. But Ladesich promises that it will do something special to record collectors.
"It will make you twitch, it will make you salivate, because there's a certain dirt that you get on your fingers, and a certain smell that you get when you're flicking through the records as the dust pops up.
"With the way we shot it and the visual style of it I really wanted to make people ache."
For this "crate-digger", listening to records is a ritual, and this may explain why vinyl is making a comeback.
"We live in a society where our rituals have become just looking at our phones," said Ladesich.
"I think there's something really truly beautiful about having to pull a record out a sleeve and set the needle down and having to tend to it.
"It focuses you on the act at hand […] There's sort of a mindfulness. In a world where we are told that there's a lot of value in being able to do 10 things at once, it's almost a spiritual practice to be forced to do one thing at one time."
Starke agrees, but believes that 45rpm singles force the listener to engage even more actively than full album LPs.
"Music has become a passive thing, people just put it on and do something else while music is on," Starke said.
"I think the most important thing to remember is, if you love music, make it active listening.
"When you put a 45 on, you got two and a half minutes before you have to change it and put something else on. I think people miss the intimacy of records."
Ladesich, who left Manchester Film Festival as winner of Best Documentary Short, is currently producing a feature documentary about the history of soul and R&B in Kansas City.