It was 7am on August 15, 2005, and thousands of expectant Mancunians were bustling their way down Brian Statham Way, eager to get through the Old Trafford turnstiles and discover how this compelling Ashes Test match was going to conclude.
This was Test cricket at its finest, a perfectly-balanced, engaging contest between bat and ball over four absorbing days with England and Australia at parity in the series at one game a piece.
Remarkably, the ground was completely full by 8:40, over two hours before play was due to begin.
Ten enthralling hours later, and the outcome had been decided. England, for all their spirit, their perseverance, their unwavering tenacity, had failed to take the ten Australian wickets required for an unprecedented lead in an Ashes series, with a heroic display of stoicism from Brett Lee and an equally defiant 17 minutes of batting from Glenn McGrath thwarting their advances.
In a peculiar way, though, the outcome didn't really matter. For Old Trafford, that historic old ground used during the Second World War as a transit camp for returning Dunkirk heroes and one devastated by German bombs later that year, this was its apogee in the global spotlight.
In front of a national television audience of 7.7 million – what English cricket would do for those sort of terrestrially-facilitated numbers now – it had delivered a display of astonishing, spellbinding sporting theatre.
Fast-forward 14 years, and earlier in the Cricket World Cup the ground put on such a spectacle once again.
This time it came in the shorter format, a game that ebbed and flowed with a turbulence only Brexit could match in which Carlos Brathwaite's heroism fell just short of achieving a memorable triumph for the West Indies.
In a tournament so far lacking in drama and day-night games, Kane Williamson's New Zealand were the ones who glowed under the Old Trafford floodlights.
163 NOT OUT
"This was probably the most entertaining game in the tournament so far," Daniel Gidney, chief executive of Lancashire Cricket, told MM.
"It really was one of those 'I was there' matches, with a 23,500 capacity crowd and we were delighted to have hosted a fixture that lit up Emirates Old Trafford."
But the ground is no stranger to hosting such a wealth of international cricketing royalty. In June it welcomed India and Pakistan in front of a global audience that totalled a staggering one billion people, a regrettably-rain-affected contest that Virat Kohli's revered side eventually triumphed in.
Indeed, Old Trafford is in the midst of playing host to no fewer than six World Cup matches this summer, the most of any ground across the country and a number that includes today's semi-final between India and New Zealand.
And such a sustained spell in the global spotlight is set to continue long into the English summer, with the 163-year-old stadium hosting both the fourth Ashes Test as well as Lancashire Lightning's eagerly-anticipated T20 Blast campaign.
"We're incredibly proud to be hosting the biggest year in the club's history," Gidney added.
"This is the year that the Club has been working towards for the last decade, and hosting the ICC Cricket World Cup and an Ashes Test in the same year happens very, very rarely.
"Our continued growth is testament to the team and is the reason that we're able to host world-class events.
"It's a year that is going to be a huge challenge, but it's a fantastic opportunity to inspire the next generation of cricket supporters.
"The Club has a vision to be the best place to enjoy cricket in the world, and we are well on the way to achieving that."
SUMMER TO SAVOUR
Old Trafford's rise has been inexorable. Despite hosting World Cup matches in 1975, 1979, 1983 and 1999, its redevelopment after 2008 represented a watershed that saw it grow into one of the country's most salubrious venues for supporters to visit.
In 2010, the strikingly visible, red arrow-resembling hospitality structure The Point was opened. That winter, the pitches were rotated 90 degrees to inhibit sun interference and elongate playing hours.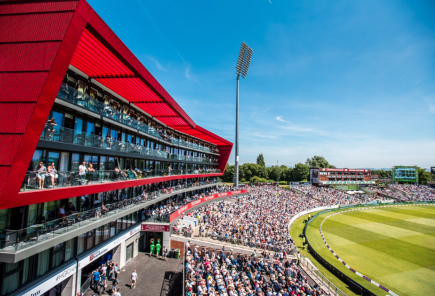 Construction of the new, state of the art pavilion and surrounding double-tiered stands was completed in 2013.
In five remarkably efficient seasons – the product of meticulous planning and a considerable £60 million investment – the once archaic-appearing Old Trafford had been transformed.
And such a significant development has culminated in this summer's impressive coup, constituting a marginal victory over competing grounds outside St John's Wood – Edgbaston, Trent Bridge, The Oval and Headingley.
For cricket fans in the north-west, this really will be a summer to savour.
Of course, Old Trafford has always been a powerhouse among the UK's cricketing stadia. Think Ian Botham's century and England's triumph in the fifth test of 1981, Shane Warne's ball of the century that is probably still drifting and turning today, that famous battle to the death in 2005. The famous old ground has always been a staple of the English sporting summer.
But this year is different. 140,000 spectators will visit for World Cup matches alone. Almost 100,000 will flock through the gates for the Ashes Test on September 4. In total, an astounding half a million cricket fans will watch some form of cricket at Old Trafford this summer.
Fourteen years on from that historic game in 2005, Mancunians continue to bustle down Brian Statham Way towards this famous, timeless, iconic old ground.
Image courtesy of ECB via YouTube, with thanks.