Like their human companions, man's best friend require the gift of blood during times of need.
Just like us, dogs often require transfusions if they become sick or injured so quick and easy access to blood can make all the difference between life and death.
That's why Pet Blood Bank UK, the UK's first charity of its kind, was established – to help save the lives of loyal companions across the country.
The charity collects blood from donors at various locations and then supplies them to veterinary practices and every unit collected can help save up to four dogs' lives, saving thousands every year.
For many dog owners their canines are more than just pets, they're members of the family, and the thought of losing them can be unbearable.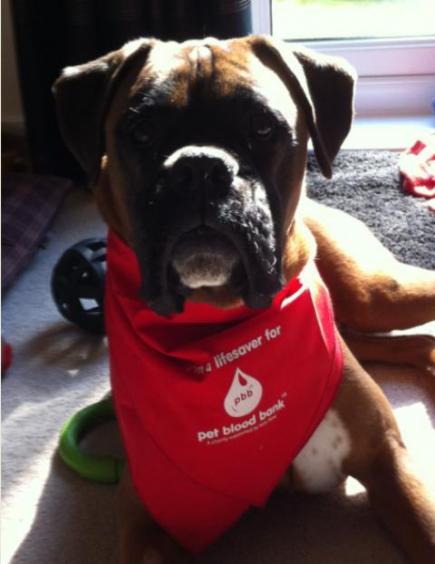 I CAN BE YOUR HERO: Taz sports his blood bandana with pride
That's why many, like 29-year-old Sammi Platts-Ford, from Walkden, takes her boxer Taz to regularly give blood.
"It's a really easy process and it's half an hour out of your day so you just need to look at the bigger picture and think if your dog was ill and needed blood and there was none available you'd be absolutely heartbroken wouldn't you", Sammi said.
"I'd be absolutely lost without Taz. I've had him since he was a six-week-old puppy and he's eight now and so much more to me than a pet, I treat him more like he's my baby son.
"Thank goodness he's never needed needed blood himself but I think it's great that because he's so fit and healthy he's able to give something back to the doggy community.
"It's really good for me too because not only am I taking him there to do something great. It also means I get peace of mind that he's all okay because he's checked over thoroughly each time we visit."
The charity travels to different locations around the UK and holds, on average, three collection sessions a week, seeing up to 22 doggy donors each time.
The donated blood is then taken to a 'state of the art' processing unit in Loughborough where it is processed into red blood cells and plasma products.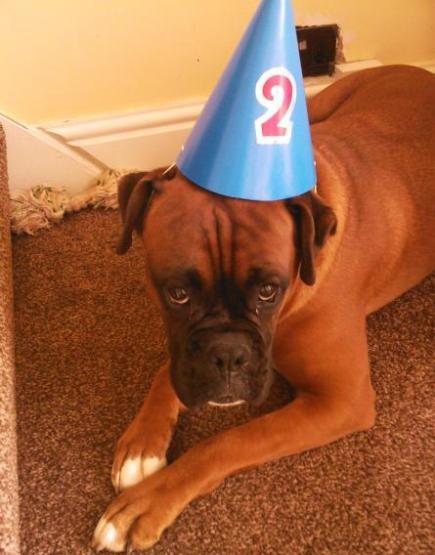 HAPPY BIRTHDAY: Taz regularly gives blood at the Pet Blood Bank UK
The procedure is very similar to the way humans give blood and local anaesthetic cream is used to prevent any discomfort. Vets then ensure the dog is completely relaxed and happy before the needle is injected.  
PBBUK representative, Jody Wyse, said: "Our donors enjoy all the fuss that being a donor brings, particularly those like Taz who regularly give blood every 3-4 months.
"Great temperament is one of the many criteria required for donation, and all the attention that donors receive from both their owner and the PBB Team always makes for a positive experience.
"We also offer hints and tips for any dog owners who wish to register their dog as a donor.
"Dogs need lives saving blood just as much as we do so if your dog meets the criteria then we're urging you to come along and help save a life."
The blood bank will visit Manchester's Petmedics on Priestley Road, on Thursday September 18, and Sammi  Platts-Ford, who's dog Taz has donated three times in the past, is urging fellow Mancunian dog owners to get involved.
"There really isn't anything to worry about. Everybody at PBBUK is really helpful and they treat every dog as an individual," she said.
"They really care about the pets and how they are and always make sure Taz is really relaxed before they take the blood and he gets food and a little toy when it's all finished.
"Taz is a placid dog anyway so he doesn't really make a fuss and he absolutely loves all the attention from the vets and being stroked by everyone."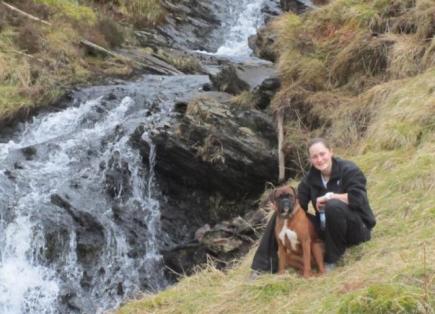 WO-MAN'S BEST FRIEND: Taz and Sammi are inseparable 
Sammi is currently helping spread the word of PBBUK through her new business, A Lead of Their Own.
The dog lover provides walking services and home visits for pets through the company, which she set up after leaving her pet boxer in kennels last year left her upset.
She said:  "I had to leave Taz in kennels last year when I got married and it didn't half pull on my heart strings, I didn't like it at all and then I thought there must be loads of other people like me so I decided to set up a business were owners can leave their pets with someone who can give them their full attention.
"I'm really passionate about dogs and I'm really enjoying running the new business because it means I get to spend all day every day with Taz.
"I've started asking other owners who are on my books if they're happy for their dogs to donate blood and I'm currently working with PBBUK to set up a group donor session which is brilliant.
"Lots of people are unaware of the existence of pet blood banks, I was myself until recently, so hopefully that's something I can help change by getting the word out and getting more dogs on board.
"It's quite sad for me that Taz has missed out on a few years donating because he's eight now and will be unable to give blood next year because once you hit nine you no longer pass the criteria set by PBBUK." 
All dogs must meet a number of requirements before they are able to give blood, which can be found of the PBBUK website, and Sammi says anybody thinking of taking their dog along shouldn't hesitate.
She added: "If your dog is able to give blood you should definitely take them. It's so worth-while and is really it's rewarding when you leave knowing you've done something amazing that could potentially save a life."