William and Kate announced they are expecting their second child yesterday – which means Royal Baby fever is back.
Kensington Palace issued a statement confirming that the Duchess of Cambridge was suffering from acute morning sickness – as she did when pregnant with Prince George, who is now 13 months old.
The newest member of the royal family is expected to arrive in Spring next year, while the Queen and both families are said to be "delighted" at the prospect of Prince George's younger brother or sister – who will be fourth in line to the throne.
Prime Minister David Cameron was amongst the first to congratulate the couple, who were married in 2011.
Mr Cameron said: "Many congratulations to the Duke and Duchess of Cambridge. I'm delighted by the happy news that they're expecting another baby."
But while the news, including her illness, is front page across half the national papers this morning, are people eager for Royal Baby fever round two?
MM took to the streets of Manchester to find out your opinions…
Are you excited about the Duke and Duchess' announcement of their second pregnancy?
Amjad Khan, a 32-year-old coffee shop supervisor from Fallowfield claimed that it was mainly due to the celebrity focused culture in Britain that people got excited.
"I've not really got an interest," he said. "The Royal Family don't really affect me or influence my life in anyway – it's good news for them but I'm not particularly excited – it just shows how celebrity society is."
Narinder Singh, 33, who commutes from Huddersfield to work as security supervisor at Manchester Airport, agreed that while it is good news, the media do tend to over-hype everything due to a celeb-culture.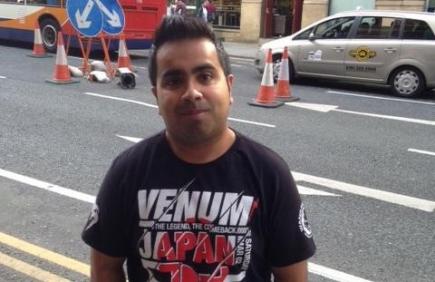 THE LIVES OF OTHERS: Narinder Singh thinks people shouldn't be so nosy
He said: "They are just normal people. The press just seems to go over the top with it all – a bit like they did with the Beckhams.
"Maybe people should focus on their own lives more rather than the lives of others?"
Tori Daniels and Shaunie Chow, both 16-year-old students from Wythenshawe, agreed that the hype could be too much.
Tori said: "It's good news but it can be a bit too much. Last time you'd be watching TV and a news bulletin about baby George would just come up!"
While Shaunie added: "It's cute but I don't think it's a huge deal because people have kids all the time, but just because it's the Royal Family it's all over – I understand why but I don't think it should be a huge fuss."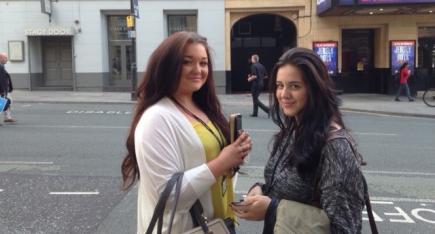 WHAT'S ALL THE FUSS? Shaunie and Tori don't see the big deal
Grace Robinshaw, 19, from Mossley, who works in the finance department at Manchester Metropolitan University, said: "It's a good boost for society I guess. As long as it's not going to be as big as a deal as it was last time with George – I hope it's not over-mediated but I can understand why it was."
Sophie Scragger, a 22-year-old trainee teacher who lives in Eccles, had the same thoughts.
"I don't really follow the royal's that much," she said. "I can understand the excitement and I'm happy for them – but I don't really take an interest. George was born and it was exciting but I hope it's not hyped up as much this time."
However, Pat and Denis Haydock, a retired couple on a two-day trip to Manchester from Cleveleys near Blackpool, were happy to hear the news.
Pat, 67, enthused: "It's a bit of a lifter – all the news has been so bad lately!
"The hype is understandable, because the Royal's are known world-wide; I have a niece who lives in Canada and they're totally engrossed over there – I think it's brilliant!"
Denis agreed and added: "It can only be good for the British economy in the coming months."
Amy Lehinger, an Australian photographer from Queensland, whose English partner lives in Manchester, was in high spirits after hearing the news.
She said: "I'm so happy for them they're such a cute couple! They are such a huge thing around the world – and I can totally understand it. I'm really excited – again!"
On the other hand, 20-year-old Manchester University student Jenny Sterne claimed: "I'm happy for them but it doesn't really interest me that much."
But Lauren Kennedy, a 28-year-old dietician from Chorlton, was delighted by the news.
She told MM: "It's nice news – like it would be if anyone else was pregnant. It's always good to see happy people, and I can understand the amount of hype that happened last time. It's great!"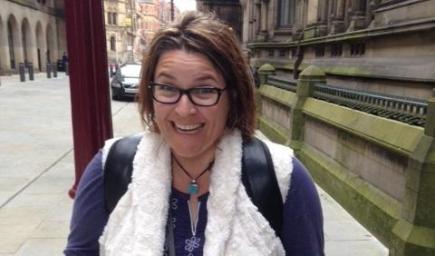 ROYAL BABY ROUND TWO: Amy Lehinger is excited already
And Brogan Gallagher, Georgia Worthington and Isobel Derrick – three 18-year-old trainee project managers who travel to Manchester from Macclesfield all agreed that it was fantastic news for the Duke and Duchess.
Georgia said: "We think it's so cute – we're all really happy for them – it's nice for George to have a little brother (or sister)."
Brogan added: "The Royal's are more modern now and it's better – they all seem so down to Earth all things considered."
Image courtesy of ITN via YouTube, with thanks.