British electropop singer-songwriter Aleksandra Denton, known as Shura, has come out as gay for the first time in an interview with MM ahead of her recent gig at Manchester's Gorilla.
It was not the most glamorous circumstances for interviewing one of the brightest rising stars on the music scene.
Shura – whose name is a Russian abbreviation that she acquired as a nickname instead of Sasha to avoid confusion with her Russian mother's ex – sat on a sofa in a tiny dressing room among the maze of corridors backstage at Gorilla.
The remains of a supermarket supper were strewn about her, and the sound of the opening act, Clean Cut Kid, banging their drums below periodically seemed to shake the room.
But in some ways it was appropriate – as Shura told me, she never expected stardom and is still getting used to it.
The 24-year-old artist first appeared in the spotlight and signed with Polydor Records after she released the video for her song Touch last March.
The video, which shows various couples (women and men, men and men, women and women) approaching each other and slowly kissing, went viral with 23 million views so far.
While the sexuality of the video might be its most prominent attraction for some viewers, Shura never intended it to make a point.
"I'm a lesbian," she said. "That's how I identify myself.
"But I think there's a massive spectrum for everyone and that's something that I wanted to convey in the video.
"There are many different kinds of love. It didn't really feel like a political statement at the time.
"When you have a lot of gay friends, you don't think of that as being different or divisive or weird, that's just your reality.
"It wasn't until it went viral that I realised there were some people out there who were surprised or noticed that it was different to the normal video.
"It wasn't my intention ever to do anything divisive.
"It was literally a group of my friends trying to do something awesome for me because they believed in what I was doing."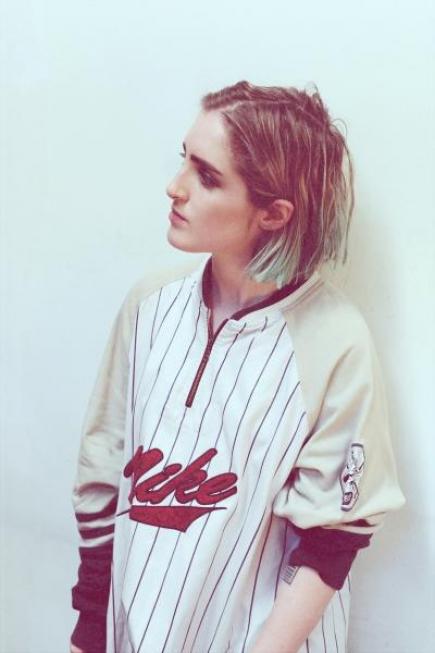 'MANY DIFFERENT KINDS OF LOVE': Shura believes there is a 'massive spectrum' of sexuality for everyone
The simplicity of the video arguably makes it even more evocative and raw but this is, at least in part, just the result of it being made on a shoestring budget.
Shura said: "I had no money. The only thing that I could afford to do was hire the studio and hire the camera, and I got all my friends to be in it, and it was something really simple that I could do.
"If you think about the song, it's quite sad, but the musicality's quite happy. I think that's what makes it interesting.
"I wanted to make a video that depending on where in your life you're approaching it, you can take what you want from the video.
"So if you're falling in love with someone you can watch the video and be like 'Oh, this is their first kiss and they're so in love'.
"Or if you've just had a horrible break up you can be like 'Oh my God, it's their last kiss and they're never going to be together again.'
"I wanted it to have that freedom of interpretation."
@lokctl just for you. pic.twitter.com/hTW8BRLNUJ

— shura (@weareshura) October 23, 2015
One thing the singer has definitely demonstrated is the power of music in bringing people together – quite literally for some of those involved in the video.
"Some of them weren't [in relationships] and now are," she said. "Which is quite funny, I like to feel like I've played Cupid.
"Some of them are gay, some of them are straight, some of them are straight and pretending to be gay, which is kind of hilarious.
"There's this guy who's kissing my twin brother in it, who's completely straight.
"I was like 'Are you sure you want to do this?' 'Yeah, yeah, it's fine'.
"I'm not sure how he feels about that decision now."
What have I just discovered?!?!? pic.twitter.com/8uaQb5tOYd

— shura (@weareshura) October 19, 2015
And Shura understands more than most the transformative influence music can have, as it has seen her grow from 'a weird kid who stays home to write music' into the next big name in electropop.
"I was born in London but did puberty in Manchester really," she said.
"All the important school stuff I did here, so it does feel like a bit of a homecoming, but it is weird coming back and it not being the city that I live in.
"I feel like everyone is an awkward teenager when they grow up, but I was definitely a weird kid at school, mainly because I didn't like to go out, I'd just rather stay at home and write music.
"My first ever job was a Saturday job at a place called Music Home, which has gone bust now… probably because I worked for them!
"I remember listening to records that I'd never heard before because I only listened to what my parents did growing up – Madonna and Tina Turner and Elton John and that sort of stuff.
"I remember one of my friends put on a Portishead record and that scared the shit out of me for the first 20 seconds.
"It was just really dark and brooding and I'd never heard anything like it.
"And suddenly I realised that there was so much more music than I'd ever been exposed to, and I think that really captured my imagination.
"And also just being 13 and going 'Oh, I'm not cool, how can I be cool, oh musicians are cool, alright I'll pick up a guitar and then maybe I'll be cool'.
"But then again when you get to like 17, 18, all the people who were cool at school suddenly drop by the wayside and all the people who worked hard and were a bit lame become the new cool kids."
Spent the afternoon trying to recreate scenes from Touch with @NewEraEurope pic.twitter.com/ntcnLGeIBz

— shura (@weareshura) October 27, 2015
With the shift from 'uncool' to viral sensation, Shura may have become cool a little more dramatically than most.
Her infectious but melancholy electropop is now being played at the same parties she didn't go to, but she said she doesn't hear it because she's 'still a bit of a hermit human being'.
She said: "I'd much rather be inside watching X-Files and eating Domino's pizza than be at a party feeling awkward.
"I'm a massive, massive sci-fi fan, it's a big part of my universe. Even shit sci-fi I love."
Aliens Exist. pic.twitter.com/wTqxhUIjoB

— shura (@weareshura) November 5, 2015
Her favourite films include the Alien series, Under the Skin (which inspired the music video for her song White Light) and 2001: A Space Odyssey – sci-fi which looks at human concerns.
And she loved last year's Interstellar.
"It happened in space but the fact that it's in space is irrelevant, it's really about the relationship between the father and his daughter and death," she said
"It just really hit me emotionally."
Shura explained that she often returns to those same emotional themes to create her music.
"Human relationships really interest me," she said.
"Whether it's a romantic relationship or the relationship you have with your twin brother or your parents."
So what's next on the cards? Well, she promised that her as yet untitled debut album, which is due out in April or May next year, will be about the state of the world.
On set for the video for White Light starring ma twin bro @NickDenton116 #doievenownanyotherjackets pic.twitter.com/ufRllUAzGq

— shura (@weareshura) November 28, 2015
She said: "[It will be about] awkward relationships or missed opportunities or nostalgia as a whole.
"Whether it's nostalgia for an ex or just being young or being a child, missing the not knowing how shit the world is."
What is most important to Shura – more important than going viral or the fame – and what has always been most important is expressing herself through her music.
"I was never interested in learning covers," she said.
"A lot of people pick up a guitar, they go 'I'll look up a guitar tab website and try to figure out how to play Stairway to Heaven, and I just never gave a shit about that.
"I always wanted to write my own songs.
"I always thought I've got stuff I want to say so I'll say it, rather than saying what other people have said.
"Why would I want to do that? Why would I want to sing other people's words? It's not truthful. It's not about me.
"Even if I can connect to it on an emotional level as a listener, it doesn't mean anything to me to sing someone else's songs."
"I never stopped making music. I never thought 'Oh, no one's interested, I'm not going to bother anymore'.
"If you make music it's not really an option not to, so I was perfectly content having a full-time job and at the weekend writing songs or taking holidays to play the odd festival, just me and my guitar.
"I think a lot of people are like 'Oh, you came out of nowhere and sort of shot off into the stratosphere'. But it's something that I was doing since I was 15, 16.
"It kind of feels like it's taken a while and it's been a natural progression, but I guess people don't know about the stuff you did before because why would they?
"It's not on the Internet anywhere."
THANK YOU MANCHESTER! pic.twitter.com/OJixU7yHC7

— shura (@weareshura) December 3, 2015
The talented young songwriter takes this same modest approach to her future and to her growing success.
Shura said: "I don't really have a vision for the future, I try not to think about it too much.
"If I had everything that I have to do in the next 365 days present in my mind right now I'd probably have a nervous breakdown.
"I just think I have a show tonight and I have a day off tomorrow, and then I have to finish the record and it will hopefully be as good as I want it to be, and press go on 2016."
Main and inset images courtesy of Chuff Media, with thanks.