As the bubbly hostess skipped onto the stage complete with reindeer antlers on her head and beamed over the soft play area full of babies, this looked like any other parent and baby event… until the dirty jokes and strong language spilled out.
Half of the audience laughed and let out a sigh of relief at the knowledge that they didn't have to pretend to enjoy a performance of dancing Iggle Piggle and squeaky Upsy Daisy.
The other half were either too enthralled by the sensory experience of the colour changing lights or had their mouths around a nipple.
This was a Bring Your Own Baby Comedy show, a lunchtime comedy club for parents and babies under 12 months, the brainchild of best friends and comedians Carly Smallman and Alyssa Kyria.
After new mum Alyssa suffered with post-natal depression following the birth of her daughter, the comics decided to help other local parents by starting a day-time comedy club. The shows became so popular that they now host them at venues across the UK.
After a successful show last year, BYOB were back at The Lowry, Salford.
I found myself in the company of around 50 newborns in baby slings and gurgling little ones who were taking their first steps. It was a little surreal.
I sat in the middle of the theatre and a little while later a group of four mums sat behind me, babies on their laps. Seven-month-old Ivy behind me stared in awe at the white faux fur on my black suede jacket. She tried to grab it with her tiny fist as I spoke to her mum, Abbie.
"I found out about Bring Your Own Baby through Facebook. We, all four of us, like to bring our babies to everything we can find. It's just a really nice outing.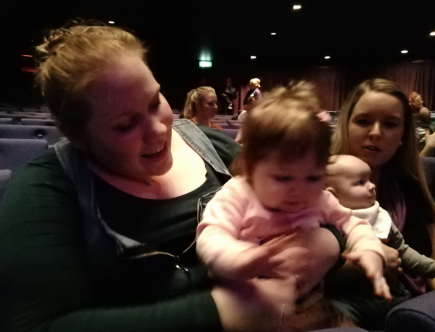 HAPPY PLACE: Abbie and seven-month-old Ivy with friends enjoying the BYOB vibe at The Lowry
"There's not many baby-friendly things around so this is really good. They're not bothered about noise and you don't feel like you're going to be upsetting anybody by being here."
Another new mum told me that it was her birthday, so her husband had bought them tickets to this rare baby-friendly date night.
"Another parent told me about it and he knew I was struggling to get out of the house and it happened to be my birthday, so my husband bought us tickets to just get out for a bit.
"I've never heard anything like this before where you could bring babies and I was really pleased that they were still going to do adult entertainment because I'm not into the whole parent baby groups."
The soft floor play area right near the stage was very popular with the older babies and their tired parents were happy for the distraction. One little boy, seven-month-old Jimmy, was enthralled by the caterpillar toy, but he was more than happy to pose for photographs once his mum started singing "baby shark."
His mother, Anna Davenport, said: "We saw this online and it seemed brilliant. Jenny [her friend] and I love stand-up but obviously we don't get out much now.
"It's so good for comedians because they have such a captive audience of people who genuinely don't have a life and will laugh at everything. They could just stand there and we would be over the moon.
"Being a new mum can be so isolating because everything changes. This is something grown-up and it's not sitting around singing baby songs. You can go and enjoy yourself. Your baby won't know the difference between this and 'Wheels on the Bus.' This is fantastic, especially around Christmas."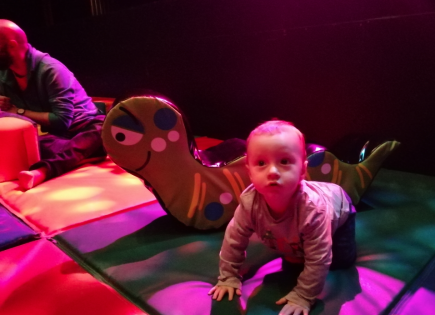 OVER THE MOON: Seven-month-old Jimmy's Mum Anna said the chance to get out and have a laugh was genuinely heartwarming   
The hostess, Carly Smallman, eased everyone into the show, and made it clear that the mums were free to whip out a boob…  oh, they could feed their baby too.
The first act was Live At the Apollo star and mum of twins Jen Brister. Her performance was largely based on relatable parent jokes, her controlling mother (who lives with her), menopause and her unidentical twin girls.
She also said that menopausal hormones make women go a bit mad and then randomly mentioned the viral video of the woman who dumped a cat in a bin. I actually cried real tears and silent laughed, which hurt my chest.
The final act of the afternoon was Britain's Got Talent runner up, Robert White, who endeared the audience with his social awkwardness and jokes about his Asperger's.
He played a few songs on his keyboard, the lyrics full of extremely dirty homosexual innuendos. White picked on two of the few dads in the room, and even brought one onto the stage. The poor guy stood there in his red socks (he had been in the ball pool with his baby) and bowed to the audience whilst White ogled his bum.
For most new parents, date night isn't easy to organise what with trying to organise childcare and then spending the entire night worrying… and that's if it even happens at all.
BYOB Comedy has made things just that little bit easier.
So, if you're a new parent who is struggling to get out of the house, look out for the next tour dates near you. And maybe bring your baby with you.
It's nearly the end of another month…but fear not…we have a whole host of Christmas parties coming up in December!  So bring your mum mates, dad buddies, NCT crew to celebrate the festive season with grown-up jokes and a mulled wine. https://t.co/H6GjgqGvrS @hoop pic.twitter.com/4G3HqYl3sK

— BYOB Comedy (@BYOBabyComedy) November 27, 2018