Politics is changing more now than ever before. Voters are no longer content to wait until the nightly news to find out the day's events; there is an appetite for the instantaneous and there is no news source more current than Twitter.
With 2015 being touted as the first social media election, MM spoke to an array of political experts to find out just how important Twitter will be in determining who will be walking through the Downing Street doors come May.
One expert to share his views was former Labour spin-doctor Alastair Campbell.
Best known for spending six years as Director of Communications and Strategy for Tony Blair, Campbell has forged as a career as a widely-respected and highly knowledgeable media mogul.
He told MM: "Social media is becoming a news source in of itself. It's become a conventional news source in a way but it's also becoming a different kind of news agenda set up.
"I don't buy the idea that social media is some kind of expression of democracy; it's not. It's a part of an expression of democracy but it's also part of what news now is."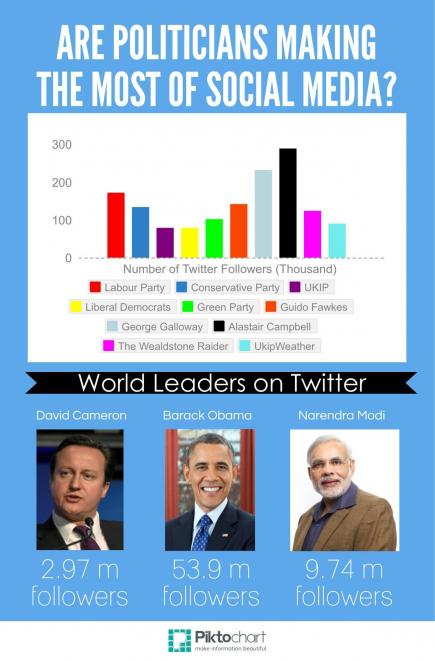 Campbell, who himself has more than 289,000 Twitter followers, suggested that politicians need to be more honest on social media to lessen the disconnect between the political elite and voters.
He said: "It drives me mad when you see politicians canvassing, tweeting 'fantastic reaction on the streets'. It might be true, but it probably isn't.
"I think it would be brilliant if someone tweeted 'just been out campaigning; someone told me I was a complete bastard and I had an argument with them about it.'
Make it fun, make it easy. this is the best hope for creating democratic participation @CitizensFNDN #digitaldemocracy #EU

— Matilda Murday (@Dem_Tilly) January 27, 2015
"I think too many Westminster politicians are trapped in the old media prism. 'Are we getting in the papers? Are we getting on the news?'
"I don't think there are many politicians of any party who are good on social media. Social media has to be authentic, it has to be engaging, it has to be real, it has to be interesting and at times it has to be funny."
The rise of social media-driven political engagement was perhaps best summed up by the prominence of a single hashtag that in just over two weeks, garnered more than 1,000,000 tweets from around the country.
#CameronMustGo, the brainchild of two Labour supporters, known as Jon and Gail, attracted support from high profile figures including John Prescott and Queen's Brian May and spent weeks topping the UK Twitter Trends list.
Jon, 38, told MM: "You speak to a lot of people and there's a lot of discontent for David Cameron and the way he's running the place at the moment.
"A lot of people do believe everything they read in the papers, whereas maybe people who are on Twitter are a little bit more open-minded, they have different sources of information, they can make their own informed decisions without a one-sided view."
Oh look #CameronMustGo is still trending > "@dejavousagain: @jon_swindon topsy show #CameronMustGo trending pic.twitter.com/pHRrDRDMAi"

— tenbob (@davetenbob68) December 8, 2014
Despite amassing such a large following, #CameronMustGo received relatively little coverage in the printed press, a symptom that Campbell, a well-known advocate of the campaign, believes is largely reflective of the state of the British media at the moment.
He said: "The #CameronMustGo campaign has more coverage in European media than it does in British media and I think partly, that's the papers not wanting to concede that they're losing the agenda.
"The media has become incredibly trivialising, focusing on the process of politics, rather than policy or issues.
"There is a lot about the British press that is really good; it's difficult, it's challenging, it's querulous, but the worst of it is pretending to be neutral when they're not, making stuff up, only going for lines that concern their own bias and the sheer nastiness of them as well."
.@BBCNews @itvnews @skynews if #MilibandMustGo trended on twitter for a couple of weeks, do you think it'd be covered on TV? #CameronMustGo

— Alastair Campbell (@campbellclaret) December 1, 2014
While the main political parties may not make the most out of social media, the chance to reach out and communicate directly with voters is crucial for fringe parties in the build-up to May.
Loz Kaye, leader of the Pirate Party and candidate for Manchester Central in the 2015 General Election, spoke to MM about the importance social media holds for accessing people who don't feel like they matter in the electoral system.
He said: "What social media has done is provided a great way of holding politicians directly to account, but we're seeing the big parties use it in the same way that they do everything else, just broadcasting their message without really listening.
"The thing that will be the game changer in 2015 is if parties are able to start conversations and listen through social media."
Am I really the only UK party leader on @reddit ? – http://t.co/YjhFIMSqi0

— Loz Kaye (@LozKaye) January 17, 2015
Kaye, who received 1.9% of the vote in the 2012 Manchester Central by-election, added that the UK political elite are in danger of losing a large proportion of the electorate unless they integrate technology.
He said: "The way the big parties are still doing politics is not a way to reach a lot of young people, is not a way to reach lots of people in urban areas where you can't simply go and knock on a door on the top floor of a 30 floor tower block, like we have in Manchester.
"Social media is an opportunity to reach people who aren't voting and are feeling disenfranchised and who feel that their voices aren't being heard at the moment."
Not everyone, however, is as quick to praise the increased role of social media in politics.
Dr Rob Ford, a Senior Lecturer in Politics at the University of Manchester, raised doubts over the effectiveness of social media as an electoral tool, and suggested that the #CameronMustGo campaign in particular, was doing little to change UK politics for the better.  
Dr Ford told MM: "Twitter is obviously something that people are using a lot but actually I think it's a horribly poor guide for judging electoral sentiment.
"A certain section of the electorate is developing a new kind of a political mode of expression, and I'm all for that as someone who studies political engagement, but it is very misleading.
"People tend to fall into echo chambers on Twitter, where they only hear from people on their side of the story."
Forget this 100 days tomorrow lark, it's now 78 days, maybe fewer, before people start voting in significant numbers in election – by post

— Michael Crick (@MichaelLCrick) January 26, 2015
He added: "Tweeting is easy, it's easy to add a hashtag, but what does it mean really? A lot of the people who are happily using that hashtag won't go out and vote.
"If young people were more willing to engage in the traditional mechanisms of politics, then they might find that politicians are more responsive to them."