Mancunians are riding high on the list of Brits who are most likely to enjoy a kinky weekend away under a false name.
New research collated by hotel booking website Late Rooms has discovered that lovers in the North West are more likely to enjoy a two-day romping session under a false name.
Exactly a quarter of naughty Northerners, from cities including Manchester and Leeds, regularly use fake names when checking into hotels for a steamy weekends away – the highest fraction in the UK.
This isn't the first time that Manchester has been exposed for its furtive behaviour.
Back in August, the city was named the cheating capital of the UK with a scandalous 55% of women and 33% of men admitting they'd travel 30 miles just to cheat on their other halves.
Whether mischievous Mancs take on their mysterious pseudonyms to keep their antics under wraps or to add a touch of mystery to their sex lives, it's clear that the city loves to dabble in a bit of spontaneous hotel nookie.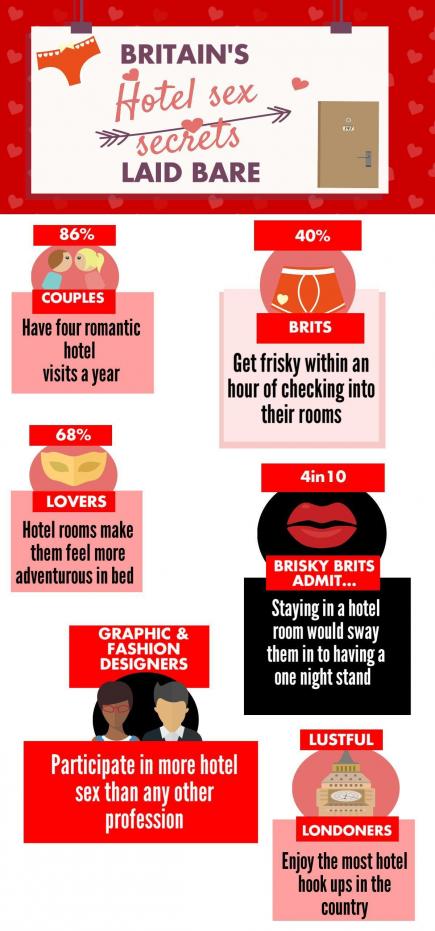 The national survey that took on the responses of 2,000 couples,  exposed that a huge 66% of adults were certain that a hotel break would certainly end with a bang— for some even four.
With 32% claiming that they'd enjoy enjoyed an average of four intimate sessions with their other half.
The average British couple enjoys 1.94 sex sessions per weekend when in the comfort of their own home, but as soon as the 'do not disturb' sign is hung from a hotel door, the figure rides to an average 2.74.
The raunchy results have also dispelled any myths about us Brits and our stiff upper lips.
According to the Late Rooms survey, 26% of couples staying in a hotel on Valentine 's Day wouldn't even complain if people in the next room were having a noisy sex, admitting that they'd actually listen in — proving that we are in fact a nation of moaners, just not in the sense you thought.  
Andrea Tarpey, from Late Rooms, said: "Brits, it turns out, are quite undeserving of the reserved, stiff upper lip reputation they have across the world – because during their lifetime they have an average of 44.31 hotel sex encounters.
"In fact, 25% of UK adults admit they've even met up with a stranger in a hotel for an unbridled sex session in the past."
Image courtesy of IronPoison, with thanks.