In a study conducted by Professor Diane Reay, an expert in educational and sociological research at the University of Cambridge, she identifies Finland as "the closest example of common schools working in the service of a common culture."
Finland, she writes, sees 40% of children from poor homes exceed expectations in an education system that eschews an inspectorate, as well as national tests and league tables.
It is unrecognisable from a British model it regularly outperforms in literacy and numeracy. Finland's is arguably a system that embodies everything that Britain's is not – and simultaneously what it should aspire to be.
One could counter, however, that Britain's overall education scheme isn't exactly weak. 93% of the school-age population attend state-funded schools, many of which have an excellent record when it comes to securing university places for its pupils.
In 2018, for example, Reading School submitted 31 applications to the University of Cambridge, with 22 pupils being offered places. Wilson's School, The Tiffin Girls' School, and The Henrietta Barnett School all saw more than half of their pupils' applications to the same university accepted.
By comparison, Charterhouse – which charges over £33,000 per year in fees, and around £40,000 annually for boarders – saw six offers received out of its 43 applications to Cambridge that same year: a success rate of only 14%. Ostensibly, the state sector in the UK could be said to be holding its own against the independent sector.
Only, it would be more accurate to say that a fraction of the state sector is able to hold its own. The above-named state schools that have a high rate of successful applications are all selective, well-resourced, and located in particularly affluent postcodes.
In inner-city areas, many state schools are under-funded meaning that their pupils are essentially underprivileged; they simply do not enjoy the same standard of living or rights as the majority of people in society.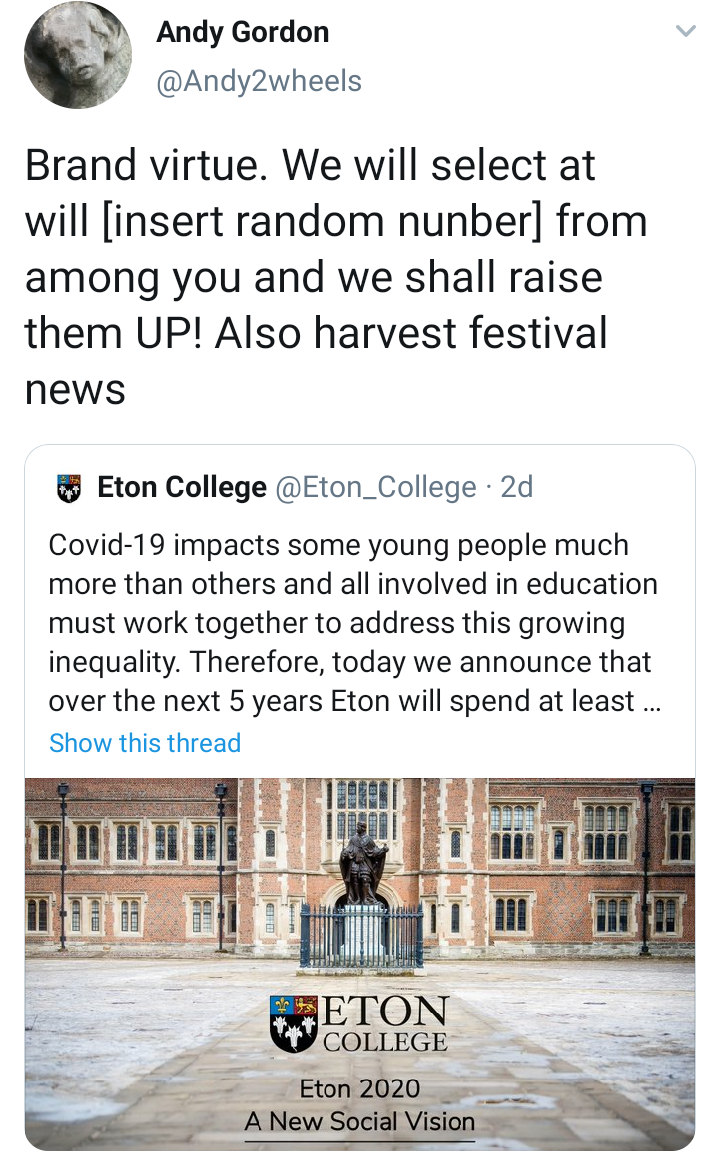 If the yawning chasm between many state schools and private schools weren't evident enough, the coronavirus outbreak has underlined the stark reality that Britain is divided into haves and have-nots.
Where private schools and well-equipped state schools are able to continually send assignments home to their pupils, conduct online teaching, or even have the headteacher call out the register, countless state schools have been left behind.
Many simply lack the resources. In other cases, pupils live in households without adequate access to a computer or internet, or may not have parents equipped to support their learning.
The repercussions of the coronavirus have exacerbated the attainment gap that exists in British education – but it is important to recognise that the gap was always there, and was always prevalent. Only now, it is worse.
Out of the UK's school-age population, only 7% attend independent schools. Though this may seem an encouraging statistic, a closer look at the eventual destination of independently-educated pupils tells a different story.
In a detailed report produced by the Sutton Trust entitled Elitist Britain, findings showed that although privately educated schoolchildren were an overwhelming minority, their education paid major dividends when it came to improving prospects at university and in the workplace.
Their chances of an offer from Oxford or Cambridge are particularly enhanced by a private education. The Oxbridge universities are well known for being highly selective, with Oxford's vice-chancellor, Professor Louis Richardson, acknowledging as much.
"For the third year in a row," Richardson writes in the Annual Admissions Statistical Report, "Oxford has been ranked the best university in the world by the Times Higher Education Global Ranking.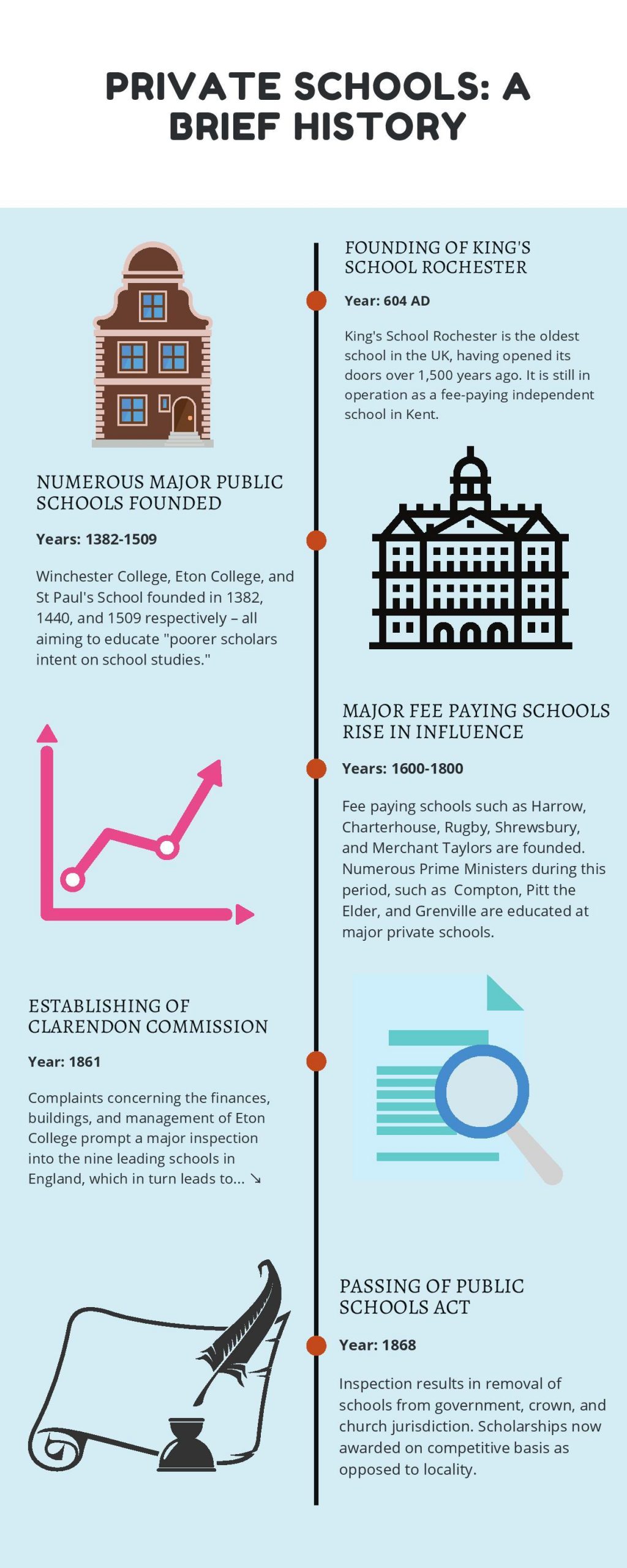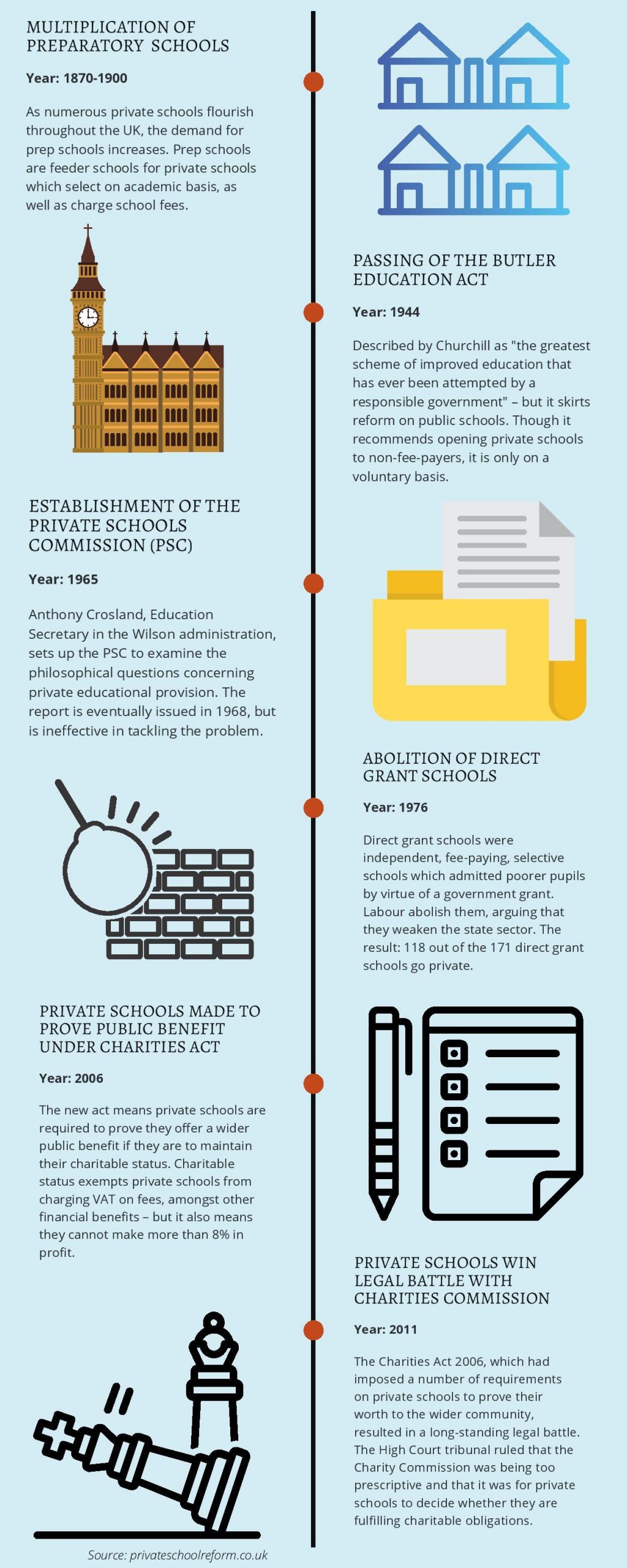 Unsurprisingly, therefore, competition for an undergraduate place at Oxford is intense and becomes more so every year. In 2018 over 21,500 students applied for one of the 3,300 places in the entering class, an increase in applications of over 4,000 in the past five years."
This is an acceptance rate of just 15%. According to Cambridge University's statistics, there were 3,465 successful applicants out of the 18,378 applications, making the acceptance rate closer to 19%. Differing only slightly, these figures speak for themselves: Oxbridge is exclusive. Not as exclusive, however, if one has a private education behind them.
The Sutton Trust found that the privately educated 7% are twice as likely to get into Oxbridge than their state-educated counterparts, with the top eight private schools sending as many pupils to Oxbridge than the 2,900 others put together. Though making up 93% of the school-age population, only 60% of Oxbridge students are from the state sector. The report makes for astonishing reading.

Within the Oxford and Cambridge Universities are a number of colleges, some more reputable than others. In response to a freedom of information request, Jesus College Cambridge revealed that in 2017, 33 out of the 144 of its accepted offers were from students who attended a Clarendon School.
The Clarendon Schools are not just any private school – they are a group of particularly elite, long-standing English schools: Charterhouse, Eton, Harrow, Merchant Taylors, Rugby, Shrewsbury, St Paul's, Westminster, and Winchester.
With the exception of Merchant Taylors, which is not a boarding school, the lowest annual boarding fee out of the nine Clarendon Schools is £36,798, charged at Rugby School. Eton is the most expensive, its annual boarding fee standing at £42,501.
These schools are adept at far more than providing a top-class education; they provide what are known as 'soft skills' which are nurtured and developed by the vast number of extra-curricular activities provided in the private sector.
An independent school day will often start at around 08:00 and continue until 17:00 each weekday, with classes and sport offered on Saturdays. A school-day in the maintained sector, by contrast, will typically consist of seven hours' worth of classes, primarily limited to the academic curriculum.
The independent sector therefore allows for 40% more contact time than the state sector; whether it is worth the money or not, one cannot argue that the quality of education offered at private schools isn't of a high standard.
The Clarendon Schools which offer such an education cater for approximately 0.2% of the UK's population, yet take up comfortably more than 0.2% of numerous Oxbridge colleges' student population.

In 2017, the percentage of Magdalene College Cambridge first-year undergraduates was 4.85%. Gonville and Caius's proportion was close to 7% – in short, comfortably higher than the percentage of students educated at non-Clarendon Schools.
Unsurprisingly, the benefits of a degree from either Oxford or Cambridge filter into the workplace. The Elitist Britain report also revealed that 71% of the UK's senior judges and 56% of the UK government's permanent secretaries attended Oxbridge. 65% of judges went to private school, and 59% of permanent secretaries. Other sectors are dominated by privately educated professionals too.
A good education, as is universally accepted, is beneficial at every rung of the ladder – and it all comes down to whether parents can afford the school fees to send their children to a top school.
So, what exactly is being done to give state-educated pupils a better chance at attending university and securing a well-paid job? Private School Policy Reform (PSPR), a pressure group formed last year, intends to amplify the national discussion on how to level the educational playing field, and ensure that a pupil in a maintained school has as much chance of a place at university as a boy or girl who attends a private school.
CAMPAIGNER: Melissa Benn believes the Covid-19 pandemic will change the discussion around education
PSPR was co-founded by Melissa Benn, a long-standing education campaigner and writer, who believes that the coronavirus outbreak – which has limited the educational outreach of many schools in the state sector – will change the shape of the entire discussion around education in the UK. It has brought to the fore an outlook that has long been argued yet rarely been heeded.
"The coronavirus crisis has opened up this field in a completely new way," says Benn. "This is the worst crisis economically in this country for a century, or at least since the second world war. […] What is becoming obvious – and this has been obvious to anyone who's been campaigning on education for a long time – is the massive gap between the haves and have-nots in terms of general social cultural capital at home."
"There is a shift [in the debate] going on at the moment. The big emphasis currently is on the importance of the NHS and public health, but I would be surprised if we came out of this crisis with people saying things must go back to how they were. There will be a much greater sense of the need for equalisation of resources and it will apply to schools."
"There are children in our country who just can't get an education if they're not at school – and their schools can't provide it for them because they're so poorly resourced. As a result of austerity, for the last ten years, schools had what amounted to an 8% drop in funding.
"At the other end, you have people with an enormous amount of resources whose schools – whether it be private or well-resourced state schools – are able to help them and they can move ahead with their learning."

What, then, is to be done to help schools in the state sector bridge the gap that has widened so markedly in the light of the coronavirus crisis? The core of the solution is a more even spreading of the resources.
"State schools pay full business rates. Private schools get business rate relief," says Benn. "These very rich institutions have three times the resources of state schools and yet they get a rebate because of their charitable status. You're not looking at closing down any schools [to improve the system]. You're looking at changing usage.
"One of the real problems of our society and our education system is that the wealthy have by far the best educational resources. Poor people have by far the least. It's not about levelling down and abolishing excellence but I think it's about spreading opportunity, spreading resources.
"Abolition of business rate relief is one reform I'd like to see. I'd like to see greater use of contextual admission to universities – particularly the Russell Group and Oxbridge."
One headmaster I interviewed in preparation for this article laid the attainment gap firmly at the door of successive governments.
"It's emerged from government mismanagement," he put bluntly. "Notionally the fundamental argument [in favour of private schools] is that they are educating children that otherwise the state would have to pay for.
"But private schools have enjoyed the benefits of charitable status and for all they say, they don't offer much back."
Despite a heavy involvement in the private sector, his outlook on reform chimes strongly with Benn's.
"There are three ways in which the government could change the landscape of education," he says. "One is to increase state teachers' salaries. If they put them up 10%, 100 independent schools would go out of existence. If they enforced charity law and charged business rates, another 100 schools would go out of business.
"The truth to the matter is, the government could do it but they could not absorb a huge flight of children from the independent sector into the state sector. They haven't got the capacity to absorb that, because the state sector has been so badly underfunded.
"So, to a certain extent, independent education survives because of government mismanagement – and a political decision that actually, it's quite a good money maker, so let's not rock the boat."
The seeds of change, however, may have been planted. Simon Henderson, the headmaster of Eton College, has admitted that the coronavirus "has not been a great leveller" and that in the wake of the crisis, Eton must step up.
It plans to do so by extending its educational outreach via increasing financial aid to disadvantaged children and granting other institutions access to its digital education platform, EtonX. Not all are convinced, with numerous individuals scoffing at what is perceived to be an attempt to 'harvest' talent from the state sector – but it is surely a start.
If there is anything good to have come out of the coronavirus crisis, it may well be that it has opened everyone's eyes to just how divided Britain's education sector has become over the years. Amidst the isolation, anguish, and despair, it may well be the catalyst for major, era-defining changes to come.
Private School Policy Reform is looking for funding in order to scale up its work. Anybody interested in supporting the pressure group should get in touch via the PSPR website.