Chef Tom Kerridge admitted he wasn't looking to open a new restaurant before former Manchester United star Gary Neville dropped him a message on Twitter asking for a chat about his latest venture in the city.
But the TV favourite – an avid United fan – thought he would regret not at least talking to Neville about his plans.
Once Neville, who is a regular visitor to Kerridge's eponymous London restaurant, got the Michelin-starred chef north to Manchester, the city's former Stock Exchange building did the rest.
Kerridge, speaking to MM at a pre-launch party for the new Stock Exchange Hotel and The Bull & Bear restaurant, said: "I always say yes to conversations but to be honest, over the last 14 years, we've said no to hundreds of different opportunities. But I like meeting people because you never know where it is going to go.
"The moment I walked into the room it made so much sense. I mean, just look at it! Who wouldn't want to do it? I hate the idea of getting to 65 and thinking 'when Gary Neville, the European Cup winner of the team I support, said do you want to have a go at opening a restaurant and I said no'. What an idiot! So, of course, I wanted to do it."
Kerridge, who holds two coveted Michelin stars for his pub The Hand and Flowers in Marlow, will oversee the food offering at the hotel's restaurant which is situated on the building's former trading floor.
With its high domed ceiling and stunning marble features, it's certainly going to be one of the most impressive dining spaces in the city when it throws open its doors on November 15.
But despite its grand designs, Kerridge is keen to stress that eating there doesn't need to be an event.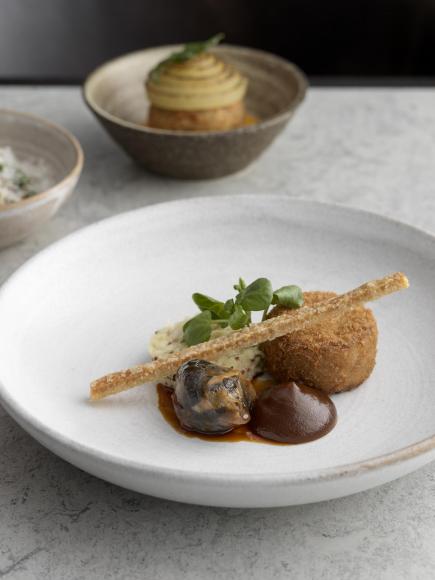 DELIGHT: The crispy pig's head
He said: "The beautiful thing about the British food scene over the last 20 years is that it used to be going out for something to eat was a thing of grandeur; now it's just a real good thing of leisure.
"So the thing is you create this wonderful leisure idea of eating nice food but in a beautiful building and it gives you the opportunity to showcase a stunning building without it feeling like a special occasion. You can come here and have waffles for breakfast.
"When we first spoke I said to Gary that I didn't want to talk about a Michelin star and he said 'nor do I' so we're refusing to speak about it. It's not a thing for us, it's about making this beautiful room work and making sure the business works.
"The first people I rang after I left here for the first time wasn't people in the world of fine hotels and dining it was Simon Rimmer, it was Gary Usher and it was Will from Hawksmoor. They're great, lovely friends who know how to operate brilliant restaurants.
"The key is work hard, be nice, get the offering lovely and that works for us."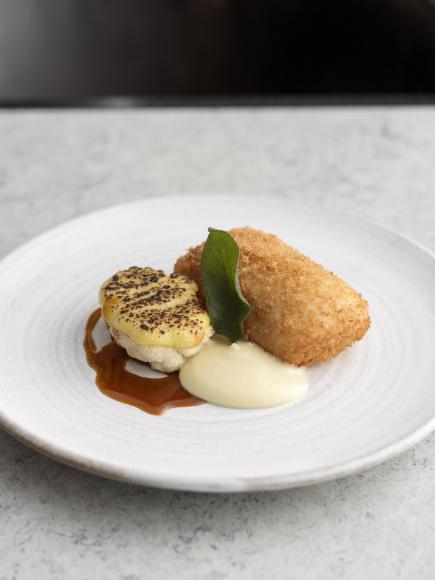 REFINED: Tom's take on a chicken Kiev
The Michelin inspectors have famously snubbed Manchester for the last three decades but Kerridge believes the city doesn't need the Michelin plaudits because the food scene here is already the best in the UK.
He said: "Manchester's food scene is the best because it's not about the Guide, it's about the bubbly, buzzy food scene. Manchester is very similar, over the last three to five years, as Bristol, Nottingham and those places where people are cooking great food that means when you finish work on a Tuesday night you don't feel like you have to dress up to go out to eat.
"But you know you're going to get a good meal and that's what someone like Gary (Usher) has done with neighbourhood restaurants.
"You don't have to get dressed up, you can just go and hang and that's what the British food scene is about and Manchester is probably the most talked-about scene outside of London and probably represents Great Britain than anywhere else."
Kerridge has made a name for himself over the last decade or so for his refined way of cooking British classics.
And the menu at The Bull and Bear reflects that and Kerridge's other Marlow pub, The Coach, which also has a Michelin star.
Guests at the pre-launch were treated to some of the dishes that will be available including venison chilli, The Coach burger, banana and custard and his famous mushroom "risotto" Claude Bosi.
Once the restaurant opens, the menu will be divided into three stages, 'First', 'Second' and 'Third', with the team recommending four to five plates per person, allowing diners to experience a wider selection of the menu. 
In addition to The Bull & Bear restaurant, Tom and his team will also be overseeing The Bank, offering private dining experiences for up to 14 people, and The Vault, catering for private events for up to 120 people.
The Stock Exchange Hotel and The Bull & Bear open on November 15. For more information click here.