There is something rumbling in the forgotten County. After years of heartbreak, suddenly a shift in mood is sweeping around the Park.
Administration, relegation, humiliation have all been and gone. Things are looking up; the club is looking up. Stockport County are bubbling again at Edgeley Park.
"Danny Lloyd, on the volley! There's the goal.
"County have been waiting for that one."
The FA Cup. The oldest competition in the world. A vital lifeline for so many lower league clubs that are lucky enough to make it through to the later stages. There was no luck involved in Stockport's passage to the first round, however.
A couple of moments of magic from star man Danny Lloyd sealed a comfortable win against Bishop Auckland last year. Lloyd was at the double again last weekend against Boston.
Bang! 

Watch as Danny Lloyd fires @StockportCounty into the #EmiratesFACup first round: https://t.co/ywe7YlDkOu

— The Emirates FA Cup (@EmiratesFACup) October 15, 2016
The joy that goals and matches such as these ones bring to SK3 have not come often enough since the world moved on from the 'noughties'.
Unfortunately for County fans that was where the road to Wembley came to an end this time around. Despite a spirited performance in a first round tie against Woking the Hatters walked off defeated, 4-2.
It was the end of the FA Cup journey but the world famous competition was a mere distraction in the face of Stockport's other goals: starting with a clash against National League North rivals Brackley Town this weekend in the second round of the FA Trophy.
Away from the pitch and somewhere up in the gantry sits a man that has been muttering to himself in the stands since before the noughties even got going. Through the smiles, through the tears, Jonathan Keighren has commentated through it all. And my, my, has there been a lot to commentate on.
Jim Gannon was in charge when, during the season after promotion to League 1, Stockport threatened to do it all over again to make their way to the second tier of English football.
Although everything seemed fine on the pitch, as has been the case with a number of clubs since the turn of the century, things were far from okay away from the green stuff.
April 30, 2009 was the day that County were forced into administration. The training ground and Stockport legend, Gannon, were the first two major casualties of the debt repayment strategy.
Earlier in the season Gannon had rejected a move to Brighton & Hove Albion to stick with the club that had before then stood by him, but this was forgotten when he was let go to cut costs.
Three takeover attempts, ten managers, three relegations. The ingredients for the recipe to finally turn Stockport's fortunes around.
Then in January 2016, Gannon walked through the Edgeley Park doors for his third spell in charge of the club.
Five horrific years for the Hatters had culminated in them sitting in the relegation zone of the National League North, less than 12 months later the ship has been stabilised and they are back in the hunt again.
Jon has been the man behind the microphone for Stockport County for nearly 20 years. He was there when the Hatters were a division above current Premier League big hitters Manchester City.
And he is there now, in the sixth tier of English football, as County sit over 100 places below their sky blue neighbours.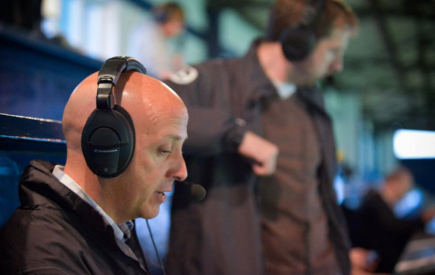 DARKEST DAYS: Keighren says getting the Stockport ship sailing again has been difficult but there are signs of revival
"It is a huge liner sinking, it can sink very quickly. It's difficult to float the thing back up again."
The lowest moment for Jon wasn't when the club crashed out of the football league, but the relegation that came a year later instead: "It was sickening, particularly the relegation from the National League.
"That particular day was just the darkest day I have ever experienced as a County fan. There was crowd trouble as well, the fans were clearly upset at what was going on. It was just an awful, awful time."
Only recently has Jon started to think that change is afoot around Edgeley Park: "It is fairly recent within the ground; the mood has changed. Smiles on faces and supporters enjoying their football again.
"I think they have found it really hard. We have been in division six for too long now and it is time we got out of it."
Just as important as a turnaround in form on the pitch was a turnaround upstairs in the boardroom.
Jon was finished with only doing the talking, so he stepped up to become part of a completely new Board of Directors that set out to get the club back to where they believe it belongs.
"I think the thing that probably drove it home to me more than anything, I think it was a decision I was party to, was the decision to go part time."
AFC Fylde are one club in the National League North who have decided to go full-time in their bid to achieve promotion. Although that isn't a viable option for the club at the moment, Jon thinks that making that switch back to fulltime would be a big step for the club.
"Whatever the future holds I think going full time again, that for me will be the indicator that we have started to turn the corner, regardless of which division we are in," he said.
"That is what I miss about the football club. I miss being able to come along at lunch time and see all the players there. Sit down and have a chat with them about something.
"Although we have seen some really dark days I do think you can see there's green shoots of recovery now, it's really starting to turn a corner."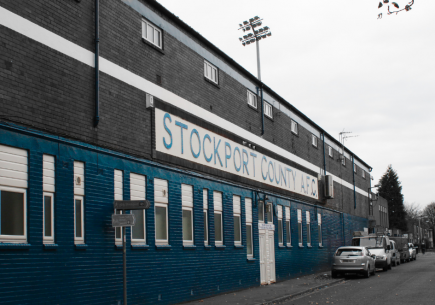 STATEMENT OF INTENT: Stockport County aim to be a league club again by 2020 (image courtesy of Smith & Brown via Flickr, with thanks)
The 'Moving Forward' plan has been in place since 2015 and, amongst others, the headline point of the strategy is to get Stockport County back into the Football League. Eventually, the board had decided there needed to be some kind of concrete plan for the club to really get behind, and thus Moving Forward was born.
"For the last few years we have been putting in plans to turn things around but it has been difficult. It is quite easy to drop off the radar, it's quite difficult to get back on it again," Jon said.
"We have been trying to turn the business and the football club around. What we wanted to do was to spell it out to supporters and communicate to what are effectively our paying customers.
"This is our statement of intent, this is what we are planning to do and it is the next stage of our development because we want to get Stockport back into the Football League."
If only it was easy as setting out a plan to get back into the Football League and then a few years down it all comes together and they end up a comfortable league club. Jon and Stockport County as a whole are well aware that there is some strong competition in the league with similar aspirations for promotion to the fourth tier of English football.
Jon listed AFC Fylde, Kidderminster Harriers, another full time outfit, and Salford City as three of the major spenders in, at least from the outside, enviable positions.
The difference is that Stockport aren't currently a full time club and they certainly aren't owned by a group of ex-Manchester United stars. Maybe one day Pogba, Zlatan and Wayne might decide to take over this southern Manchester outfit.
For now, Stockport are operating with a more traditional, sustainable ideology in mind.
"Good luck to them (Fylde, Kidderminster and Salford) but ours is a very different model," said Jon.
"If I was running Stockport County and the investment was coming in that way, I would be a little bit worried.
"It's great because everyone enjoys it, they've got lots of money coming into the club, that's fantastic. But they can't be sustainable because they are not getting the gates or additional revenue streams that would cover that cost.
"I would be worried if something happened to the people that are putting the money in, if they suddenly get bored or start investing in something completely different it leaves quite a hole.
"We don't want that, we want to make sure that Stockport County is here for our children, for our grandchildren in the future, and I think the way to do that is to make the business sustainable so that it pays its own bills and that's what we are working towards now."
The man deemed capable of bringing County back to its former glory is the aforementioned Gannon. Now in his third spell in charge at Edgeley Park, his name seems to be synonymous with any success that Stockport have felt in recent years.
Having featured for County over 380 times during his playing career he is something of a legend around SK3, and Jon was often keen to bring up his name.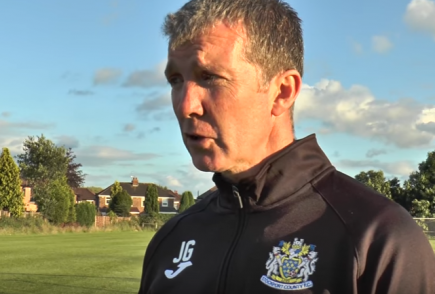 MISSING PIECE: Keighren says the dedication of manager Jim Gannon has been a blessing (image courtesy of Stockport County via YouTube, with thanks)
"I think bringing in James Gannon again has been the missing piece for us. The fans are very much on board with him. There is a great relationship between him and the supporters because of what he achieved with the club as a player. He had a magnificent career.
"He has always lived, for as long as I've known him, within a mile of the ground. He could walk to Edgeley Park and that was true of him when he was a player as well. He has got time for supporters. People stop him in the park on a Sunday morning and an hour later he is still there telling them about his plans and ambitions for the club. It's great that we have got someone like that.
"How many UEFA licenced coaches are there in non-league football? There won't be many. You look at the way he develops players. I was at training the other night and I was talking to a player that we signed in the summer.
"He was saying to me: 'You know what, I'm actually getting coached. I never thought that would happen to me in non-league football. I've been at training, we would do loads of running and then we would get the ball out and do a bit of 5-a-side and then we would go home. I am actually getting coached here. It's so different to what I am used to and it's so exciting'."
The fans, the financials, the gaffer. Everything seems to be in a promising place for Stockport at the moment. Certainly if you compare the club with the position they were in only a couple of years ago.
That isn't to say promotion is a certainty, far from it in fact. The competition in the division, indifferent current form and having only a couple of evening training sessions certainly puts the club at a disadvantage.
On the other hand, the club has tremendous support every Saturday, arguably the best in the league, which, if they truly get behind the team, will no doubt help the team on the pitch.
Some of the players the club has do possess real talent, Jon hailed Lloyd as the most talented non-league player in the country. The striker left AFC Fylde in the summer after their decision to go fulltime went ahead. And, of course, the backroom plans are well and truly underway.
If 'Moving Forward' is to be successful, by 2020, the club will be plying their trade in the football league, the club having switched to a full-time model.
They will have generated £1.5 million in commercial revenue, which would help them to buy back their home, Edgeley Park and develop a new training ground for the club.
Jon wanted to point out that another important aspect of the next few years would be to reconnect with the wider County community and to maintain regular contact with the Supporters group.
Some parts of the plan are definitely going to be more difficult than others. Jon is joyful when talking about the kids in Stockport shirts he saw when driving around town before our interview. So the signs of a recovery, on the pitch, in the boardroom and around the town, are starting to show.
The fans have been waiting for that. Maybe this time is the one for them to get back to where they deserve to be.