Sir Bradley Wiggins, Sir Chris Hoy and Chris Froome have raised the profile of cycling in recent years thanks to an impressive haul of Olympic and Tour De France honours.
And now one Manchester cycling club is representing people of all abilities – meet Sue Haylock, founder of award-winning Manchester Cycling Club Wythenshawe Wheelers.
The club for disabled and able-bodied cyclists of all ages and abilities will celebrate its 10th anniversary this year and now boasts around 450 people attending sessions at the Wythenshawe Park athletics track every week.
Mrs Haylock believes consistency, and enduring whatever weather has thrown at it, is key to its success.
"The key to us being here is consistency, if we say we are going to here Wednesday, we are going to be here Wednesday come rain or shine, snow, sleet, hale there's always people who turn up," explained Mrs Haylock.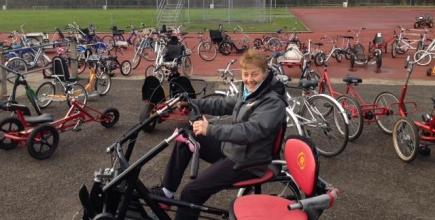 "We are very smiley people, we know everybody by name and we make a big effort to welcome people and we offer free cups of tea, coffee and hot chocolate.
"I think we are very welcoming, we make an effort to make sure everybody can cycle so if you've tried a particular bike and it won't work for you, we will find something to make it work next week."
The club has blossomed over the last decade – a far cry from the initial seven people who attended the first-ever session and now demand has become so great Mrs Haylock her teaching job two years ago to devote more time to the club.
The 58-year-old previously taught at Piper Hill Specialist Support School where she came up with the idea of a cycling club that could also cater for disabled people after seeing a similar initiative run successfully in Warrington.
"The whole concept of getting everybody doing something and getting everybody engaged gave me the idea," said Mrs Haylock.
"At our club, nobody is sat out doing nothing whereas if you go and play football there is one kid who is never going to get the ball or if you're going to play table tennis somebody can't hold the bat.
"I reckon there isn't anybody that we can't get cycling."
Bikes adapted to allow for various disabilities, some of which cost £5,000, have been brought to the club thanks to funding from the National Lottery and TV's The Secret Millionaire, who gave the club £15,000 on an untelevised visit in 2006.
However in the organisation's fledgling years Mrs Haylock had to put up a considerable amount of her own money to get the club off the ground, but insists the hard work and sacrifice has been worthwhile when she sees the impact it has on people's perceptions of disability.   
"I think it's fantastic that we get what some people would describe as 'normal kids' come in alongside disabled kids," added Mrs Haylock.
"It takes all that fear factor out of disability because some kids are scared of people with disabilities.
"They're growing up together in a culture of inclusion and to see an able-bodied kid and a disabled kid cycling together on some of our side-by-side bikes, just having fun together, I think it's good for everyone."
Wythenshawe Wheelers and the opportunities they give to disabled people has not gone unnoticed over the years with Mrs Haylock receiving the Queen's Award for voluntary service back in 2011, as well as the club being awarded British Cycling Sports Club of the Year.
The club has also been boosted by the resounding success of Great Britain's Olympic and Paralympic athletes in recent years.
London 2012 prompted a particular surge in participant numbers with the club even getting a visit from the Brazilian Paralympic Team.
Mrs Haylock speaks with infectious enthusiasm and it is this kind of passion that helped drive the club from obscurity to being one the most popular in the country. But where does her passion come from?
"I think that's just how I am," she said. "I play netball still, I play hockey every week and I cycle as well obviously which keeps me pretty fit too. I'm just generally an enthusiastic person.
"The best thing about being involved is the success stories.We have had people going round the track on bikes who have never been anywhere on a bike and they go round the track here and now they are going out in the real world and cycling."      
For more information about Wythenshawe Wheelers visit www.simply-cycling.org/about-us.
Picture courtesy of Stuart Grout, with thanks