Thousands of smokers across the country are giving up the cigs for this year's No Smoking Day, but what will one day of being smoke free achieve?
In Manchester 24% of adults smoke despite research, published this week from the British Heart Foundation, shows that just one to four cigarettes a day can triple a person's risk of cardiovascular disease.
While cigarettes have weighed heavily on the chests of politicians as they prepare to vote for or against standardised cigarette packagaing, it seems the warnings from public health organisations are not enough to get people to pack it in for good up North.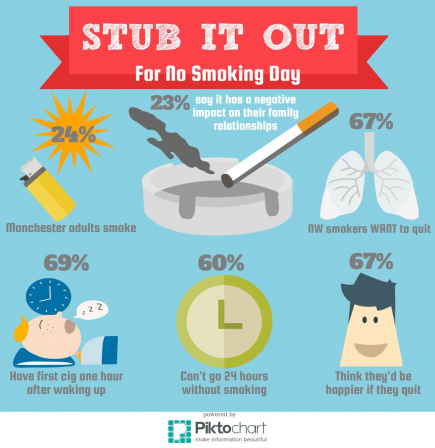 Looking at the behaviour patterns of 'quitters', Action on Smoking and Health (ASH) reported that about two-thirds of current smokers would like to stop, but less than half of those would make an attempt to quit in a given year.
More than 7,000 chemical compounds in cigarettes make them extremely poisonous but a staggering 60% of smokers say they would find it hard to last a whole day without one and 69% have their first within just one hour of waking up.
MM took to the streets of Manchester to hear about the triumphs and failures of quitters and smokers, and to discuss whether initiatives like No Smoking Day really work.
Catesha Scarlett, 43, a mobile hair stylist from Derby, began as a social smoker in her youth and used cigarettes as a way to de-stress, but decided to take the plunge and stop nine years ago.
She said: "Smoking used to be a social thing at first and then I cut down to just smoking in the mornings.
"I'd wake up, have a cup of coffee and a cigarette so the first thing I'd be able to do is clear my head.
"The most I'd have is one or two a day and I was stressed at the time so it helped, but naturally when my stress died down the desire to smoke died down as well."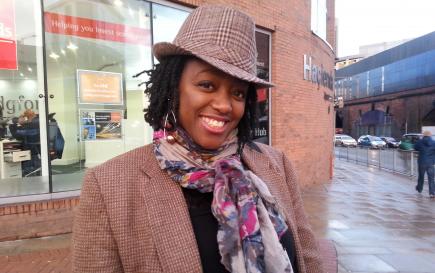 GOING STRONG: Catesha gave up smoking nine years ago
Perry Peers, 51, from Hazel Grove, has smoked for 30 years and admits being desperate to kick the habit, following a number of life threatening health conditions and his son disapproving of him smoking.
After trying all of the prescribed aids and even turning to alternative therapies, Mr Peers feels hopeless about his ability to quit.
He said: "I'd love to stop, but I just don't seem to be able to do it.
"If I had £10,000 and I could give it to somebody so that I would stop smoking then I'd do it in a heartbeat, straight away.
"I've used everything to try and stop – hypnosis, patches, Zyban, Champix, willpower, I've caught Pneumonia – pretty much everything that you can try, apart from chewing gum, I've tried."
 However a bowling manager from Duckinfield was a bit of an anomaly as he had never tried to quit smoking at all in 15 years, without apology.
Tom Hay discovered his vice at 11, and despite the stark health warnings is not prepared to let government campaigns or peer pressure put him off what he likes doing best.
The 27-year-old said: "I've been smoking for that long now that I'm not going to stop and on No Smoking Day I'll probably smoke more!"

NO APOLOGIES: Tom is proud to be a smoker not a quitter
Friends and chefs, Dariusz Lapinski, 26, and Sylwia Switalska, 32, both revealed that their health was a concern and singled out stress at work as one of the main factors that contributed to their smoking habit.
Dariusz, from Whalley Range, said: "I have had a break from smoking maybe two times, the most recent time was last year.
"For me it's just stress why I smoke so I'm trying with my e-cigarette, but It's hard. When I'm at work I smoke around 10 cigarettes, but when I'm at home, it's more like three."
Sylwia, from Old Trafford, was in agreement and explained that she wanted to ease the strain on her finances as well as her body.
A smoker for 15 years she has tried to stop on at least four separate occasions and has managed for months at a time without smoking.
She added: "Every single time when I try, I stop for around six to eight months, but then something stressful comes up or something happens with family and I start again.
"I'd like to stop, but like my friend said, it's hard and the same with him, when I'm at home I hardly smoke – it's just work!"
Others found one of the hardest parts of quitting was being around friends who smoke, meaning their efforts did not last very long.
Some used e-cigarettes as damage limitation as the fact they do not contain tobacco supposedly mean they are less harmful than conventional cigarettes. 
Martelle Greaves, a 27-year-old office administrator from Moss Side, who had smoked for over a decade, said: "I just got this sick feeling and decided that I didn't want to smoke anymore.
She felt that No Smoking Days were a waste of time because they offered very few benefits that would encourage her to sign up.
"It's not even as though there there's an incentive there. I don't smoke as many cigarettes as before, this is my third one of the day, and I try to use my e-cigarette as much as possible so I'm still getting the nicotine, but it's not as harmful. I feel like I've found a nice middle ground," she added.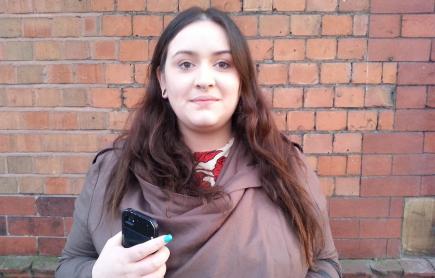 WASTE OF TIME: Martelle doesn't think No Smoking Days help
Business and economics student Wycliffe Tan, from Hulme, stopped for romance five years ago.
The 23-year-old said: "My girlfriend was what motivated me to stop as I didn't want to get nagged everyday about smoking so I tried nicotine patches, but they didn't work – I didn't try very hard! A month or two ago I began again."
He added: "I'll definitely try to stop smoking again in my lifetime when the next girlfriend comes along!"
Wycliffe's friend from university 23-year-old David Peters, also from Hulme, had gone for half a year without smoking, but does not feel that he is addicted to cigarettes or has a problem.
The accounting and finance student said: "I would only smoke on nights out with friends, not every day.
"Once I quit I suffered some withdrawal symptoms, but I just thought 'YOLO' – you only live once, I'm young, let's do it!
"But the addiction really has gone, it's just on nights out I end up smoking again."
One young lady is picking the right time to stop once university stress calms down. Though she is a newbie to smoking, the 22-year-old is certain she does want to quit in the near future, but is happy to continue in the meantime.
Heather Estop, a languages student from Withinghton, said: "I've only been smoking about a year and I've said to myself that I'd like to quit, but it's never happened.
"At the moment it's because I'm stressed with uni and I don't feel like it's the right time to quit – not that there is ever an easy time!
"I think it's just nice coming outside for a cigarette break and I only smoke five a day so it's not so bad."  
For more information about No Smoking Day or to join the #proudtobeaquitter campaign click here.
Statistics courtesy of ecigarettedirect.co.uk, Action on Smoking and Health, and the 2013 ONS Integrated Household Survey, with thanks.
Main image courtesy of Seagers, with thanks.