You're stuck in the stillness. Lying in a hospital bed hooked up to machines and drips.
You can hear the constant beeping, the nurses rushing around and the families making small talk while they tend to their loved ones. But you're unable to move, speak or even blink an eye.
It's like being frozen in time except everything carries on moving around you. It's that nightmare you want to wake up from. Except for Peter James-Robinson it was reality.
Peter died twice whilst in hospital 18 years ago and was miraculously brought back to life. He spent six months at North Manchester General Hospital where for part of his stay he was in a coma.
He could hear every little noise which was going on around him. From nearby nurses who told patients to keep the noise down and have respect for the 'dying man'. To hearing his neighbour say it was as 'near death' he had ever seen anybody.
Peter was subjected to hearing those horrific statements but he had no idea what he had gone through or what was happening to him.
After being admitted to Bury General Hospital, lung cancer was Peter's first diagnosis along with a brain tumour. But he didn't agree with the doctor and asked for a second opinion. He was then taken to North Manchester General Hospital and thoroughly examined.
Surgeons told him that they would operate in the morning and later Peter found out that they thought he wouldn't last the night. He underwent three operations in two days and doctors found he had a brain abscess. His lungs collapsed and he was put on a life support machine.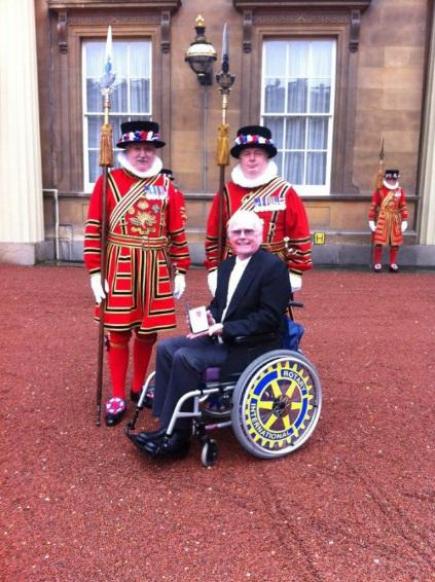 HONOUR: Peter at the Palace after receiving his MBE
Janet, his wife of 38 years, stayed by his side throughout the hospital ordeal and multiples times had to hear from doctors that the odds were stacked against him. Unbeknown to Janet, her prayers were heard by Peter but while fighting for his life he couldn't see, move or let her know that he was still there.
Peter said: "My brother came in and said to Janet 'I can't see him like this, where's the switch? Switch him off', and that's how he is, he didn't mean anything nasty by it.
"I remember my wife whispering in my ear, she said 'we've got four children at home, we need you,' I can still hear it now.
"The next thing I knew I was semi coming out of the coma and the doctor told Janet she'd saved my life. She's sort of my guardian angel, she's a very thoughtful person."
Peter defied the odds but after his lengthy hospital stint he has been left with no feeling down the one side of his body and is refined to a wheelchair.
Even though he is faced with difficulties every day, he collected hundreds of thousands of pounds for multiple charities over the years along with £28,000 for local good causes.
He told MM: "My body's a little bit useless but there's nothing wrong with my brain. I have to use my right hand to cut everything up but I'm that stubborn I don't want anybody to help.
"I love it when someone says to me, 'you can't do that you're disabled'. It's like holding a red rag to a bull."
When Peter was discharged from hospital he went straight to a local club, Castle Knight Disabled sports group, and over the years he has also taken part in at least 15 wheelchair marathons including two in Manchester where one year he finished in 1 hour 12 minutes.
He had been a Butlins Redcoat for many years where he did competitions, bingo calling and DJing. His last camp was in Skegness where a colleague invited him across the bay for a couple of days, Peter bumped into Janet and never looked back.
After being born in Berkshire he now lives in Radcliffe where he has resided for 28 years. The couple have three sons and a daughter, with four grandchildren and another little one on the way.
Alongside collecting, the 66-year-old is part of a number of committees – up to 16 at one point – such as the Rotary where he is currently the assistant district governor but will soon be the chairman.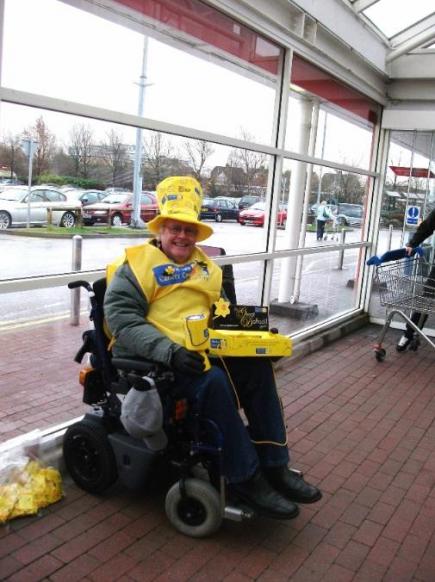 SELFLESS: Peter has collected hundreds of thousands of pounds for charity
He said: "I do this for a hobby. I must know tens of thousands of people and it's lovely to know so many people. I really do feel that I'm doing what I was meant to do.
"I like being busy because it keeps my mind occupied. While the mind is occupied I don't think of my own ailments but I've never felt sorry for myself, I just love helping others."
Peter also has some royal acquaintances as he met Princess Anne in 2009 and was invited to Buckingham Palace in 2012 where he received an MBE from the Queen. He described the event as 'fantastic' after the Queen said 'hang on Peter, I'll come down to you'.
Collecting isn't an easy way to raise money either but he uses this form to gather donations for a large number of charities. He once underwent a nine hour straight shift collecting at a Superdrug store in Bury and recently spent most of March raising money for the Marie Curie Great Daffodil Appeal where he has been raising money for the charity for over eight years.
He said: "It makes you feel like part of the community. I'm doing something for the community and with them. I get a bit tearful because you hear so many bad stories, but you hear good ones as well.
"People talk to me and tell me their experiences and I have a good heart to heart with them."
Peter's collecting shifts are a minimum of four hours and he collects within 20 miles of Manchester City Centre. On the whole people are friendly and Peter even has return customers who wave him down to donate, but there are a rare few who see collectors as a nuisance.
He added: "There are just some people out there who just don't have the money but then I've had people put in £20 notes before, and that's what we want.
"That pays for a Marie Curie nurse for an hour."
Marie Curie's Great Daffodil Appeal has been raising awareness and funds since 1986 and last year the campaign raised £8.26million which funded 413,000 hours of nursing care.
Jemma Halman, Marie Curie Fundraising Manager for the North of England, said: "People like Peter make the Great Daffodil Appeal the huge success it is for Marie Curie.
 "With help like Peter's we are able to raise awareness of what we do and reach more people living with a terminal illness and their loved ones."
Alongside his years of being involved in the Rotary, Probus and the Freemasons he also collects donations for Macmillan nurses and Cancer Research UK.
He lost his father and father-in-law to cancer and Peter recently found out a good friend had also been diagnosed with terminal cancer.
But after everything Peter has been through, he added: "If I go next week, if one person say's well at least he tried, I'd be over the moon.
"I'm sure the person upstairs has got a job for me, I know I haven't done it yet but I'm waiting for something to come along."