Manchester Dogs Trust is desperate to find a home for an Akira Cross who has spent nearly half its life in kennels.
Nine-year-old Starsky was found roaming a building site in 2011 and for the past four years – 28 in dog years – has only had rescue centres to call home.
Shadia Parry, Customer Services Team Leader at the centre, said: "Although staff have always made his time as lovely as possible, nothing can beat a real home. 
"We desperately want him to find the home he deserves that will make up for all his lost years without the love of a family."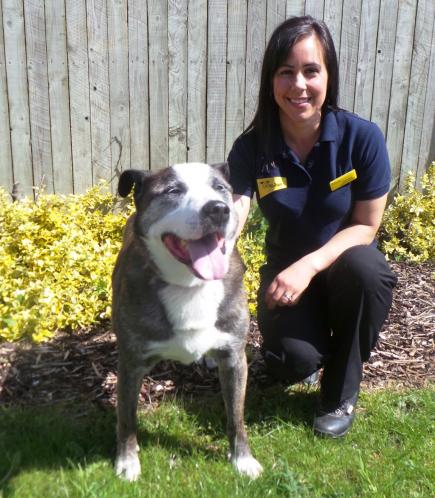 'MAKING UP FOR LOST YEARS': Dogs Trust's Shadia Parry poses with Starsky
The Dogs Trust team has a soft spot for the loveable old pooch who has been eager to learn some new tricks while at the centre.
Starsky can sit and stay on command and the team is also in the process of teaching him to shake hands, with the cute hound loving the talents he's picked up through the training.
Shadia said: "He gets a bit excitable when we're first with him but that's just because he longs for more companionship and contact with his two-legged friends.
"We know there's someone out there for him and we're hoping they come to see him soon so he can spend his first summer with a family of his own."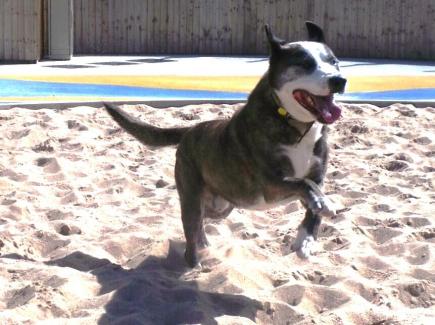 'LONGS FOR TWO-LEGGED FRIENDS': Starksy needs to be at the heart of a home
Starsky would be happiest in a home where he is the only dog, allowing him to be at the heart of the family, but due to his large size it is recommended that he not live with small children.
If you think you can offer Starsky the home he deserves, please visit the Dogs Trust centre in Denton.
Please call 0300 303 0292 or visit their website for more information.
Images courtesy of Dogs Trust, with thanks