Overlooking a wet and dreary Manchester, the comfort of Cloud 23 makes you feel a world away from the hardships of normal life.
Based in the centre of Manchester, the famous Hilton Hotel is known for having housed celebrities from Cristiano Ronaldo to the Neville Brothers.
However, another huge draw is the Cloud 23 restaurant. Located on the 23rd floor of the Beetham Tower, the restaurant overlooks Manchester city centre and has a timetable of different activities and masterclasses throughout the year.
It's most commonly known for its overpriced but spectacular range of cocktails and amazing menus. However, Cloud 23 also hosts a daily afternoon tea fit for royalty.
As soon as you arrive, you are met with an amazing lobby and if you're lucky a celebrity or two. You're then taken up in the lift where a member of staff is ready to take you to your table, and if you're lucky, one near the window with a view of the city centre.
Booking to go to Cloud 23 definitely isn't a decision to take lightly; because it will set you back a minimum of £14, an option only available on the day, for the most basic and up to £50 for a 2-hour unlimited flow of champagne alongside your traditional tea.
For those wanting a bit more than just scones and a hot drink but not wanting a crazy afternoon of alcohol, then the best option is the 'Traditional Afternoon Tea' for £25.
Once seated, you're given a hot drink of your choice (ranging from various teas, coffees and hot chocolates) and are reminded that they are unlimited throughout your stay. This is a great addition to the price because you can mix and match. This allows you to try things that you would have never thought to drink if you had to pay for it.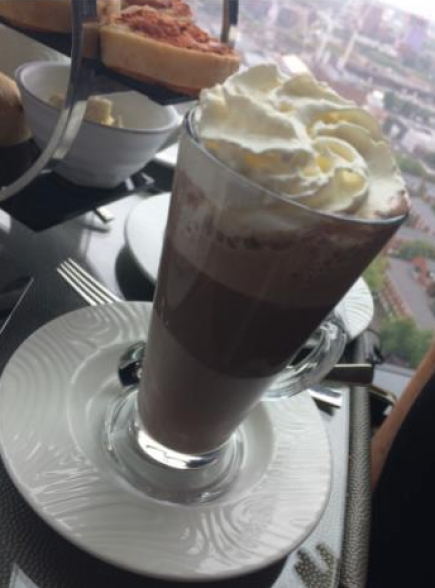 PERFECT PLACE: Take friends visiting Manchester up high for afternoon tea and they'll be on cloud nine
A three-tier stand of savoury and sweet snacks is then brought to the table with a variety of snacks. Alongside the traditional scones with butter and jam, there are a variety of little sandwiches and wraps including tuna and sweetcorn, cheese and onion and ham and pesto.
However, the main star has to be the sweet treats on the top tier of the stand. With jam cupcakes, raspberry mousse in a chocolate case and marble cake, there's something for everyone to enjoy.
With a two-hour slot, it may not be long enough to get all that food finished. However, if you're left with some tasty treats that you couldn't stomach, just ask for it to be boxed up and take it home to get your money's worth!
Although slightly overpriced for what you get, £25 buys not only your afternoon but the atmosphere and bragging rights to say you've had tea at one of the most known hotels in the city.
It's the perfect place to go with visiting friends to show them what Manchester has to offer and take a few cute pictures for Instagram.