Stabbed three times, crashed in an aeroplane, electrocuted and had cancer – just the antics of 'Rowdy' Roddy Piper, wrestling's most controversial character.
"Sometimes I just can't help getting in trouble," he sighed.  "But I'm still rollin', oh yeah!"
This is just a taster of what fans of the wrestling legend will get when he brings Eros Comedy's A Tour to Settle the Score to Manchester on July 22.
Here at MM we got the chance the run the ropes with the Hot Rod himself. Just when he thought he had all the answers we changed the questions and got the opportunity to find out what makes the ultimate rebel tick.
"I'm not afraid of any type of question; I've never cut off an autograph line and my personal life? I've never spoken much about that before," he shrugged.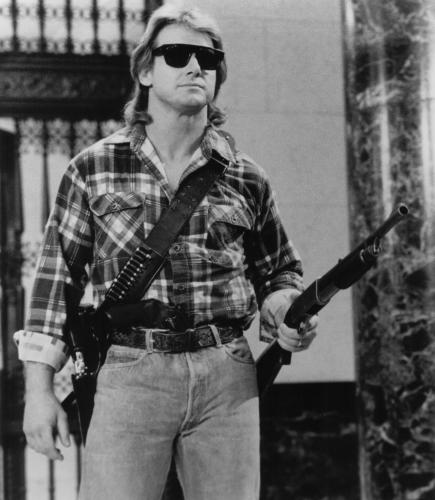 ALL ABOUT THE GLASSES: Hot Rod in cult classic They Live
The Hot Rod is no stranger to being in the limelight and after a career spanning five decades he shared what the transition from being in the ring to standing on the stage is going to be like.
He said: "Am I nervous? Oh no, you know what, to be honest with you, I'm more comfortable in front of 93,000 live and 40million across the world on television than I am in a party of four people.
 "I don't know why, nerves just don't bother me in the least, and for some reason, I just don't have that problem.
"British people are so classy, I mean, what's more beautiful about that?
"It does change the tone of my tour but it'll still be down and dirty and there will be things that they've never seen before."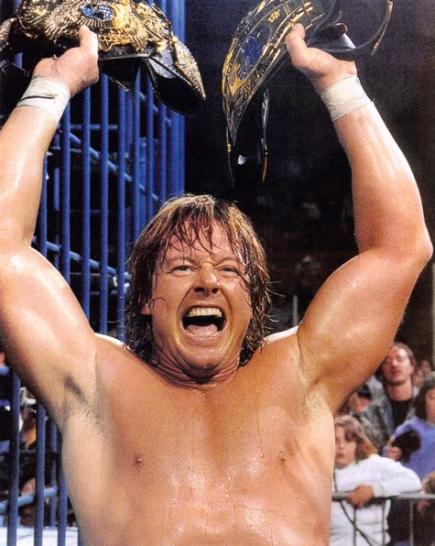 MISSED OUT: Roddy Piper is often cited as the best wrestler never to have claimed a world title
The 'Rowdy' journeyman is no newcomer when it comes to England and throughout his career he has travelled extensively to every city in the United Kingdom and boasts that he has a story for every town.
Roddy explained: "The first time we went over there it was the first European Rampage Tour and boy did we live up to it.
"I've been in Sheffield, Newcastle, Manchester, all of the cities, and I've been in trouble in all of them."
The ultimate rebel may be best known for his wrestling but in he's also enjoyed a short-lived UK musical career that started here in Manchester.
 "Manchester? BOY oh boy I got in a lot of trouble there!" Roddy laughed.
"I recorded a record there with the Hit Factory, called I'm Your Man in 1992 and it was a UK-only single and music video."
The wrestler also spent a period of time living in London and expressed his love for English class, charm, wit and the royals.
He said: "I'm a fan of England I have so much respect for British people. I mean they're so classy, I just love the politeness.
"I remember Prince Charles was in Australia giving a speech and somebody charged the stage and went after him, of course he had security there, but he just turned, looked and then he readjusted his cufflinks and went on.
"I mean come on, that's pretty cool, good on ya, that's a man."
As well as being a fan of quintessential English manners the wrestler was also keen to express his love for our foody delights.
"I love meat pie, shepherd's pie, roast beef, gravy, Yorkshire puddings – holy cow!" he enthused.
The Hot Rod was born and raised in Canada and started wrestling at the end of the 'Gorgeous George' era, joining the wrestling world in 1969 at the tender age of fifteen.
Roddy explained: "There were a whole bunch of men who had missed their shot to fame and because of that time, I don't know whether it was all over the world, but America was on NBC and it was huge.
"They didn't like me. I was a fifteen year old kid and they thought I was coming in to steal their thunder and they beat me up a lot every night for about four years."
Despite Roddy being Canadian he is also has some Scottish heritage –this billed his alter ego 'Rowdy' Roddy Piper and was notoriously known for his signature kilt and bagpipe entrance music.
Roddy also told MM how he was raised in the style of Victorians and that he had a lot more in common with British people than they know.
The 'Rowdy' nickname was added to Roddy name because of his trademark Scottish rage and despite playing up to his Scottish heritage the wrestler was only too happy to chat about his bagpiping talents.
He said: "I came fifth in the world playing grade one, which is professional in bag pipes, and in 1991 I was in the Albert Hall and I dedicated a song to Princess Di."
In Roddy's heyday he was notorious for pushing the envelope in order to generate 'heat' from the fans.
Nowadays professional wrestlers often have their promos scripted for them by a team and Roddy feels as though something has been lost in the generation gap.
 "I don't want some writer telling me how to talk like Roddy Piper, you know some guy out of writing school, 25 years old – baby Jesus, what you gonna tell me?" Roddy snapped.
"You know maybe some of the younger guys don't know how to cut promos, maybe they needed it, I have all the respect in the world for anybody and I am proud of all the ladies and men who have made their way to the WWE or any wrestling organisation.
 "I am the last of the real gun slingers you know I was before Hogan, I was before Flair, I'm the last one that still understands the code and lives that way."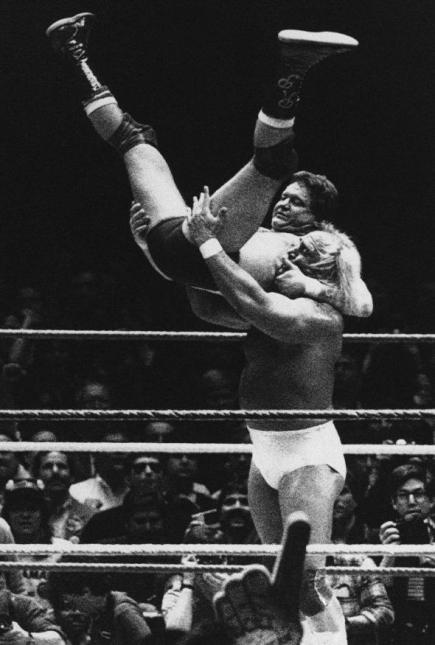 FIGHTING THE GREATS: Hot Rod has wrestled everyone from Hulk Hogan to Ric Flair
Roddy made a special appearance at this year's Wrestlemania, thirty years on from main-eventing the first ever fan event.
"Being at Wrestlemania 30 was wonderful, I wanted to do more in it but you know I'm a legitimate rebel, however you want to interpret that,  it's not a pretend thing –it's not a wrestling angle, it's real.
"I've been fired five times for holding my gun and I refused to take a dive at Wrestlemania 1, 2, 3.
"Why? Because I have children, I have a wife and I have to feed a family too – and all you guys want to do is beat me up and throw me out."
The Hot Rod currently hosts his own podcast Piper's Pit which was originally a show segment on WWE but is now aired to fans all over the world to showcase amateur wrestlers.
Roddy explained: "I want to pick wrestlers on my show who have never had the opportunity to get their name out to the world, and I would like to do five or six podcasts that gives them a shot at getting out there.
"I love helping people but don't get me wrong, piss me off and watch me go, I'm not the guy you wanna mess with, but I love to have fun too!"
Roddy has been labelled as one of the greatest talkers in professional wrestling history, but if he had the chance again, is there anything he would change?
 "One of the things the older wrestlers did to me, is they warned me about promoters and how bad promoters are, and I wish that had taught me to be careful but I became so much of a rebel there was no line," he lamented.
"That's my fault, so I'd change that but anything else? No.
"What I did for a living, I went in there every night and I gave it everything I had in every match, I never backed down from anybody, I've got four kids and a wife of 31 years, cool, huh?"
Despite him getting stick from older wrestlers when he first started out as a young teenager, he also learnt a lot from them, and is only too happy to help young wrestlers starting out today.
He said: "I love them all, I really do, I'm there for them, any of these guys.
"Pretty much around the world I have this reputation, if you want to give me a call you can ask him a question and he'll help you along.
"It's in the inner circle and I tell them all everything I ever did wasn't right so at the very least learn from my mistakes."
So is the modern world of wrestling different to the one of his youth?
Roddy confessed: "When I was wrestling it was a profession, nowadays, it's business.
"That's the most simple and honest direct I can put it."
 "I'm very grateful for everything and I'm dying to get over to England –dying!"
The wrestler has also got a brand new drink out called Roddy Piper's All Out of Bubblegum Soda which is available in 67 stores in the States and it's coming our way soon.
"I hear if you put a little vodka in it you know you – phwoar – you get the kick ass part," he joked.
"The Tour To Settle The Score": An Audience With 'Rowdy' Roddy Piper is at The Comedy Store, Manchester, on July 22.
For more information or to purchase tickets vist www.eroscomedy.com/events