'The 'project' is about stopping her from leaving. But once he thinks that she is leaving, that's it – he is going to kill her.'
The most in-depth and comprehensive study of murder in Britain has been completed by a husband and wife team and is the subject of a new book entitled When Men Murder Women, published by Oxford University Press.
  
Professors Rebecca Russell and Rebecca Dobash, both criminologists at The University of Manchester, meticulously analysed 866 case files – 786 male murderers and 80 females – as well as interviewing 180 men and 20 women convicted of murder and serving a life sentence in prison. 
The Murder in Britain Study, which is the largest database on homicide to date, sought to gather detailed knowledge of all types of murder perpetrated by and against men, women and children. 
The findings, which are published in the Dobash's new book, outline three distinct types of murder.
These are intimate partner murder, sexual murder and the murder of older women, and the researchers compared each of these types to those in which men murder other men.
Russell Dobash, an internationally recognised expert in the area of domestic violence, told MM: "The book is based on a three-year study that we conducted while at Manchester University on murder – all murders.
"In the book, we have analysed these three types in terms of the murder event and in terms of the life course – childhood and adulthood – of the man who murdered. We were able to follow these guys all the way from childhood to their imprisonment.
"What we found in this information and by interviewing the men is a process that we call 'changing the project'.
"In the majority of cases, men have been using violence and aggression against the woman who he eventually kills and when she tries to separate – or they think that she is going to separate – they 'change the project'.
"The 'project' is about stopping her from leaving. But once he thinks that she is leaving, that's it – he is going to kill her."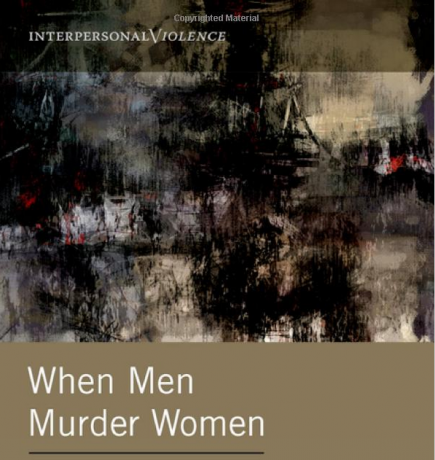 'IT IS MEN WHO MURDER': There are about 3,000 men imprisoned for murder, but only about 115 women
The balance between male and female murderers is not particularly even, Mr Dobash explained.
He said: "What we knew at the time was that there were about 3,000 men imprisoned for murder, but only about 115 women. It's very unbalanced.
"From those figures, we know that it is men who murder. If you look worldwide or look at Britain, it's men who murder 90-95% of the time. So our sample is weighted towards men."
The couple have primarily focussed their research on the effects of violence on women in recent years.
Mr Dobash said: "Rebecca and I have been studying violence against women for many years."
His wife explained that they had, in fact, spent their entire working lives studying different types of violence.
She told MM: "We have spent our entire working lives researching various forms of violence, particularly violence against women, with an aim of furthering what is known about the nature of the violence and the contexts in which it occurs."
However, Mr Dobash indicated that study of women and violence has not generally been very widespread, although the area has begun to be explored in greater detail in modern times as people realise the importance of gender differences in their studies.
"If you read other information and research about murders, you will find that it is mostly orientated towards males killing males," he explained.
"But over the last two decades, there has been some increasing work on the murder of women.
"Throughout our emphasis is that it is about gender. It's about these men's orientations toward women, how they feel about them as intimate partners, how they see them as sexual objects and how they see them as possibly easy scores because they are older women."
The importance of roles within the police and other social services in preventing these types of incidents was highlighted by Mr Dobash, though he also suggested that more could be done.
He told MM: "That is an important process that we need to pay attention to in terms of looking at risk, which needs to be managed by police, social services and so on.
"We think that there are a lot more sexual murderers out there who have not been identified. One reason is that police are not trained to look for the signs of sexual assault and sexual violence against a woman.
"Some commit a sexual offence, but aren't convicted. There is not the opportunity to get hold of these guys to try to change them; they slip through the net and they are not reported.
"We need to make sure that these cases are dealt with in a meaningful way. There needs to be an attempt to reform him.
"The prosecution service knows that the man will be prosecuted for murder, but they don't want to charge him with sexual assault or rape as well because the public don't want this business coming into court. They offender will then go to prison for murder and nothing else."
Professor Dobash also acknowledged that one result of the book was the illustration of the flaws in the Criminal Justice system.
He said: "In that case history doesn't necessarily make its way through, although it did make its way through to the autopsy report of the victim the subsequent interviews in prison. It needs more investigation is what we are saying in the book.
"We think that we have some very good evidence regarding that, but more research needs to be done on sexual murder."
Professor Russell outlined that another of the main purposes of the book was to 'help society to understand what motivates certain men to kill'.
"I hope our research provides crucial evidence and insights necessary to prevent these horrific crimes and to better assist the victims. Our hope is that it will help to change social beliefs, policies, practices and laws," she explained.
The couple were shocked by the amount of sexual assault that occurs in prison, but Mr Dobash implied that offenders' tendencies could be caused by an innate disposition.
"These men try to sexually assault female prison officers, which we both found this particularly surprising," he said.
"A prison is a very structured environment, so they are going to get caught, yet still they don't control their sexual predilections – this was the case with 10-15% of them."
The final type of murder proposed by the two professors is the murder of older women, who they defined as women over the age of 65.
"Murders of older women were split evenly between sexual murders and robbery murders. These were men who were raping or sexual assaulting older women, aged 65 and older," Mr Dobash said.
"The more sexual ones were attacking and assaulting women over the age of 80, some of whom were in care homes.
"Another type is a man who is burgling a house – but it is not random. They probably live in the neighbourhood and have seen this older woman. They know that she would be an easy mark, so they break into her house and murder her.
"Instead of leaving when confronted, they kill the older women because they fear that they are going to be reported to police and convicted of a burglary. They have very poor thinking skills."
He was quick to point out the potential problems that an ageing population could cause with men like this remaining to act unnoticed.
He said: "People over the age of 65 are becoming an increasing part of our population. Because women live longer, there is going to be a higher proportion of men and women who are killed."
When completing their analysis, the pair was also left dumbfounded by the lack of information available on certain topics.
"I thought when we started this research that there was a lot of information about sexual murders, but it turns out that there isn't," Mr Dobash continued.
Mr and Mrs Dobash, who are both originally from America, suggested a reason for the lack of existing data in the UK, saying: "There's a lot of popular media interest in serial killers, but there are very few serial killers, especially in a country like Britain."
Women, Violence and Social Change by R. Emerson Dobash and Russell P. Dobash… http://t.co/TbJMKv7JYE pic.twitter.com/QZNkwdNtBu

— sumptuous items (@ibanezpolidoro) January 2, 2015
When asked about how it was to work with his wife on the research and the book, Mr Dobash described the pair's working relationship as 'fruitful', adding: "We've been doing it for many years, so it works.
"We kind of have a division of labour; one of us – and it is not me – is really good at writing and doing graphic design."
Despite its 360 pages, the two professors from The University of Manchester have attempted to make the book as accessible as possible.
"Most of our presentation is in graphics. We use numbers, but we don't blind people with numbers; we try to present our stuff with bar charts and pie charts," Mr Dobash said.
He described the subject area as a particularly 'stressful enterprise', adding that '[the cases] are all quite interesting and they are all pretty gory'.
In comparison to murders back in the US, Professor Dobash believes that murders in the UK are far more 'vicious'.
He said: "One thing that is the case in this country is that very few murders are done with guns.
"Men kill women with their feet, bodily violence, but they also use clubs, bats and strangulation.
"They are pretty vicious. Around 50% of the deaths involved 10 or more serious injuries."
The book costs £32.99 in hardback, and is available from several outlets, including directly from Oxford University Press, as well as Amazon, eBay and Blackwell's.
Rebecca and Russell Dobash have won the World Congress of Victimology Award for Original Research and Publications in the area of Domestic Violence, the American Society of Criminology's Distinguished Book Award for Comparative Research and the American Criminological Association's August Vollmer Award.
Image courtesy of Maarten Van Damme, with thanks.