Gordon Reid has a lot to shout about. In 2016 the world number three wheelchair tennis player accumulated a host of honours in a single year that most dream of achieving in their whole career.
His wins included gold and silver at Rio, two singles grand slams and two grand slam doubles titles, becoming world number one in September and receiving an MBE in the New Year's honours list.
Following that up, as Reid told MM, was always going to be difficult but he's started well, winning the Australian Open doubles title for the first time and the Scot seems in good form ahead of his Wimbledon defence this week – just like his friend Andy Murray.
He will take to the grass courts after being announced yesterday as UNIQLO's latest sports ambassador – and the brand's first ever British ambassador.
In a Q&A with Reid, MM discussed how he felt UNIQLO would help promote wheelchair tennis as a sport, his memories of the athletes' victory parade in Manchester after Rio, his thoughts on how to continue last year's success and much more.
I'm very proud to announce my new global ambassador role with @UNIQLO_JP. Exciting times ahead as part of the UNIQLO family! pic.twitter.com/lsIoyIOV3G

— Gordon Reid (@GordonReid91) July 11, 2017
Hi Gordon, congratulations on the new role! How do you feel about being the latest ambassador to partner with UNIQLO?
It's very exciting for me to be associated with such a huge brand that have a good history in the sporting world too. On a more personal note, I've seen their supporters on the tennis tours more recently and I know Shingo Kunieda (below right), one of their other ambassadors, very well and have only ever heard great things about UNIQLO from him.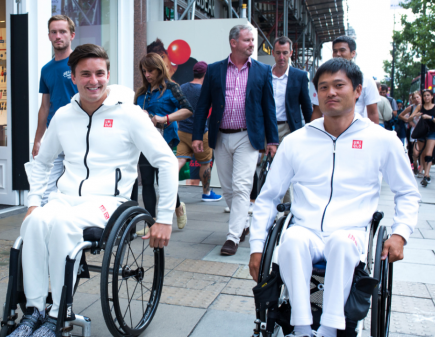 It's a really exciting time I feel for me to come on board which ties into a really exciting stage in my career as well so it's perfect timing.
Given that now two of UNIQLO's ambassadors are leading wheelchair tennis players, do you feel that will help to further promote the sport?
Definitely. I think any brand the size of UNIQLO that are involved is only as positive as they really help to promote wheelchair tennis. Whilst they've already started to do that through Shingo, I'm very proud to be UNIQLO's first British ambassador which hopefully is a good sign for things to come and a real positive for the sport in our country.
2016 was a fantastic year for you. Gold and silver medals in Rio, grand slam titles in Australia and Wimbledon, doubles titles at Roland Garros and Wimbledon then becoming world number one in September before receiving your MBE in March. How do you plan then to build and progress from such a stand-out year?
It was always going to be tough this year to better last year because it was almost perfect in so many ways. For me, my aim now is just to keep improving myself as a tennis player and as an athlete. I plan on continuing to try and take home more grand slam titles as well as staying at the top of the world rankings so that's still my current aims.
Aus Open 
Wimbledon double 
Rio gold & silver 
World no.1 

2016 you've been a pleasure. Bring on 2017 pic.twitter.com/RQFxE5yQb6

— Gordon Reid (@GordonReid91) December 30, 2016
I achieved a lot last year and loved every minute of it but there are a lot of things I still want to achieve in the sport and improve in myself as well.
Having only turned professional five years ago, how did you go about adapting your game to manage that step up?
As an athlete, you set yourself short term goals you can work on and then long term ones that you aim to build up to over a longer period.
My coaching staff and I have had a clear bigger picture in mind right from the start of my career, even when I was going through school and playing part time there was still a long term plan in mind.
I feel that long term approach really helped me early on to aim for certain goals that helped my game develop to the level I felt ready to go pro. It was great to finally go full time when I was 19 and to commit fully to tennis with my game then coming on leaps and bounds as I could commit all my time to sport and now I've got new aims that I can push for.
As defending Wimbledon champion, do you feel a unique pressure of defending a title on home soil?
It comes with some negatives but there's a lot of positives as well. I know I performed well the year before and have great memories from last year, winning two titles. Knowing that you've been to a venue and won at it is a great confidence boost. Maybe there's more pressure and more expectation now on me from the rest of the public for me to perform but the most pressure on me comes from myself and always has done so that hasn't changed and it's not something I intend to change either.
The goal for this competition is still the same as it is with every other one I go into, just go out there, perform to my best and aim to win.
What are your thoughts on the Lawn Tennis Association's £250million investment into improving the development of tennis? Do you think it will promote a rise in the uptake of tennis in the North of England?
Any money or investment that is going into the sport is a good thing as it does tend to help improve the number of people playing with more facilities available, or improves the current facilities which I believe this policy is aimed at doing.
Something similar to this has already happened in Scotland recently as there's been a big boost in improving the facilities there which should see a rise in numbers there too. So I'd expect, as I think most people would, that the same should happen in the North of England with some luck which again would be great for helping the sport grow and develop hopefully.
Although there aren't any tour tournaments in Manchester do you have any memories from matches or competitions held here?
I've played in Preston and Bolton and I've have some good memories from both winning at both of those so that's the only times I've competed in the Manchester area. My main memory though about Manchester has to be from the victory parade held there last year after the Olympics and Paralympics at Rio.
Thank you Manchester for a brilliant day. Felt like going through a massive car wash but totally worth it! #GBHeroesMCR pic.twitter.com/jXKfVeq60d

— Gordon Reid (@GordonReid91) October 17, 2016
It was a really great moment for all of us involved as the crowd turned up in their masses to cheer us on and that was a really great experience for everyone after Rio to come home to such a great reception.
Turning to football and what are your thoughts on how Rangers did last season?
It was our first season back up, so that's great to be back were we belong. Of course it wasn't perfect coming third behind both Celtic and Aberdeen, but the club is going back in the right direction so if we keep improving and developing as a club properly then we'll be back winning titles again soon with luck.
Do you feel the nine new signings costing £7million will help Rangers challenge Celtic for the title?
Hopefully yes that's the manager's plan and aim to compete with Celtic. It does seem that a lot of the signings so far, especially those from South America, are rather unknown so it will probably take time to get them fully bedded into the team and adjusted to Scottish football. Hopefully though they can help get us back to the top again, if not this year then with luck in the seasons after.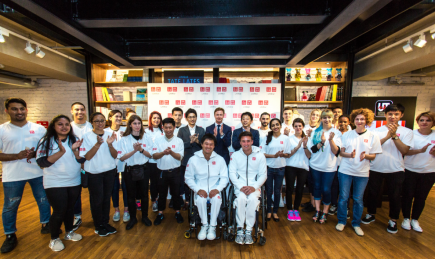 PART OF THE FAMILY: Reid is all smiles next to Shingo Kunieda as the Scottish star is unveiled as UNIQLO's latest brand ambassador