It's one giant leap for frog-kind as 19 giant amphibians turn Stockport into one big frog trail.
It was only last year that Manchester was turned into a giant beehive thanks to the Bee in the City art trail, but there's a new art trail to take part of this summer that'll get you on leaps and bounds.
Until September 28, 19 giant frogs will be situated across Stockport town centre, including the fruity 'Strawberry Fields' frog to the 192 bus-inspired 'BUSter'.
The frogs represent Stockport's self-proclaimed "giant leap forward" following a £1bn investment to improve the town centre.
Helen White, Director at Marketing Stockport, said the campaign has been years in the making.
"Once we had decided to go ahead with the project and source suppliers, we started to speak with local businesses where the uptake was pretty swift," White told MM.
"Selecting the artists' designs and matching them with a sponsor took a little longer as we had over 120 artist submissions. Overall these final stages took us around six months to complete although the whole project took around two years from conception to delivery."
Sponsors for the project include Stagecoach, Holiday Inn Express in Stockport, Merseyway, and Girlguiding Stockport.
Since launching at the end of June, the frogs have been seen as driving force behind increased visits to Stockport town centre.
"Data is showing that we have seen an average of 10% increase each day, with many new visitors," added White.
"So far we have chatted to visitors from Blackpool, Leeds and Peterborough who had all traveled to Stockport to specifically see the frogs."
Not only that, but Helen has said that they've had to order a reprint of the art trail maps as the "first 50,000 have been snapped up".
At the end of the campaign, the frogs will be auctioned off. Any surplus proceeds will go back into Stockport in order to support future initiatives to attract even more people to visit Stockport.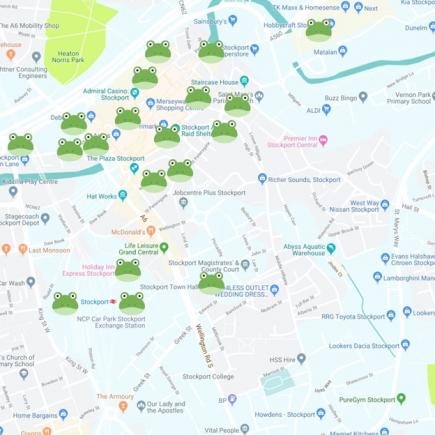 The frogs can be found all across the town centre: from the town hall, right across the Merseyway shopping centre and around Redrock, a new leisure area with restaurants, cafes, bars, and the Light Cinema.
"If you haven't visited Stockport for a while you are in for a big surprise," added White.
"Along with the regeneration of the Market Place, Stockport is reinventing itself as a town centre with something for everyone – Artisan and Makers Markets, independent retail and a developing evening economy, as well as the core shopping centre at Merseyway."
Stockport's Giant Leap runs across Stockport town centre until September 28. Find out more here.