For the third year running, gaming extravaganza Power Up! is back at the Museum of Science and Industry to celebrate the last 40 years of video games.
Showcasing over 160 consoles and many more titles – from Pong right up to cutting-edge virtual reality games – the event opened today on Friday, August 11 and will run for two weeks until August 25.
MM headed down to an early session to see what all the fuss was about.
The first thing to note was that, for anyone remotely interested in gaming, this is paradise.
Located on the first floor of the museum, the room housing Power Up! is spacious and absolutely packed full of games.
The dim light makes the room seem even bigger, also giving it an air of mystery.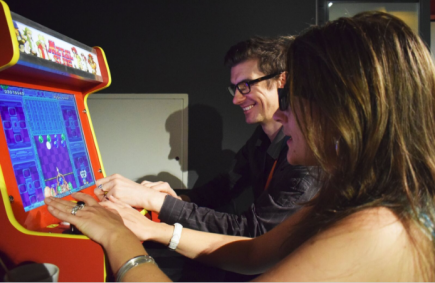 CUTTING EDGE: The end runs until August 25
Without looking at the map handed out, it's difficult to work out what consoles were where.
This just adds to the fun, however, giving you more of a chance to immerse yourself in the event.
While it all depends on your generation, one of the first things people are drawn towards is the seriously new stuff – like the PlayStation VR.
As you watch someone else play on it, it admittedly does look a bit dull.
Controlling an over-equipped tank in a futuristic sci-fi environment? Seen it.
But not like this.
The VR headset is comfortable, even with glasses on, and as you blow up an enemy tank barrelling towards you, it's then that you start to see the appeal of the thing.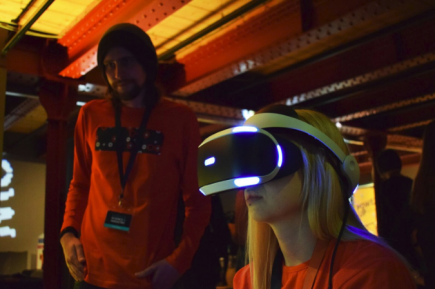 VIRTUAL REALITY: It's a chance to experience the future of gaming
VR at the moment seems at the point where the traditional games like Space Invaders were when they originally came out.
The technology is just about there, and the games themselves are simple enough to learn with no real plot to understand.
After the VR experience, it's time to look at the big timeline of videogames, playing a bit of HALO and Street Fighter, before having a chat with Mark Cutmore, head of commercial experiences for the Science Museum Group.
"It's honestly a dream come true to get to be part of this event," he said.
"It's in its third year and it's always been popular, but now we've definitely got a fan base. The sessions are packed out every day and people's reactions are unanimously very positive.
"When we do surveys of what people enjoy in the museum it often comes out as one of the highlights. The draw of videogames is really universal."
Mark said part of this appeal definitely comes from the range of consoles.
He explained: "We have regular game consoles and PCs playing everything from Tetris to Sonic to Little Big Planet.
"We've also got a whole area dedicated to all the interesting things that have at one time or another been really popular with videogames.
"This is stuff like drums, maracas and dance mat pads. We've got our game timeline and you can kind of guess what someone's age is by where they're drawn to first.
"It's a really nice thing to see people relive their childhood through those games, and also introduce kids today to the classic systems.
"It's all about encouraging kids to understand that the videogame industry is really important."
This educational theme runs deeper than you may at first realise, with classics like the BBC Microcomputer, which encouraged children to get into programming, making an appearance in Power Up!.
Mark said: "We just really want to help kids to see the beauty and interest in being able to code and generate your own content.
"The educational side to videogames is fundamental to the Museum of Science and Industry and the Science Museum Group.
"We always want to include an element of education, but we wrap it up in a really fun way."
These coding classes, along with the sessions on creating videogame theme tunes, are extremely popular with the children that visit.
Another one of the reasons Power Up! is so adored, according to Mark, is because of how social an event it is.
He told MM: "A lot of people's favourite memories of gaming come from their first experiences playing with someone else.
"For me, it's the memory of when me and my sister would play Sonic 2 co-op on our Megadrive back in the 90s.
"At Power Up!, we've got a Minecraft area with a load of connected PCs, and a Halo ring in the middle, where 16 people can sit and play in the same match together.
"It's this sort of nice experience that drives the event.
"These days, people play a lot of online multiplayer, but there's a real beauty to actually sitting and playing videogames with someone and interacting on that personal level."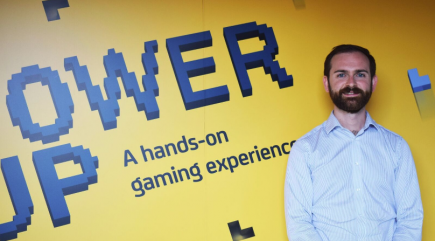 CONTRIBUTIONS: Mark believes Brits have played their part in developing video games
The whole event is a force of optimism through technology, showing people the amount of progress we've made in just a few decades.
It almost leaves you feeling inspired. The difference even just a decade has made in games is astonishing, and Mark very patriotically gave Britain much of credit for that.
"The UK has a really amazing history of talented game designers and we've contributed an awful lot to the world of gaming," he argued.
"We've had a fantastic history of storytelling. It's where we've really excelled
You've got companies based in the UK, like Rock Star, creators of Grand Theft Auto and Red Dead Redemption.
"The Batman games are based here too, and they've have had huge success for their storytelling and their representation of a very popular genre. I think it's really important that we celebrate that."