When Shaggy and Scooby met at Manchester Dogs Trust, the two quickly became firm friends, sharing the close bond and quirky characteristics of the famous cartoon double act.
Scooby – given to the Dogs Trust by his elderly owner, who couldn't look after him when he grew to his Great Dane proportions – and eight-year-old Corgi-Cross Shaggy were inseparable, until recently.
Thankfully Scooby has found a loving home, but has had to leave his best friend Shaggy with the Dogs Trust.
The characterful pooch got a reputation for being an excitable 'giant puppy', and enjoyed slurping down his favourite Scooby snacks, hotdogs.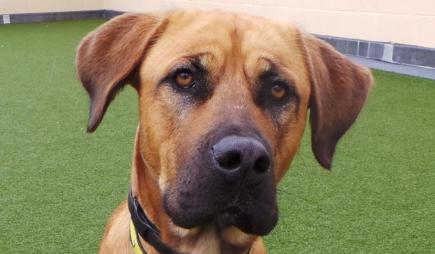 CHARACTERFUL: Scooby is likekened to a 'giant puppy
Rehoming Centre Manager, Dawn Bishop, said that although she was delighted that Scooby had found his 'forever home', she was now hopeful that Shaggy could follow suit.
She said: "Although Shaggy has lots of other four-legged and two-legged friends here that he can have great fun with, now that Scooby has managed to seek out his happy ending, we're hoping to solve the mystery of who Shaggy's new owners will be as soon as possible.
"Shaggy is full of life, can be a little nervous and has lots of messy, ginger hair, so just like his cartoon namesake."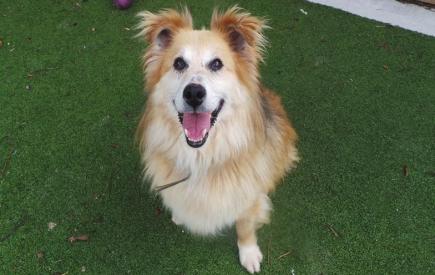 FULL OF LIFE: Shaggy has messy, ginger hair – just like his namesake
Eight-year-old Corgi-Cross Shaggy was neglected by his previous owners, and he was taken in by the Dogs Trust after neighbours complained about him being tied up outside in all weathers.
He's looking for a calm family environment where he can relax and enjoy home comforts in his old age. 
If you could give Shaggy the home he's been looking for, contact the centre on 0300 303 0292, or visit the centre at Parkway, Denton, Manchester, M34 3SG. It's open 12pm-7:30pm weekdays (closed Wednesdays) and 10am-4pm at weekends. Visit www.dogstrust.org.uk to find out more.