A UN campaign to raise awareness of gender inequalities and abuse suffered by girls around the world is being warmly received by Oldham charities and politicians.
International Day of the Girl was set up with the intention of promoting human rights and addressing the various forms of abuse and discrimination suffered by girls worldwide.
Debbie Abrahams, MP for Oldham East and Saddleworth, has come out in support of the campaign, which has this year adopted the theme 'Empowering adolescent girls: ending the cycle of violence'.
She told MM: "Violence and sexual exploitation against women and girls happens across the world, in our own country and in all communities here in Oldham.
"I want girls in Oldham to grow up knowing they won't face discrimination because of their gender and never fearing violence will be used against them.
"It's important that we continue to fight for gender equality and continue speaking out against violence and discrimination, not just in our local area, but also across the country and internationally too.
"International Day of the Girl is an incredibly important cause and that's why I support it and have made the issue a priority here in Oldham East and Saddleworth."
Coinciding nicely with the event is the naming of Malala Yousafzai as the youngest person to ever receive the Nobel Peace Prize at the tender age of just 17.
Her joint win with Indian children's rights campaigner Kailash Satyarthi has been celebrated by both the Great British public and the international community.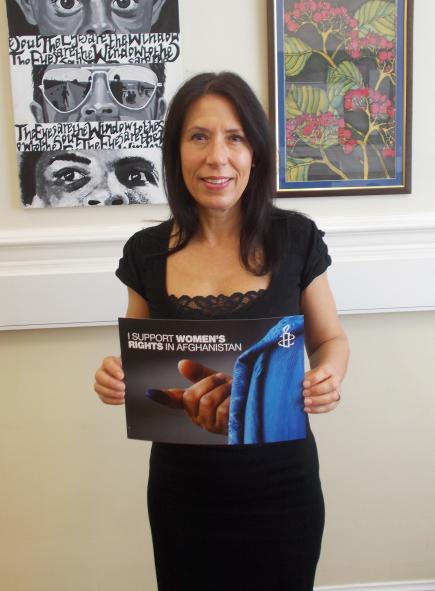 A PRIORITY: Debbie Abrahams has shown support for women's rights before
Malala, a Pakistani child education activist, rose to fame in October 2012 when she was shot in the head by Taliban gunmen for campaigning for girls' rights to schooling – thankfully he survived.
The international media hailed her as a hero of girls' rights, especially in the plight for education in her home country.
She was named as one of TIME magazine's most influential people the following year, and had been tipped to win 2013's Nobel Peace Prize.
International Day of the Girl also comes just a month after warnings from UK Border Force officers that they have noticed an emerging trend of 'cutters' coming into the UK to practice female genital mutilation (FGM).
The shocking practice of FGM involves removing part or all of a girl's outer sexual organs, and is carried out in many African countries and some areas of the Middle East.
Flight attendants, border officers and other aircrew are being trained to recognise potential victims of FGM on their return to the UK after being forced to travel abroad and suffer the heinous procedure.
Manchester Airport now has a 21-strong team of specialist child protection officers who are also trained to deal with trafficking and forced marriage.
The government launched Operation Limelight in May, an initiative surveying inbound and outbound flights to 'countries of prevalence' for FGM.
It emerged last month that not a single person has been convicted for FGM in Britain, despite recent estimates that 137,000 women in the UK have undergone the procedure.
It is believed a total of 100-140million girls and women worldwide have suffered some form of cutting.
Shadow Minister for Preventing Violence Against Women and Girls Seema Malhotra MP said: "The global level of violence girls in our country is horrific.
"All too often rape and violence are used as weapons of war and in many countries discrimination against girls is deeply embedded in the national culture.
"International Day of the Girl is an important moment where we can stand side-by-side with women and girls across the world and say 'we will not stand for this – we want change'."
Main image courtesy of World Bank Photo Collection, via Flickr, with thanks
Inset image courtesy of Amnesty International UK, via Flickr, with thanks